Rumble is a popular video-sharing platform where users can upload and watch videos on a range of topics including politics, entertainment, educational, and gaming content. It is not as big as YouTube, but it has its own fair share of users. The platform is popularly known for not being as strict as YouTube when it comes to censoring political videos. As such, many politicians have switched to Rumble to share their opinions and views without having their content taken down.
If you have come across a Rumble video that you want to download, then the options are very limited. The platform doesn't allow users to download videos from Rumble to their computers or mobile devices. However, there are third-party Rumble downloaders that allow you to do it.
One such app is SnapDownloader, which is a video downloading software for Windows and macOS. In this article, we'll explain how to download Rumble videos in as little as a few seconds by using SnapDownloader.
How to Download Rumble Videos
1. Download and install SnapDownloader
SnapDownloader is a video downloader that lets you download videos from more than 1,000 websites, including Rumble, YouTube, Twitter, and many other platforms.
The first step of the process is to download and install SnapDownloader on your computer. It supports Windows 7/8/10/11 and macOS 10.10 and higher.
2. Open a video on Rumble and copy its URL
Find the Rumble video you want to download and open it. Copy its URL from your browser's address bar. You can also click the Share button to copy the video's link.

3. Open SnapDownloader and paste the copied URL
Open the SnapDownloader app on your computer. On the Search page, paste the URL that you copied in the previous step into the search bar. SnapDownloader will automatically begin to search for the video.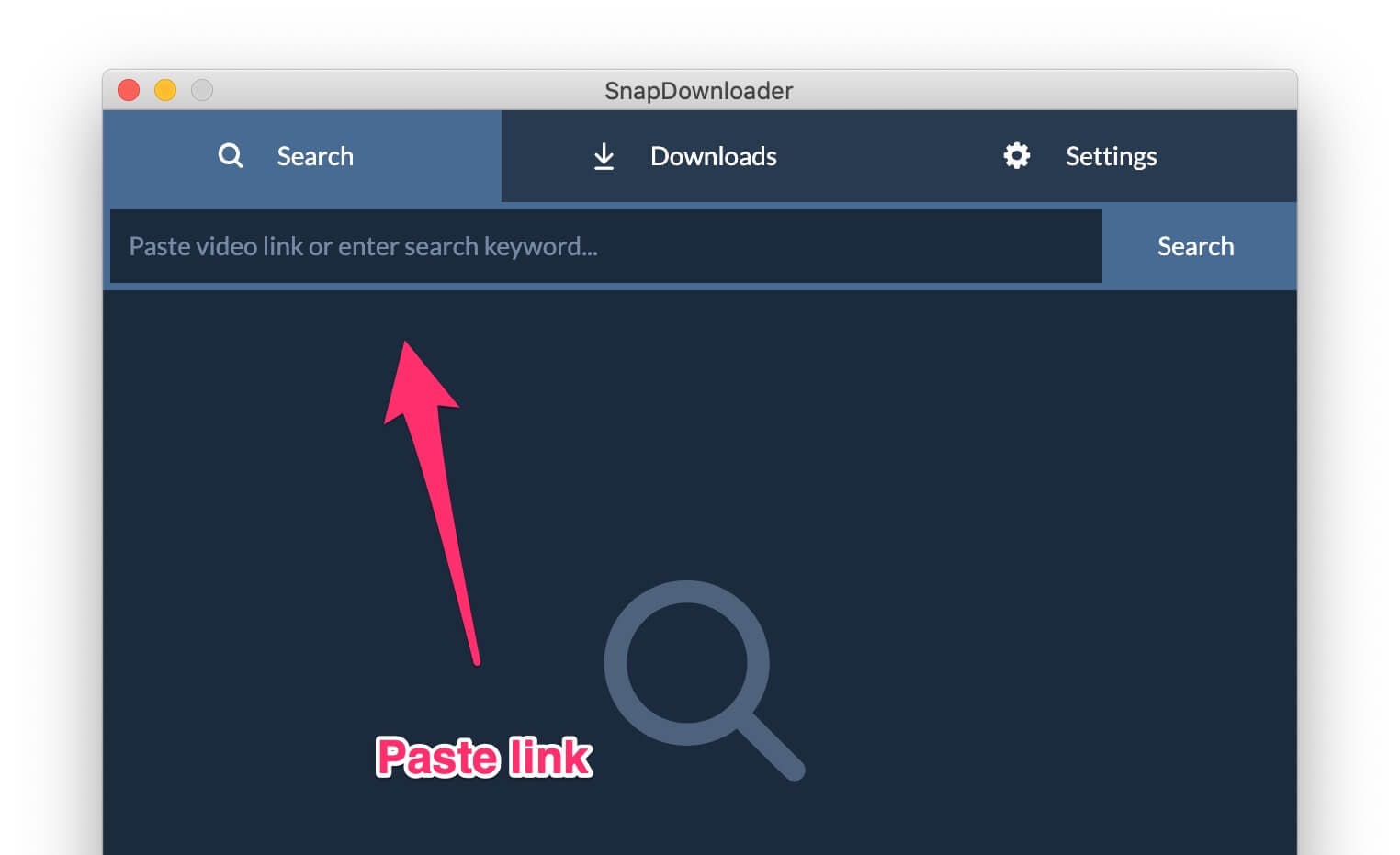 4. Select the output format and quality
Within a few seconds, SnapDownloader will display the video along with the available output formats and quality in which it can be saved.
Under the Output Format section, you can select the output format of the download, such as MP4, MP3, AVI, etc. To convert the video to audio, click the Video dropdown and select Audio.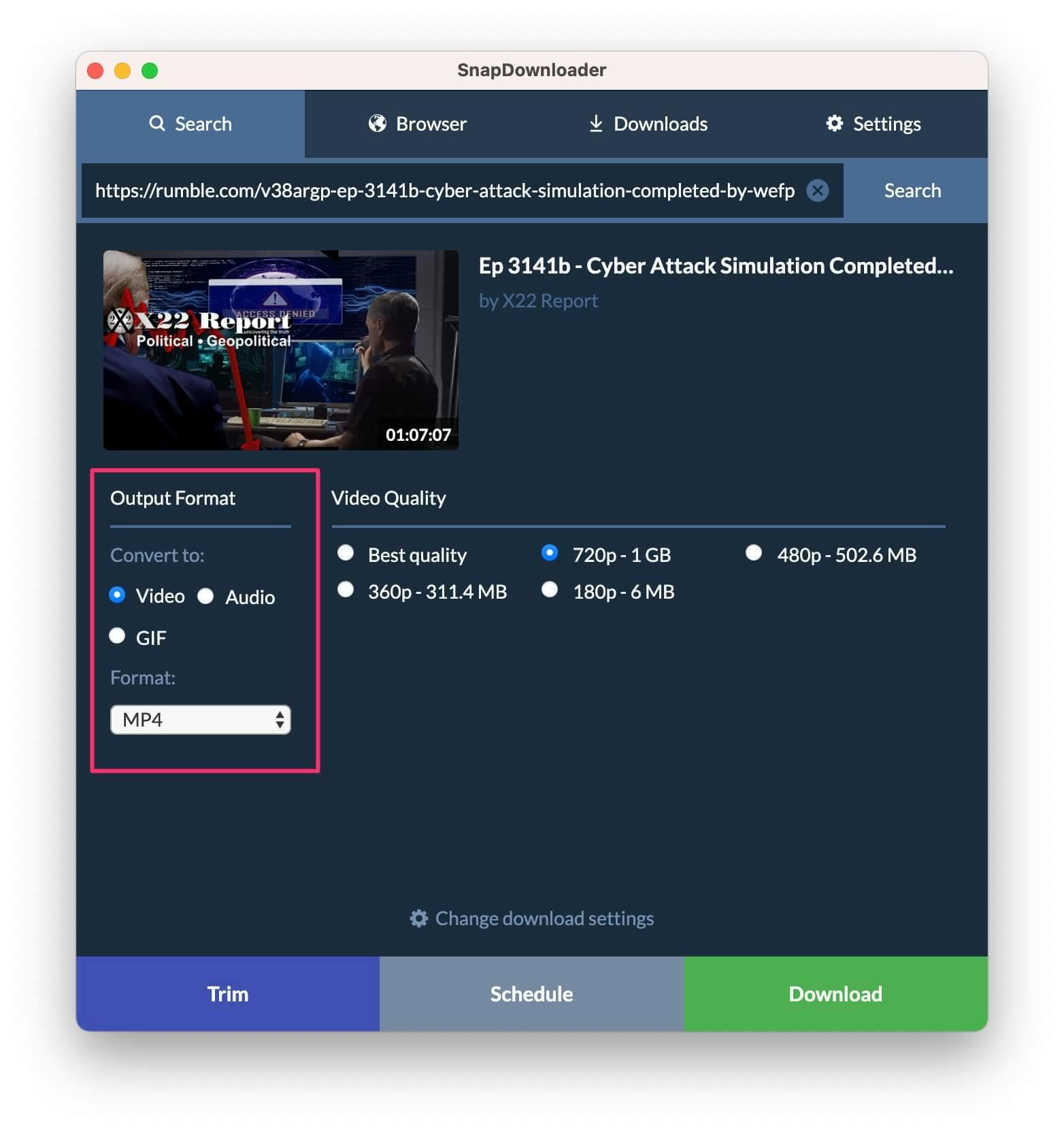 Next, select the output quality of the video or audio.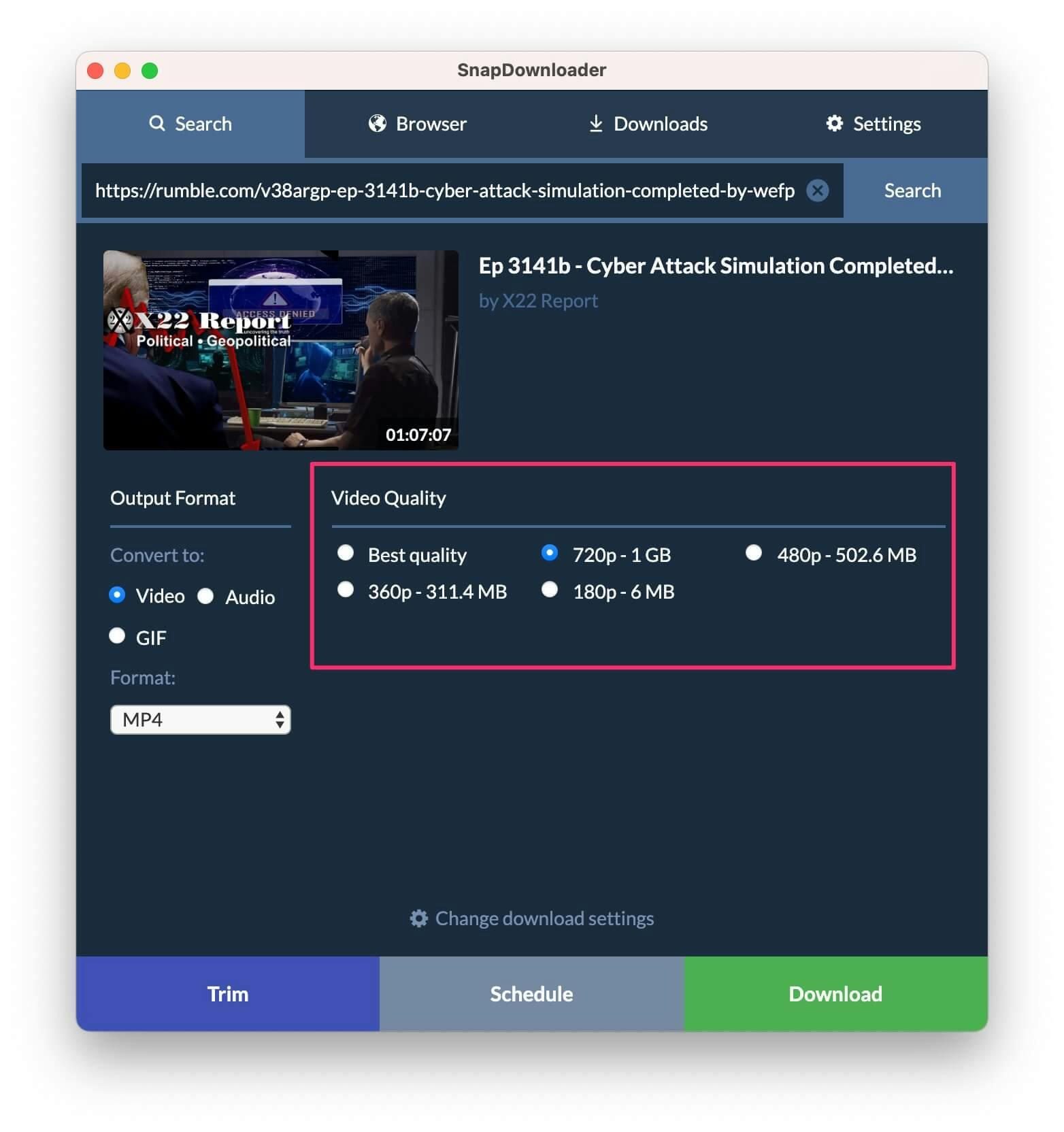 5. Click the Download button
Now click the Download button to begin downloading the Rumble video to your computer.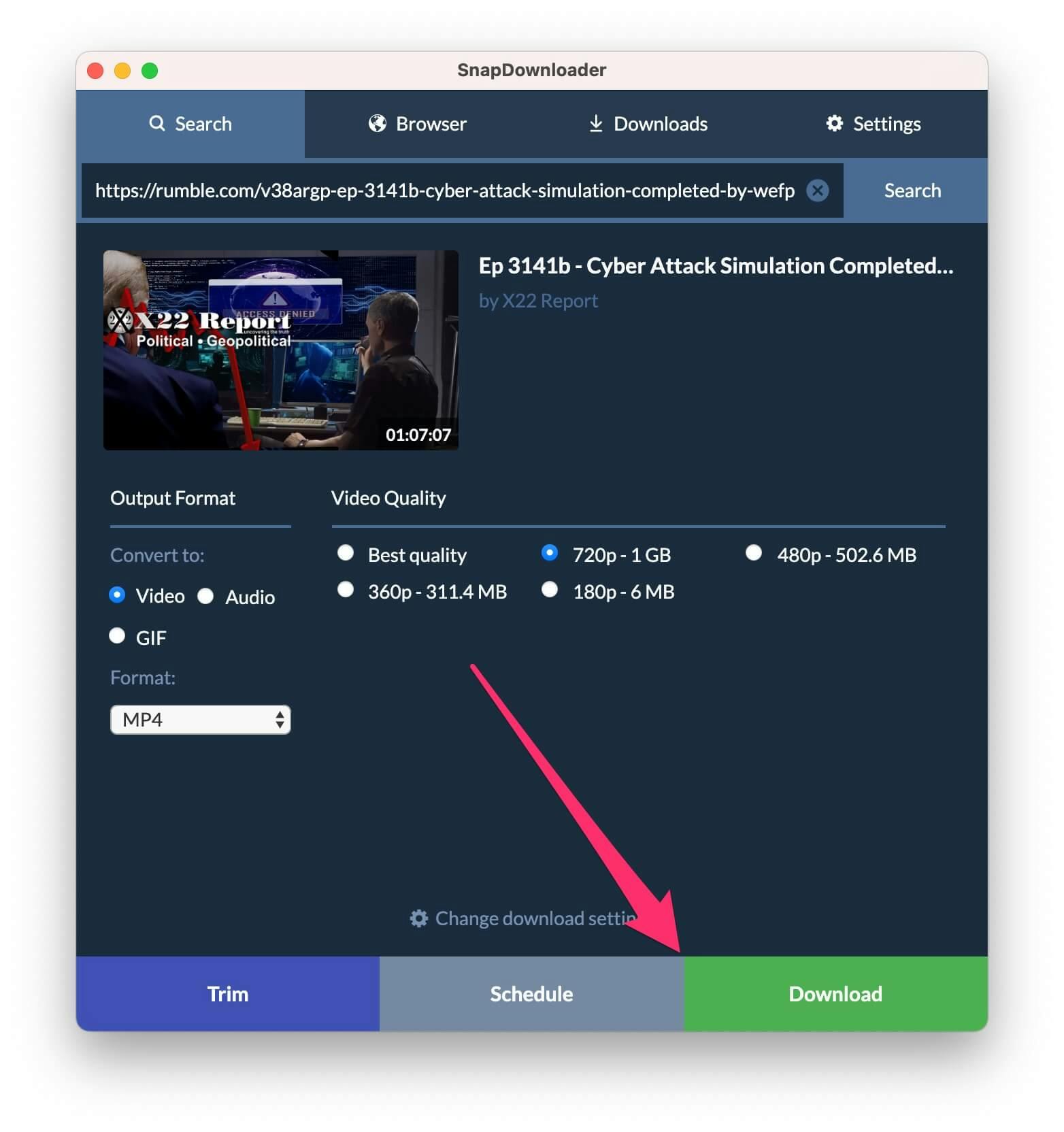 The download progress will be displayed in the Downloads tab. There, you can also view the time remaining for the download to complete and the download speed.

The Rumble video will be saved to your computer within a few seconds. You can double-click the download to play the video or audio. The downloaded file will also be available on your hard drive. By default, is saved to the Videos folder on Windows and the Movies folder in macOS.
Best Download Tools for Rumble
Now that we've walked you through how to actually download Rumble videos, let's look at some of the best tools on the market for downloading Rumble videos.
1. SnapDownloader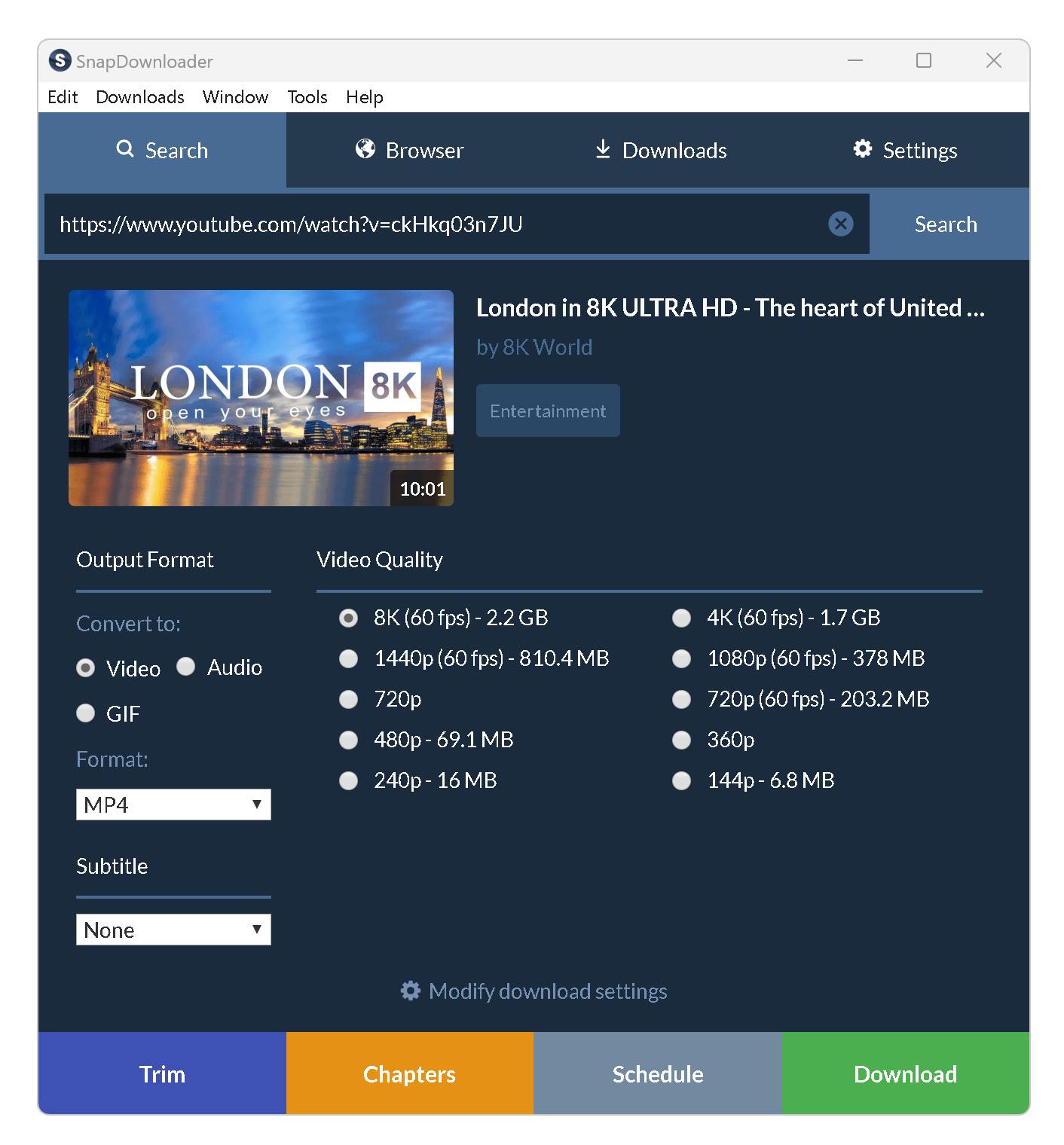 If you need to download Rumble videos, store them, and save them for future use, choosing a platform that allows you to do all that is a great place to start. SnapDownloader covers nearly 1,000 different platforms, making it easy to grab any video you want and download it immediately. From getting Rumble videos in MP3 and MP4 format to downloading high-quality Vimeo videos, SnapDownloader gives you the flexibility and quality experience you need for fast, convenient video downloading. Not to mention, you can edit your downloaded videos as you please and, if you're not sure about something, around-the-clock support when you need it.
Features
One-Click Mode allows you to download Rumble videos instantly
Ability to Download in bulk, reducing the time spent waiting for videos
Support for 900+ platforms, from YouTube to Rumble
Ten conversion formats, including MP3 and MP4
Pros
High-speed download on every high-quality video
No ads for a clean, clear user experience
Suitable for both Mac and Windows users
Access to 24/7 customer support
Three subscription options to suit your needs
Cons
• You'll need a license to take advantage of all of the unique features
Pricing
The basic version of SnapDownloader is 100% free to use. If you want to use all of the platform's advanced features, there are monthly, three-monthly, and yearly subscriptions, or a lifetime license to choose from.
2. VideoDownloader

VideoDownloader.so offers a comprehensive video downloader, including up-and-coming popular platforms such as Rumble alongside sites like Instagram and Facebook.
This simple website makes it easy to input a URL and download a video directly from your browser without additional features or steps. If you're after something that does one thing well but not all that much else, VideoDownloader is a solid choice. Options are available for multiple formats, including audio format as required, with a simple download process and no additional steps necessary to download videos one at a time.
Features
Web-based application for downloading Rumble videos
Copy-paste features for immediate download
Works on smartphones and computers
Pros
Simple and easy to use
No login or registration is required
Free to use
Cons
No storage or saving functionality
No additional features
Has a limited number of supported platforms
Pricing
Video Downloader is free to use directly from your browser.
3. YouTube4KDownloader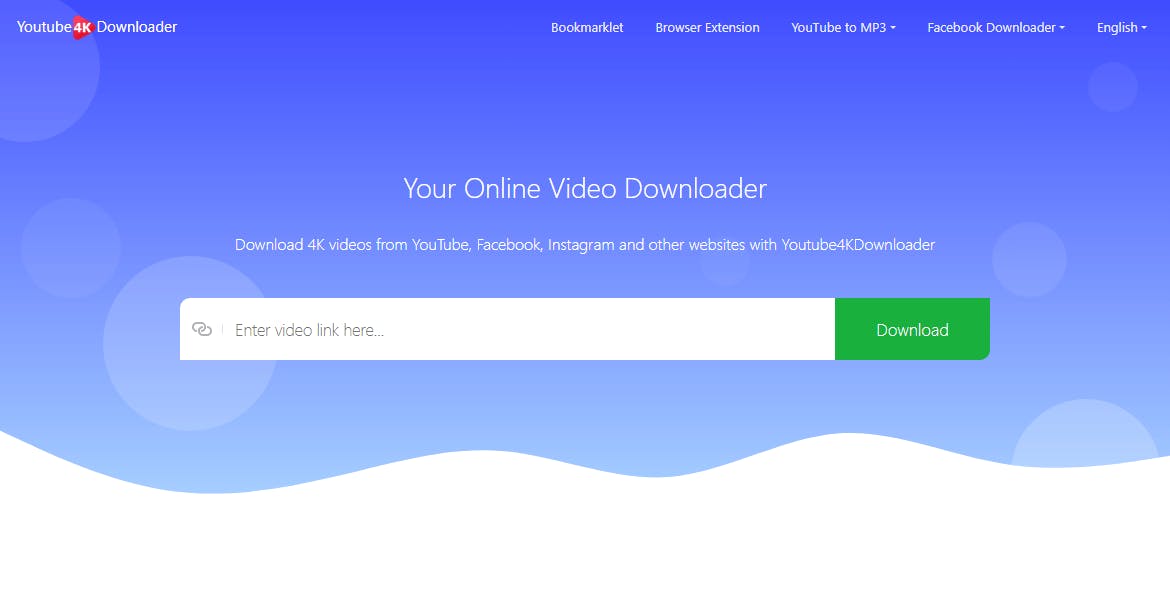 YouTube4KDownloader is a popular option amongst others for downloading YouTube video content, though the platform can also download from Facebook, Rumble, and more. YouTube4KDownloader follows the trend of copy-pasting URLs for a single, instant download. In addition, a browser extension supports downloading from multiple supported websites. If you're looking for an occasional-use product that's as simple as possible, this tool ticks the most basic of boxes and provides what you need for one download at a time.
Features
Website-based platform with single-page functionality
Add-on extension from Chromium browsers
Copy-and-paste style design for Rumble video downloads
Pros
Coverage for a wide range of websites
Optional browser extension
Free to use
Cons
Historical problems with downloads not working
No additional features or services
Registration is required for some high-quality downloads
Pricing
YouTube4KDownloader is free to use, though each time you enter a URL for download, you'll have to deal with new pop-ups.
4. FastSaveNow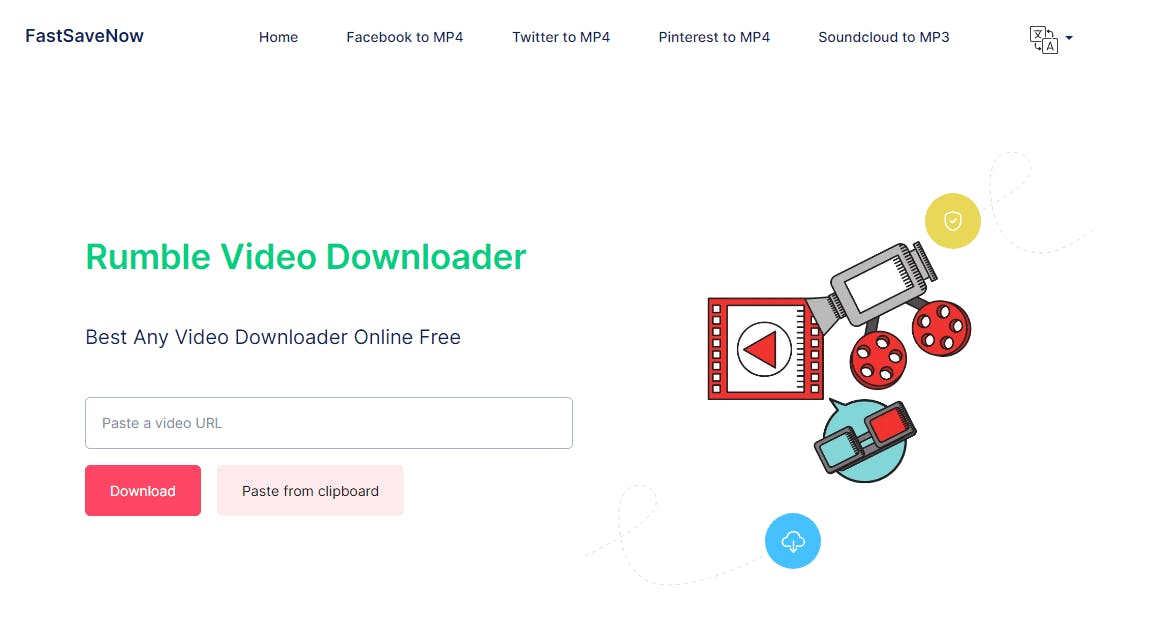 FastSaveNow is another example of a Rumble download service that keeps things simple.
As with some of the more basic tools on our list, you'll need to provide a URL, hit the download button, and select the file type you'd like. If you want to keep things simple and want to download the occasional Rumble video or audio file, FastSaveNow handles the basics and provides what you need.
If you're after something with a little more complexity, the simple nature of this online web app might not be the ideal solution.
Features
Simple online interface
Copy-paste Rumble URLs for immediate download
Coverage for other platforms in addition
Pros
Easy to use with no extra features
SSL encryption for better security
Free to use
Cons
Limited features for downloading video
No storage or saving features
Pricing
FastSaveNow is available for free via its web application.
5. AceThinker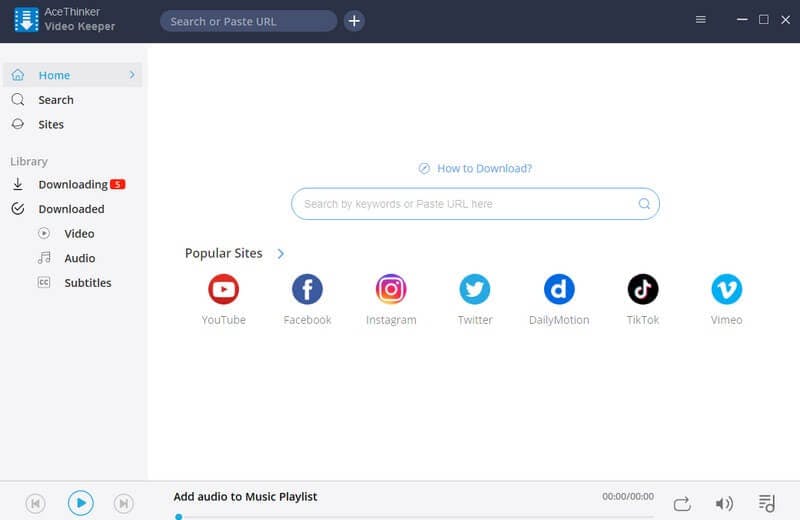 AceThinker offers a simple, one-click option to download content from Rumble. If you're a beginner looking for a platform that makes it nice and easy to download a single video, then this web application-based downloader has what you're looking for.
If you're looking for an all-in-one package for editing and storing video downloads, this web-only application doesn't offer everything you need - though AceThinker does have an additional suite ofsoftware products and web application editors and converters as separate services.
Features
Straightforward web application suited to smartphones and computers
Simple copy and paste style download feature
Immediate downloads when you hit the button
Pros
Free to use, with no registration requirement
Web application works on a range of devices
Minimal advertisements
Cons
Best-suited to single downloads
No additional features or add-ons
Limited functionality for quality and download file types
Pricing
AceThinker is available for free to download Rumble videos in your browser.
6. KeepOffline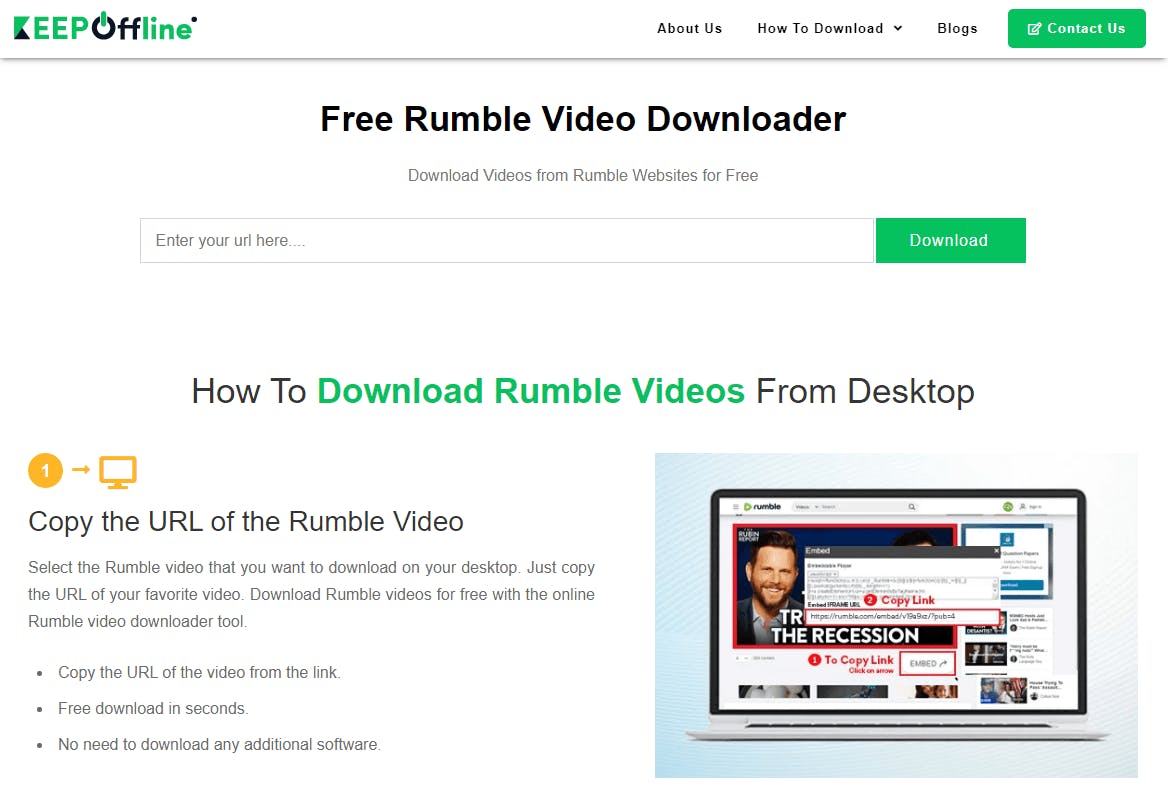 KeepOffline follows the main features of many free online Rumble video downloaders. While it's light on features, this plain and simple in-browser web application does what it needs to do. To begin, just paste in the URL of your Rumble video, and your download will start, with options for several different formats to choose from. KeepOffline also works on mobile, making it a good choice for smartphone users looking for an occasional download option.
Features
Optimized for desktop users and mobile devices with a web application
Paste in the URL and download directly from the site
Multiple different format options, including MP3 and MP4
Pros
A simple, ad-free website
No limits on the number of downloads you can make
Several format choices for download
Cons
Doesn't have any other features
No storage or saving option for files
Unable to handle bulk downloads
Pricing
KeepOffline is free and accessible directly through your browser on your computer or smartphone.
Conclusion
Finding the right Rumble video downloading service doesn't need to be difficult with the right information. With so many options available, including those we've listed above, it's easy to pick a suitable platform.
At SnapDownloader, we offer the ideal solution for downloading videos from all your favorite social media platforms. Try the free version of SnapDownloader to discover how we help you download Rumble videos in seconds.