Using a YouTube to iTunes converter, you can effortlessly download songs from YouTube and transfer them to your iOS devices. Here's a guide on how to convert YouTube videos using SnapDownloader and use iTunes for pushing them to your iPhone, iPad, or iPod.
When it comes to providing users complete freedom, Google and Apple are polar opposites of each other.
While Apple relatively maintains a closed-loop ecosystem of devices by making multi-platform content sharing impossible, Google, along with its Android OS, is all about spreading the love.
However, when it comes to privatizing the largest video platform in the world, Google is no different from Apple. It limits mobile users' ability to listen to YouTube videos with the screen turned on at all times and make offline video downloader a limited and premium feature to have.
For times when you find the perfect playlist on YouTube or a captivating audiobook that you wish to listen to while being offline, what option do you have left?
Sure, there are plenty of ways you can convert YouTube to MP3, but how to move them over to your iPhone? Fortunately, SnapDownloader not only delivers as a video downloader tool but also helps you convert YouTube videos to iTunes.
How to Download YouTube Songs to iTunes
The ability to watch videos offline on the YouTube app has been around for years now, but it is half-baked and restrictive, purposely so. Whether you want to cut the costs on a premium music streaming service or need to fetch the kind of video and audio content from YouTube that isn't available elsewhere, SnapDownloader makes it as easy as pie.
Part 1: Convert YouTube Video to MP3 or MP4
Before you can start playing YouTube music and videos on your iPhone, iPad, or iPod, you will need to download them using SnapDownloader manually.
1. Head over to SnapDownloader and download the latest version on your computer. The app is available for both Windows and macOS. Once downloaded, double-click the file to install it.
2. Go to YouTube to find the video or music you want to download, then copy its link from your browser's address bar.

3. Open SnapDownloader and paste the copied link into the search bar. The app will automatically begin searching for the video.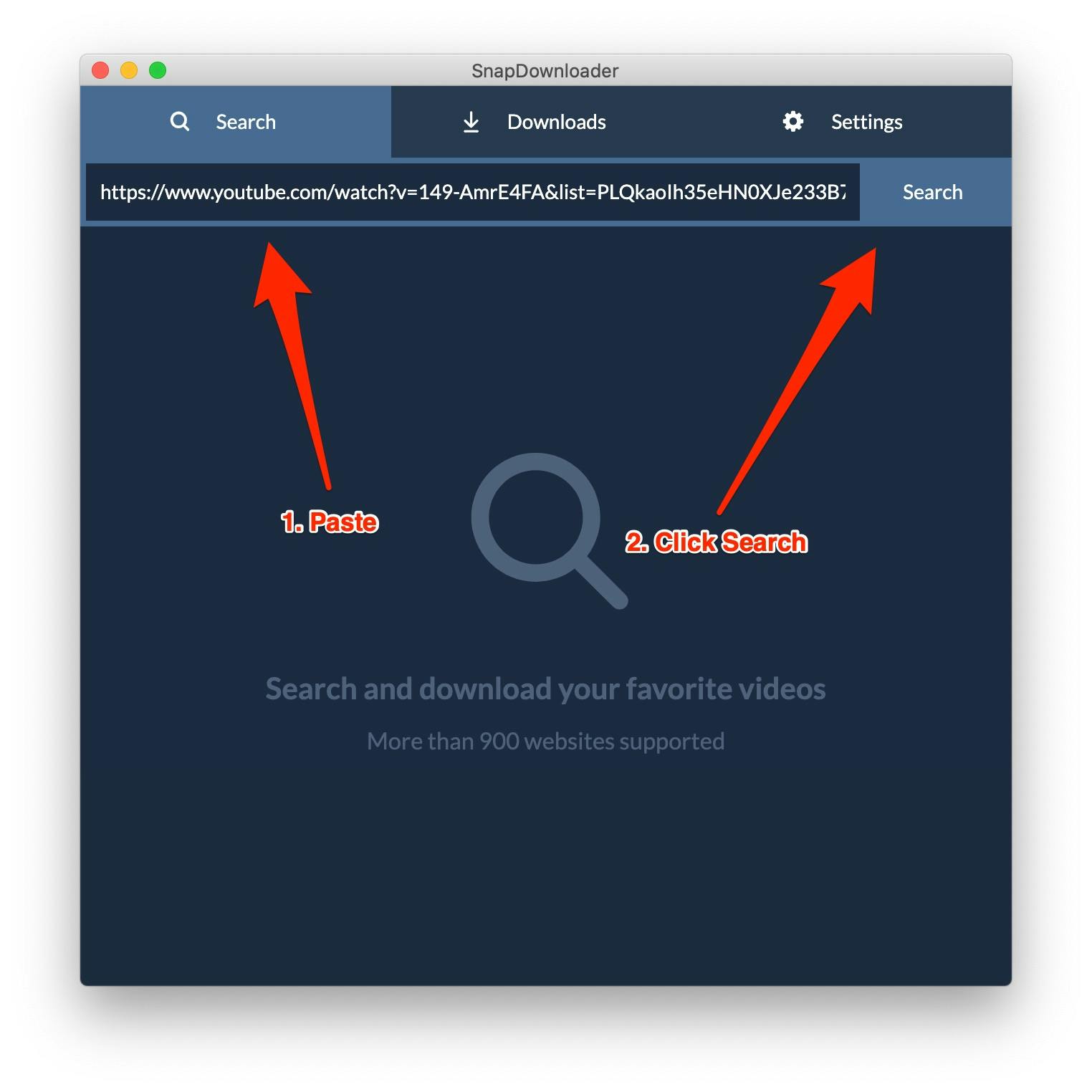 4. Within a few seconds, the video's details will be displayed. Select MP3 as the output format in order to download the YouTube video in MP3 format. If you wish to save it as a video, you should select the output format as MP4 instead.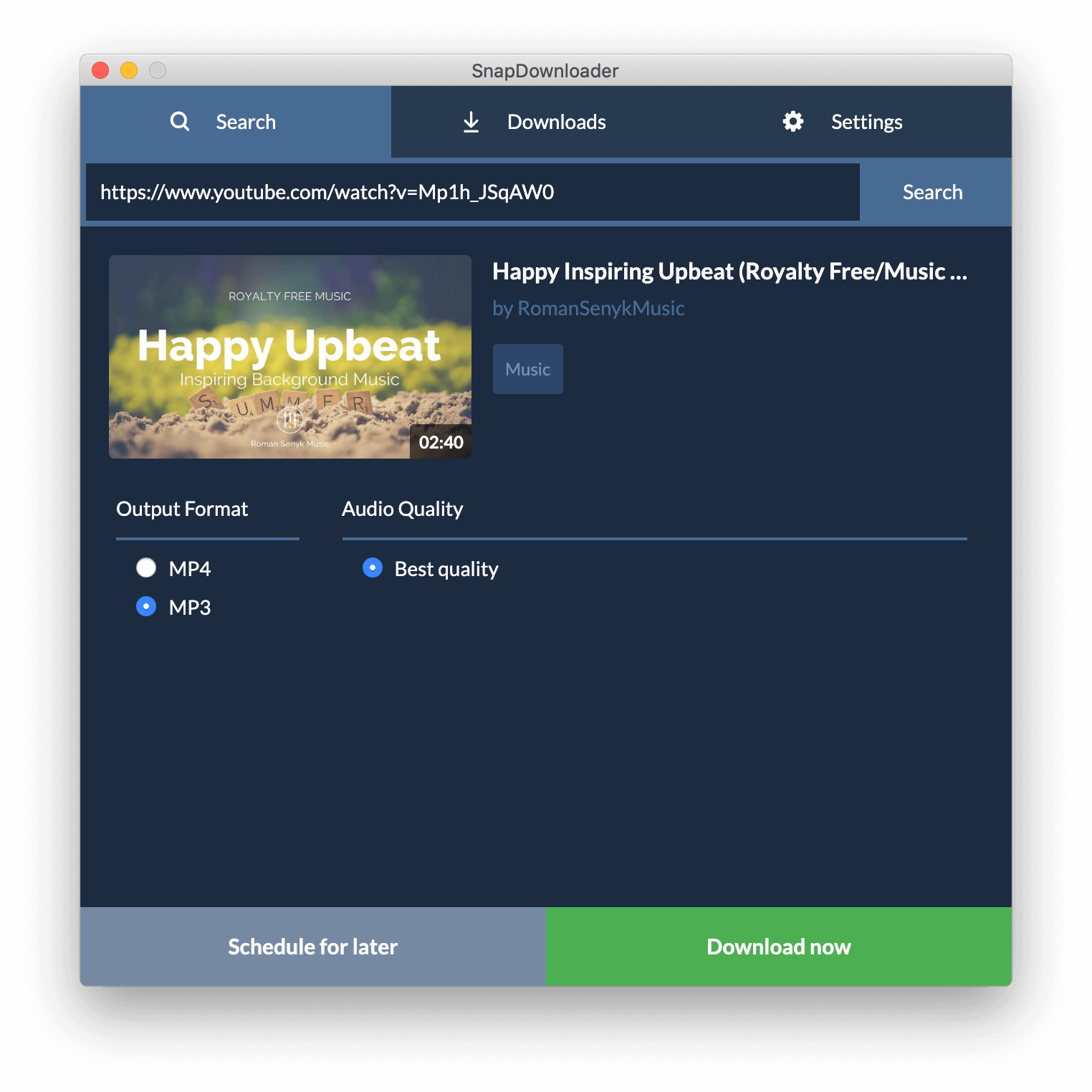 5. Click the Download now button and wait as the YouTube converter does its magic.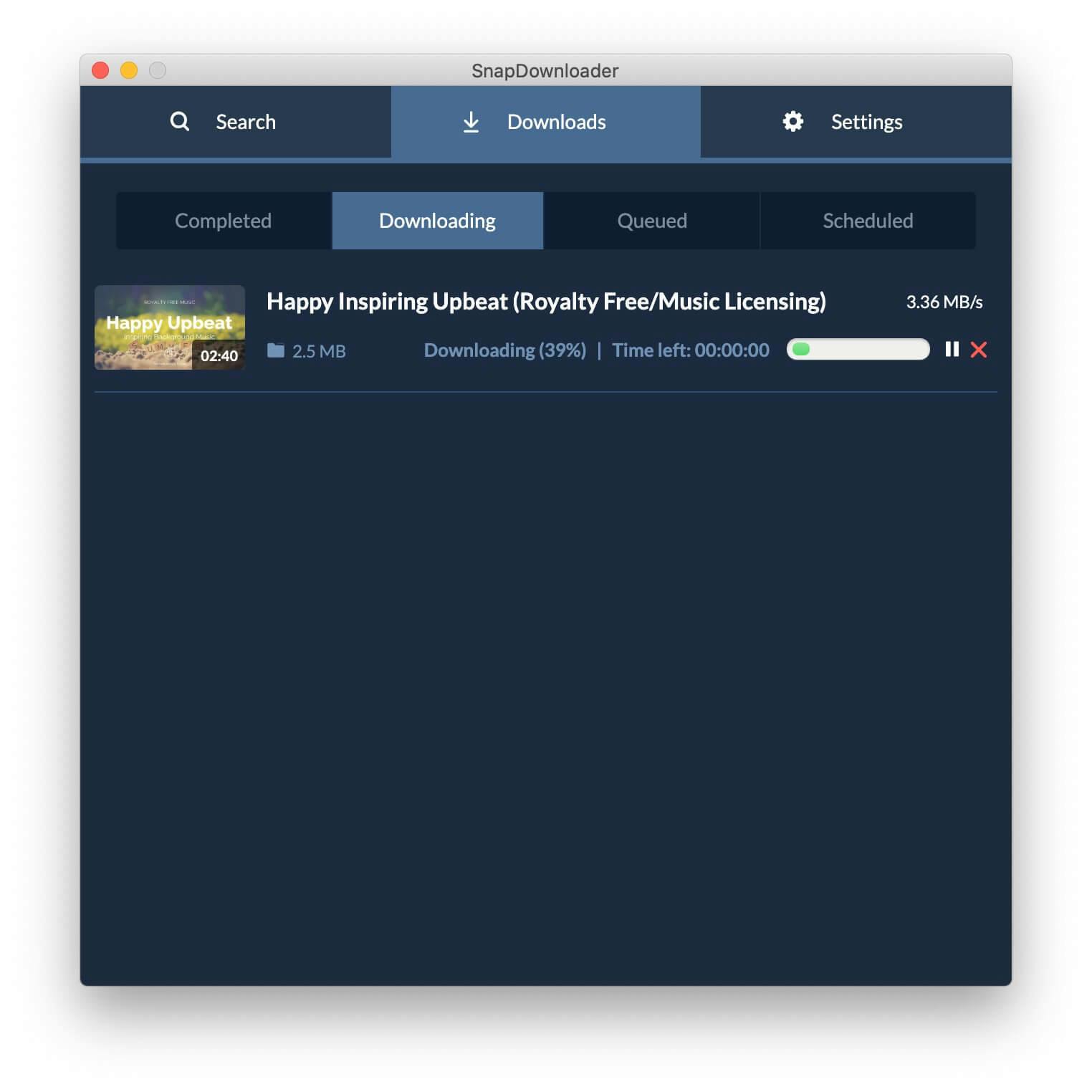 You can view the download progress from the Downloads tab. Once it has been completed, proceed to the next part to find out how to transfer the file to iTunes.
Part 2: Convert YouTube Music to iTunes
Once you have the YouTube video converted into an audio MP3 file or even a video MP4 file on your computer, it's time to move it to your iOS device.
For macOS 10.15 and higher:
On macOS 10.15 and higher, Apple replaced the iTunes app with Music. Here's how to transfer songs to your iOS device using the Music app:
1. Connect your iOS device to your computer using a USB cable or by using Wi-Fi syncing.
2. Open the Music app.
3. From the sidebar, click Songs located under the Library section.
4. Now drag and drop the downloaded YouTube song onto the Music app. The file should be added to the songs list and it will be automatically synced to your iOS device. If not, click on your device under the Devices section, then click the Autofill button in the bottom right corner.
For Windows or macOS 10.14 and older:
1. Make sure you have downloaded and installed iTunes on your Windows PC or macOS computer.
2. Launch iTunes on your computer and connect the iOS device using a USB cable or by using Wi-Fi syncing.
3. On the upper-left corner of the iTunes window, you should be able to see a tiny icon of the iPhone or iPad you have connected, so click on it.
4. Click on Summary and then enable the feature to "Manually manage music and videos" under the Options section.
5. Click the File option from the toolbar, then select Add to Library from the drop-down menu. You can choose to Add File to Library from the drop-down menu or Add Folder to Library if you wish to add multiple music files at once.
6. Browse and select the downloaded YouTube videos or songs, then press OK to add them to the iTunes app. The audio files will be added to the Songs section.
7. Select the audio files from the Songs section, drag and drop them on the Devices section on the sidebar where your iOS device is shown.
And that's all there is to it! All of your favorite YouTube songs and videos will be added to your iPhone with the help of SnapDownloader's YouTube converter feature.
Features of SnapDownloader YouTube to iTunes Converter
Convert YouTube videos to MP4 or MP3.
Download videos in 8K, 4K, UHD, 1080p Full-HD, and even smaller resolutions.
Simultaneously download videos not just from YouTube, but Facebook, Instagram, Vimeo, Twitter, and hundreds of other platforms.
Download entire playlists and channels from YouTube in bulk, all at once.
A built-in proxy to grant you access to region-locked content on YouTube and other platforms.
A clean and ad-free user interface that is easy to get around.
Option 2: Subscribe to YouTube Music Premium
Having to download YouTube audio to iTunes is not always ideal. Some may find it easier to subscribe to YouTube Music (Premium) rather than jumping through hoops to listen to their favorite songs.
YouTube Music costs $9.99 per month and offers an array of benefits that make it comparable to other major music streaming platforms, such as Spotify, Apple Music, and Soundcloud.
Simply download the official YouTube Music app, sign in to your YouTube account (or sign up if you don't already have one), and subscribe to the premium plan. You'll also receive a free 1-month trial to determine whether it's worth the monthly fee.
Although you must pay a subscription fee, YouTube Music offers an ad-free listening experience for all of your favorite songs. It also allows you to download songs in mp3 format, so you can listen to your music offline, anytime.
Keep in mind that this will not allow you to download music from YouTube to iTunes. Every time you want to listen to your downloaded music, you will need to open the YouTube Music app.
How to Download YouTube Music to Android
If you're looking to download YouTube music on your Android device, here are some of the best apps that can help you do so:
VidMate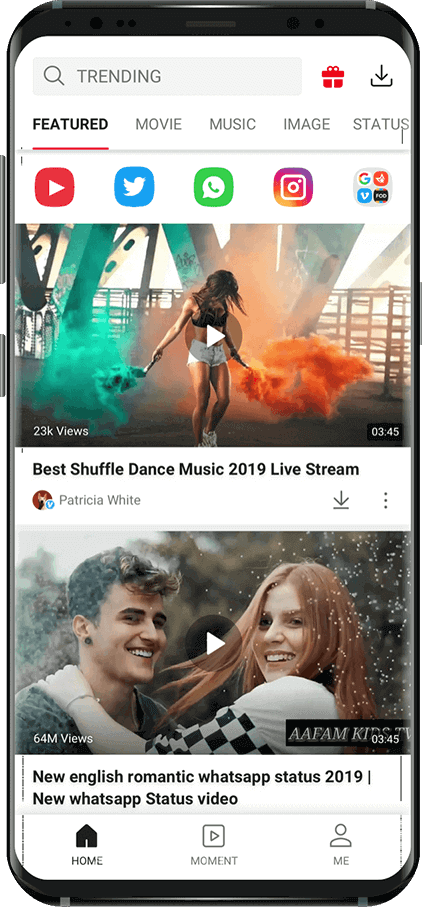 VidMate is an Android app that allows you to download HD videos within minutes. From YouTube, Vimeo, Facebook, and more – VidMate offers a massive selection of videos from all of your favorite streaming platforms. It works by downloading and converting video files to audio files, so you can listen to all your favorite songs anytime, including when you're offline.
All of your downloaded videos will be saved to VidMate directly. So, when you want to listen to your playlists, simply open their user-friendly app and press play.
SnapTube YouTube Downloader & MP3 Converter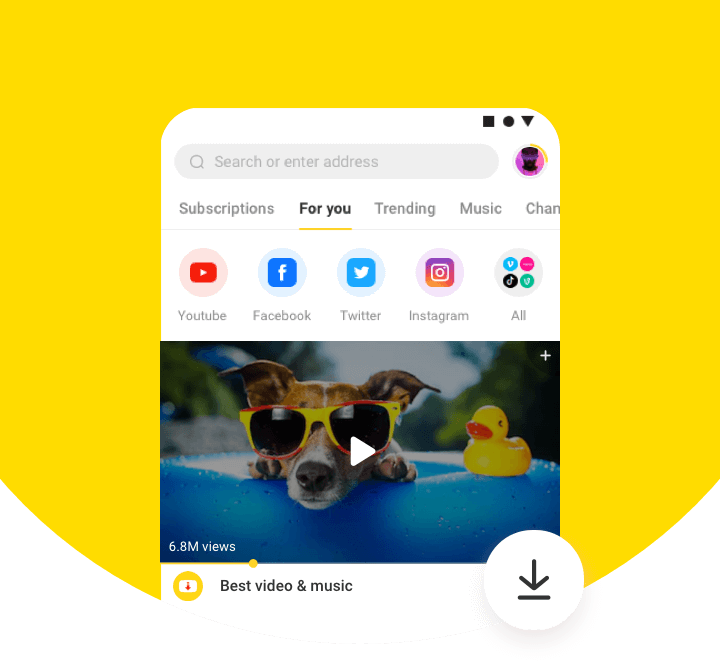 SnapTube YouTube downloader & MP3 converter is an intuitive Android app that allows for rapid YouTube to MP3 downloads. It offers numerous search filters to help you discover new songs and artists. For instance, you can filter by popular videos, view videos with the most views, and receive customized daily recommendations.
SnapTube YouTube downloader & MP3 converter also allows users to choose the quality of their download – in order to save memory on their device. Between the features and ease of downloading, this app is well worth the investment.
Syncios Video Downloader
Syncios Video Downloader offers a sleek, easy-to-use interface to download and listen to all your songs on the go. It's compatible with every series of Android, including Samsung, LG, OnePlus, Asus, Xiaomi, Moto, HTC, Google, and Huawei.
In addition, Syncios Video Downloader allows users to download videos in 144p all the way to 4k quality – and audio in 64kbps, 128 kbps, and 320kbps. It also offers an intelligent search mode to find video and audio you're likely to enjoy.
How to Download YouTube Music to iPhone
Are you looking to download all of your favorite YouTube songs to your Apple device? If so, the following apps will allow you to download YouTube videos with ease.
Keep in mind, that if you're looking for how to download YouTube music to iTunes, SnapDownloader is your best option. However, these apps are a great option if you're simply looking to download YouTube music on your iPhone.
Any Video Saver
Available in the app store, Any Video Saver is the perfect option for those looking to download and listen to their favorite songs on YouTube. It offers various features such as a Face ID authenticator, an embedded browser that allows for private web browsing, and the ability to share and export video downloads.
Although you won't be able to download YouTube music to Apple Music, you'll be able to listen to videos in the background of their built-in video player.
VideoCopy: Downloader & Editor
VideoCopy is another great choice for those looking to download YouTube music directly to their Apple devices. It can play both mp3 and m4a songs and allows users to create unlimited playlists.
VideoCopy's music player has advanced capabilities, such as previous and next buttons on your lock screen, shuffling, and shifting a song to any point during the track.
Clipbox: Save & Share Videos
With its beautiful interface and range of features, Clipbox is the perfect solution if you're looking to download YouTube to mp3 iTunes. It's as simple as copying and pasting the YouTube link into the Clipbox app.
Clipbox also offers an easy-to-use organizer to organize your music collection, in addition to allowing users to rename titles and add tags to your videos. You also have the ability to trim videos with their intuitive editor.
YouTube to iTunes Copyright Laws
Now that you know how to download music from YouTube to iTunes, you may be wondering about the legality of the act of downloading music. Often, internet users unintentionally commit copyright infringement – which is why it's important to educate yourself on the proper use of online material.
YouTube's Terms of Service (TOS) forbids the converting or downloading of videos and audio. Even downloading videos via screen recording is against YouTube's TOS. That doesn't make it illegal in the eyes of the law, however. It just means YouTube doesn't condone it.
When music is distributed, certain parties, such as the songwriter or record label, receive a specified gain from the sale of the product. Therefore, the product is protected under copyrights so that no one can reproduce or sell it without the permission of the owner(s).
As per US law, the download of copyrighted material, regardless of its format, is illegal. Fortunately, not all videos on YouTube are copyrighted. There are plenty of videos and songs that are copyright- or royalty-free.
Thus, when you download YouTube music to iTunes, you risk breaking the law – depending on whether the song is protected under copyright. However, downloading content that is copyright- or royalty-free is permissible.
Wrapping Up
Whether you love or hate Apple, you have to admit their blockade of content sharing in the iOS ecosystem can put a wrench in your user experience. SnapDownloader video converter is designed from the ground up to give you the ability not only to enjoy your favorite videos and music tracks from YouTube and 900+ other platforms with ease but also bridges the gap of offline multimedia for iOS users with its keen ability to convert YouTube music into iTunes supported tracks.