SoundCloud is one of the largest music-sharing sites in the world. The site has garnered a reputation on the internet as the go-to place for independent musicians and podcasters alike.
Why should you download music and videos from SoundCloud? The content that's featured on SoundCloud is often exclusive to the platform. This is why saving SoundCloud songs as MP4s is a great way to store music that you love from the platform.
At SnapDownloader, we believe anyone should be able to store videos from all over the internet however they want. That's why in this article, we're going to take a look at how you can save SoundCloud uploads as MP4s using our tool.
How to Convert SoundCloud to MP4
Using SnapDownloader is the easiest way to convert SoundCloud to MP4. SnapDownloader is a zero-fuss tool and can easily be used to download MP4 files from around the internet.
1. Download and install SnapDownloader.
2. Copy the link of the Soundcloud file you want to convert to MP4.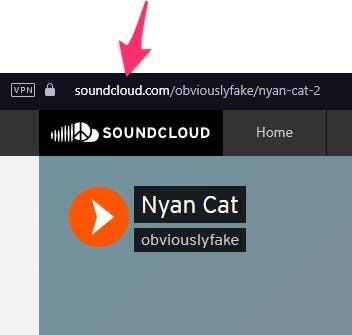 3. Paste it into SnapDownloader.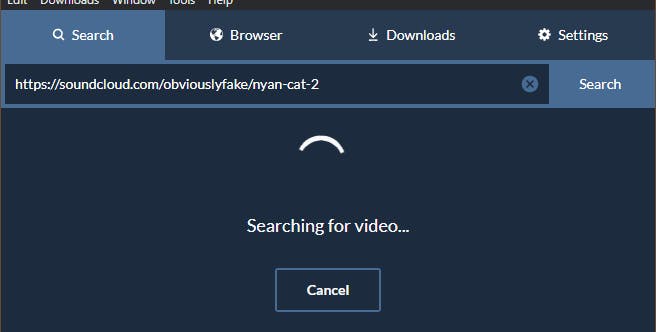 4. Select MP4 as the output format.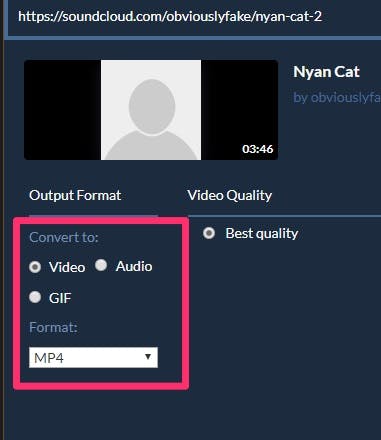 5. Click Download.
6. SnapDownloader will begin converting the SoundCloud audio to MP4 and save it to your computer. The file will be saved to the folder that is set in the app's settings.
What are the key benefits of using SoundCloud MP4s?
Soundcloud is a brilliant platform for finding interesting new music, podcasts, and more. Here are some significant benefits of using SoundCloud for MP4s:
Unlimited uploads: SoundCloud offers users unlimited storage space for their content. It's a great place to store music & entertainment in the cloud.
Unlimited downloads: Allows for unlimited podcast downloads from listeners.
Unlimited bandwidth: SoundCloud doesn't cap the internet speed of podcast listeners.
If you want to convert SoundCloud to MP4 - why not try SnapDownloader?
Why Should I Convert SoundCloud To MP4?
Videos Are Easier to Store
While audio files are smaller, videos are easier to store and find. The visual preview provided by videos means that it's easier to flick through your file storage and find the file that you need.
When storing lots of files, ensuring you can easily navigate your files is crucial. Otherwise, you could lose important data and cause a lot of stress. Especially if you're a video creator, storing your files properly can save hours of your time.
Archiving SoundCloud Music
Converting SoundCloud files to MP4 helps archive them in the case of deletion or removal. If the file is removed from SoundCloud for whatever reason, there is no way to get it back unless you have an archive of the file elsewhere.
Offline Listening
Sometimes, you'll want to access certain music while not connected to the internet. Converting your favorite SoundCloud files to MP4 and saving them onto your device means they're accessible no matter what. This means that you'll be able to access them anyway when you have no internet connection.
Make Use of Creative Commons
By downloading SoundCloud music and converting it to MP4, you can easily take advantage of the Creative Commons offerings on the platform. Whether you're a musician looking to sample or remix the music or a business looking to use the music somewhere, this can be crucial.
You can use SnapDownloader to download Creative Commons-ready media from other platforms such as YouTube, TikTok, and other places on the internet too. Our tool is simple to use and incredibly affordable while allowing you to boost your downloading power from all over the internet.
What should you use Soundcloud MP4s for?
Music Is Therapeutic
We've found that music has a great therapeutic effect on listeners. In Oliver Sacks' books, he reported cases of patients with Alzheimer's and Parkinson's whose symptoms improved when they listened to music.
Other research shows that stroke patients who listen to music of their own choice not only improve their mood, but also their visual attention and ability to do other tasks. Neurological music therapy is now an active field of research that is attracting increasing interest.
Entertainment
Soundcloud hosts a wide library of entertaining music, podcasts and more. Saving these files as MP4 clips allows you to store hours of entertaining content offline.
Setting the mood
Another significant factor in combining music and pictures is using our very own experience and sensitivity. Knowing how to feel and interpret the soundtrack and combining it with what is happening on the screen is no easy task; a special kind of vision makes a world of difference.
If there's an inevitable shift in mood, music is one of the best ways of highlighting it.
Want to start downloading Soundcloud to MP4s? Get started with SnapDownloader today!
Why Save Soundcloud to MP4s?
Great Independent Music
Soundcloud is packed with great independent music from many different genres around the world. Due to its free distribution, a lot of artists can only afford to use the platform instead of one of the more expensive distribution options.
Because of this, there's a lot of great music on the platform that you cannot find anywhere else. A lot of the underground, DIY, and independent music on the platform just doesn't exist on alternative platforms such as Spotify or Apple Music.
Downloading this content to MP4 files is a great way to save independent music to your device to watch offline.
Easy to Use
The platform is simple to use, and finding new artists is far easier than on other sites. The site is on a desktop browser, which means that you don't have to worry about finding a web client or downloading an app if using it on your personal computer.
Artists and creators don't have to worry about a difficult distribution platform either. Much like YouTube, you simply have to upload the file and enter the relevant description and tags.
It's Free
SoundCloud is free for both creators and users alike. The platform boasts itself as an 'open platform', which is great for creators, small businesses, and users alike.
This makes the platform accessible to a lot more people worldwide.
Copyright Usage
Unlike platforms such as Spotify and Apple Music (where you'd have to get a license for any music you want to use), lots of music on SoundCloud is free under a Creative Commons License.
Music on SoundCloud will be marked as either All Rights Reserved or Creative Commons and will state whether you'd need to give attribution to the original artists. This means that for creatives and businesses alike, SoundCloud is a great site to be able to find Creative Commons media.
Why SnapDownloader over other video downloaders?
SnapDownloader is a powerful video-downloading tool that can be used all over the internet. Instead of having to find ways online to download videos that could be malicious or slow, SnapDownloader simplifies the whole process.
You can use SnapDownloader on many sites all over the internet:
SnapDownloader is the best way to download videos from any of these platforms, and so many more. If you're looking to download videos, look no further.
Download Videos Easily with SnapDownloader
SoundCloud is one of the most useful music sites on the web. Being able to use it as a resource is a great asset for any creator or company. With access to SoundCloud, you have access to a massive library of Creative Commons work that can be used with attribution.
Downloading files from SoundCloud and converting them to MP4 has never been easier. There's no fuss or stress involved, just use SnapDownloader to easily grab the files with a few clicks! The program even converts to MP4 while downloading, saving you time and meaning you don't have to worry about using another program to convert the file!
SnapDownloader can also download videos from other websites all over the web, meaning that you don't have to find another tool to be able to download content from the top video sites like YouTube and TikTok. Inexpensive and powerful, getting started with SnapDownloader is easy and can be done in a matter of seconds.
So, what are you waiting for? Get started with SnapDownloader today.