The Allavsoft video downloader is a tool to grab music, movies, and other types of content from the web. People often praise it for its ability to download large Spotify playlists. As such, it's a perfect choice for users who enjoy music and like to explore different genres.
Still, like any other software, Allavsoft has its fair share of issues. Despite having some neat functions, its downloader still has room for improvement.
Sometimes, the tool can completely bug out, preventing you from getting files until the next update. It also doesn't help that Allavsoft has one of the worst interfaces on the market.
In this guide, we'll review all Allavsoft alternatives. Most notably, we'll talk about their pros and cons and what makes them a good substitution for this software. That way, you don't have to waste your money on a tool you barely use.
View table of contents [+]
What is Allavsoft?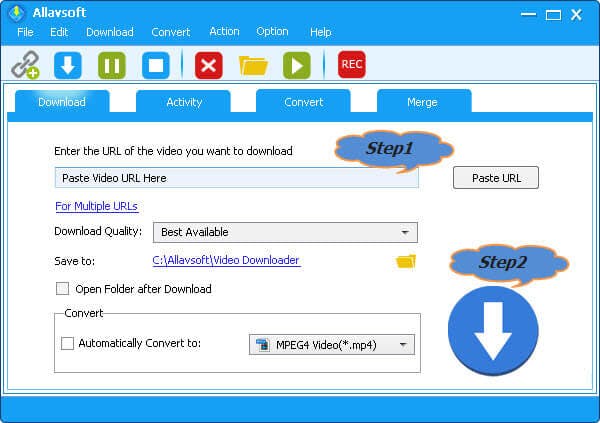 Allavsoft is a downloader that you can install on your PC and Mac. It's a simple tool that content creators mostly use. The software is also popular among people who want to download Spotify files. Aside from grabbing audio and video files, Allavsoft has a few editing functions.
If you wish to learn more about the software, we suggest you get its free version. Although the free trial limits you to five downloads and five conversions/merges, you can use it to check its functionality and speed. Still, don't blame us if your eyes start tearing up by watching its blurry interface!
Key Features
As mentioned, this software is tailor-made for downloading and editing video and audio files. You can use it to grab movies, songs, and other content from over 1000 websites. Furthermore, you can choose the exact quality and file output.
Here are Allavsoft's main features:
Video and audio downloader
Video and audio converter
Screen recording
Minor editing features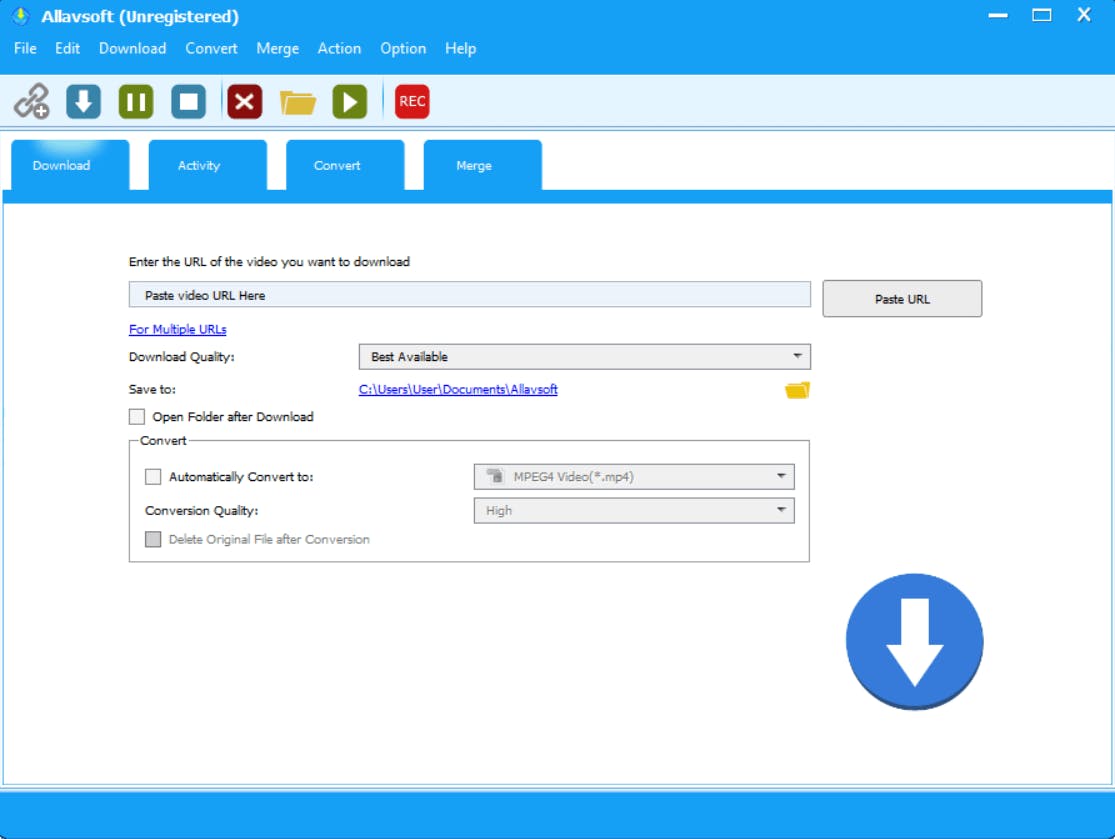 Basically, this software allows you to grab various private and public videos from YouTube and similar platforms. Once you download them, you can trim and merge files and convert them to other formats. These features are perfect for influencers who want to do all these actions from a single dashboard.
Main Issues With Allavsoft
Alas, things are not as peachy as they initially seem.
While Allavsoft has many small, nifty features, it fails at its primary function. There are much better solutions if you're looking for a downloader. Simply put, this tool might bug out mid-download, forcing you to wait several minutes until it grabs ahold of itself.
And while you might argue that Allavsoft's interface is easy to get accustomed to, it's still among the ugliest in the industry. The tool takes us back to the early 2010s when everything was blue and white. We would prefer an update on that front.
What Is the Best Allavsoft Alternative for Windows and macOS?
Given all the issues with Allavsoft, it isn't hard to find a solid replacement. We always recommend SnapDownloader as a quick and responsive alternative. The software does its job as intended, without any hiccups when grabbing files from the web.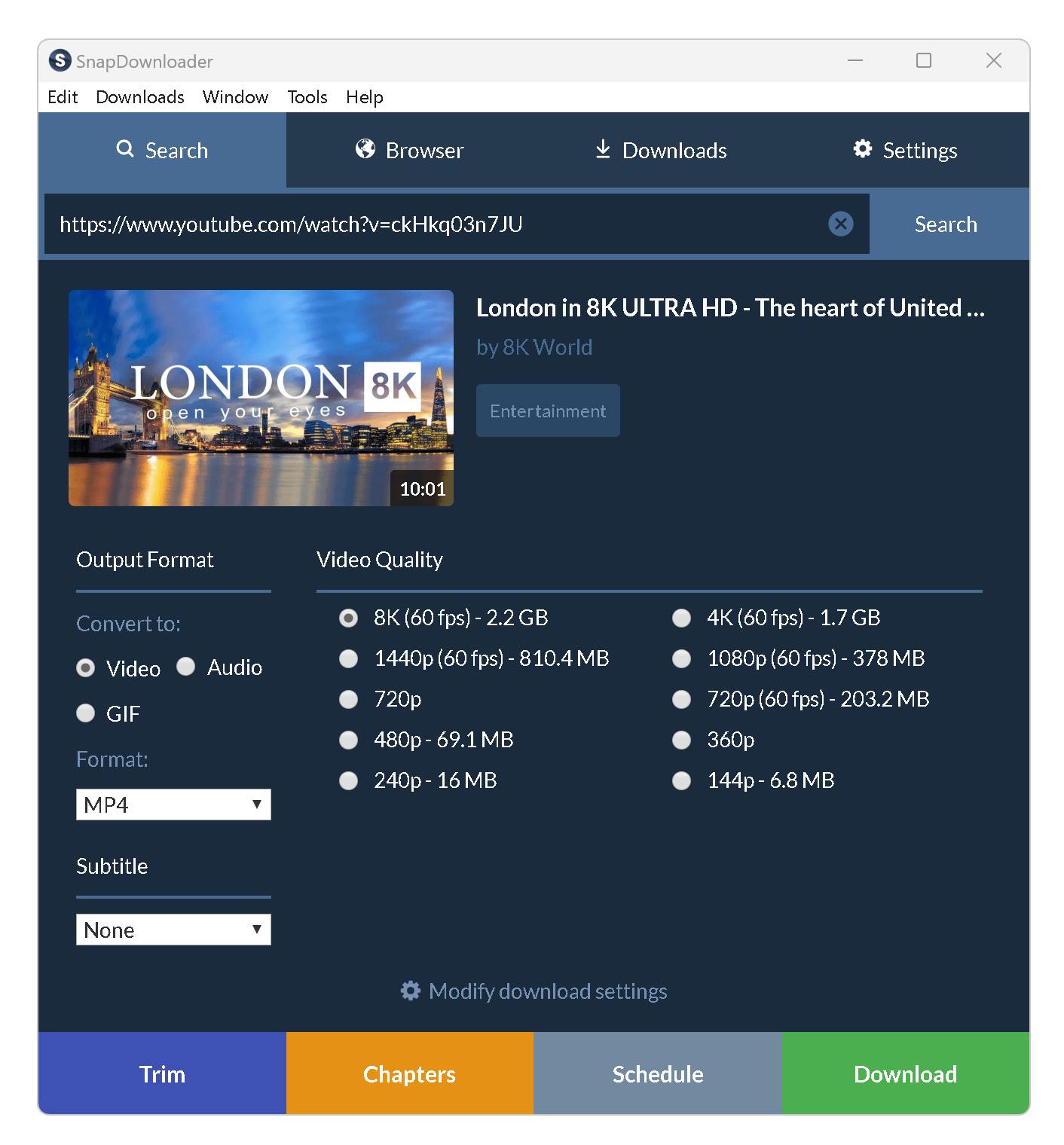 Like Allavsoft, SnapDownloader allows you to convert files into different output formats during download. You can also get subtitles from YouTube videos and choose between other qualities. Furthermore, both of these products have trimming features.
The thing where SnapDownloader excels is the UI and UX. Although this might sound condemning, looking at Allavsoft's interface for prolonged periods is hard. Their interface is poorly designed with a lack of attention to the user experience. On top of that, SnapDownloader grabs files more quicker.
How to download videos with SnapDownloader?
When downloading files from the internet, SnapDownloader's users have two options at their disposal.
First, you can copy the URL from the source platform and paste it directly into the tool.
The second approach is going to the software's Browser tab and downloading videos directly from its web browser without having to copy-paste links.
In this article, we'll explain how you can download videos with the first option. Although the second one isn't necessarily hard, most people will find it easier to use the first method.
1. Download and install SnapDownloader.
2. Copy the video's URL. For example, you can copy a YouTube video's link from the browser as shown below.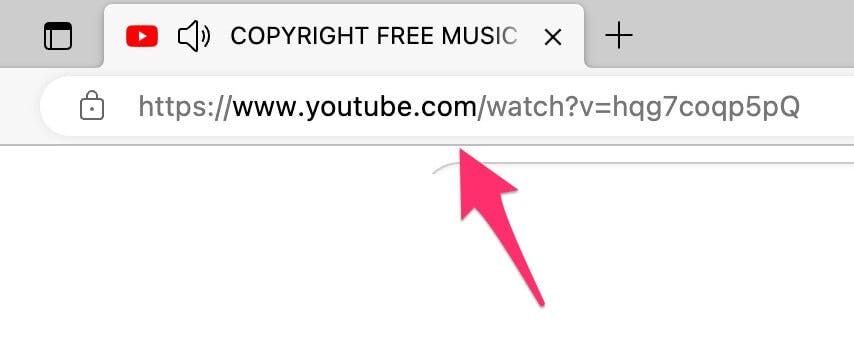 3. Paste the link into the search box in SnapDownloader.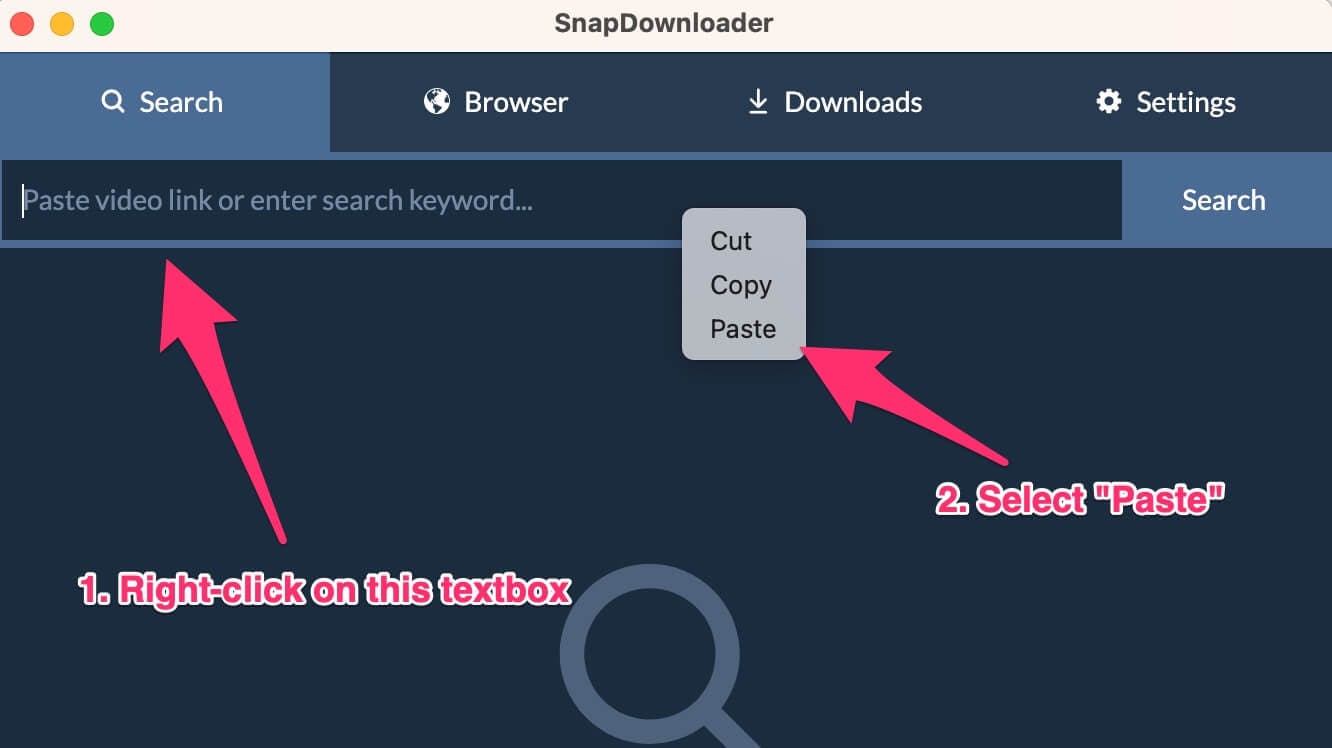 4. Select the output format and quality, then click the Download button.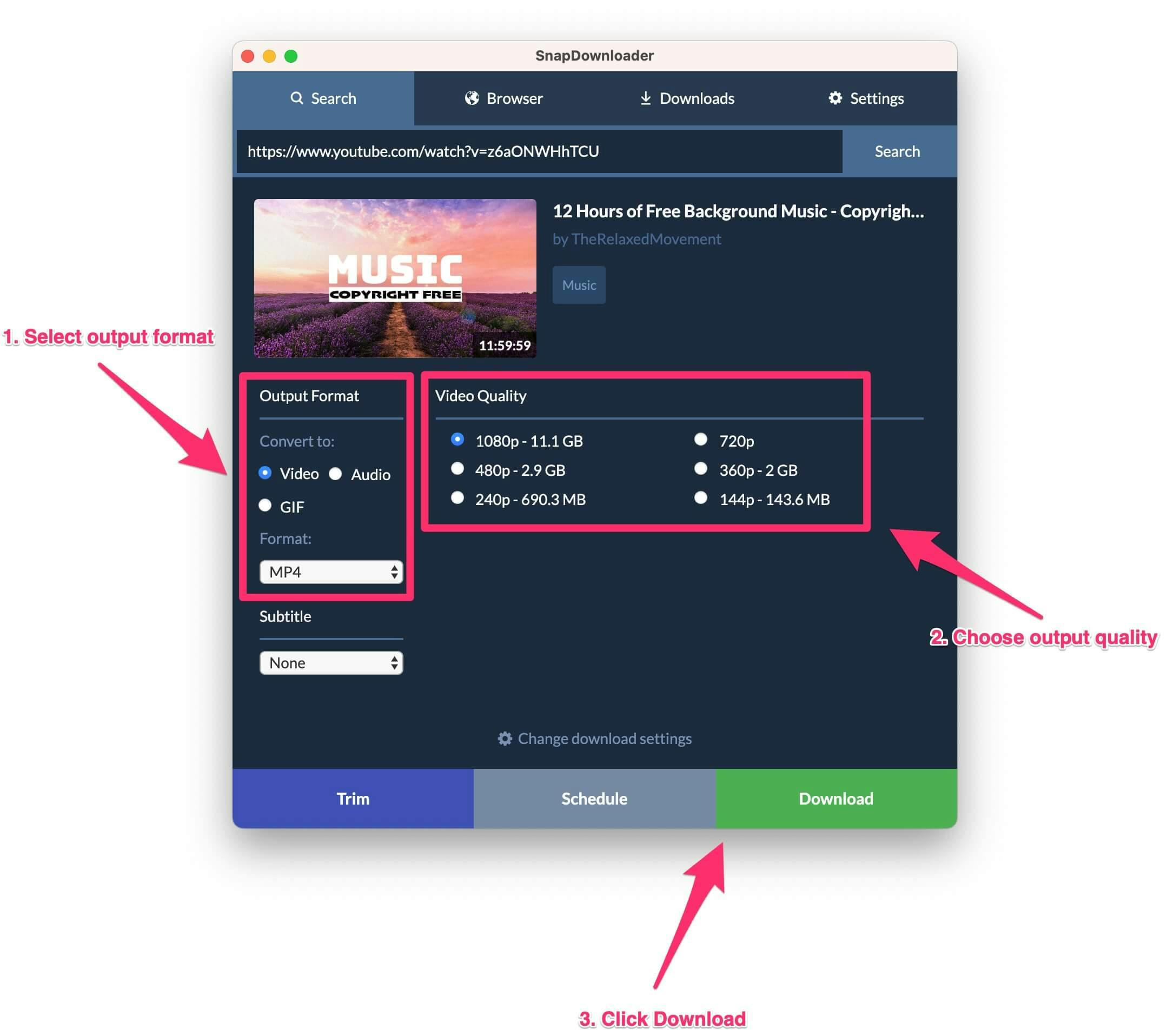 5. SnapDownloader will begin saving the file to your computer. You can view the download progress by going to Downloads > Active.
6 Best Allavsoft Alternatives
1. SnapDownloader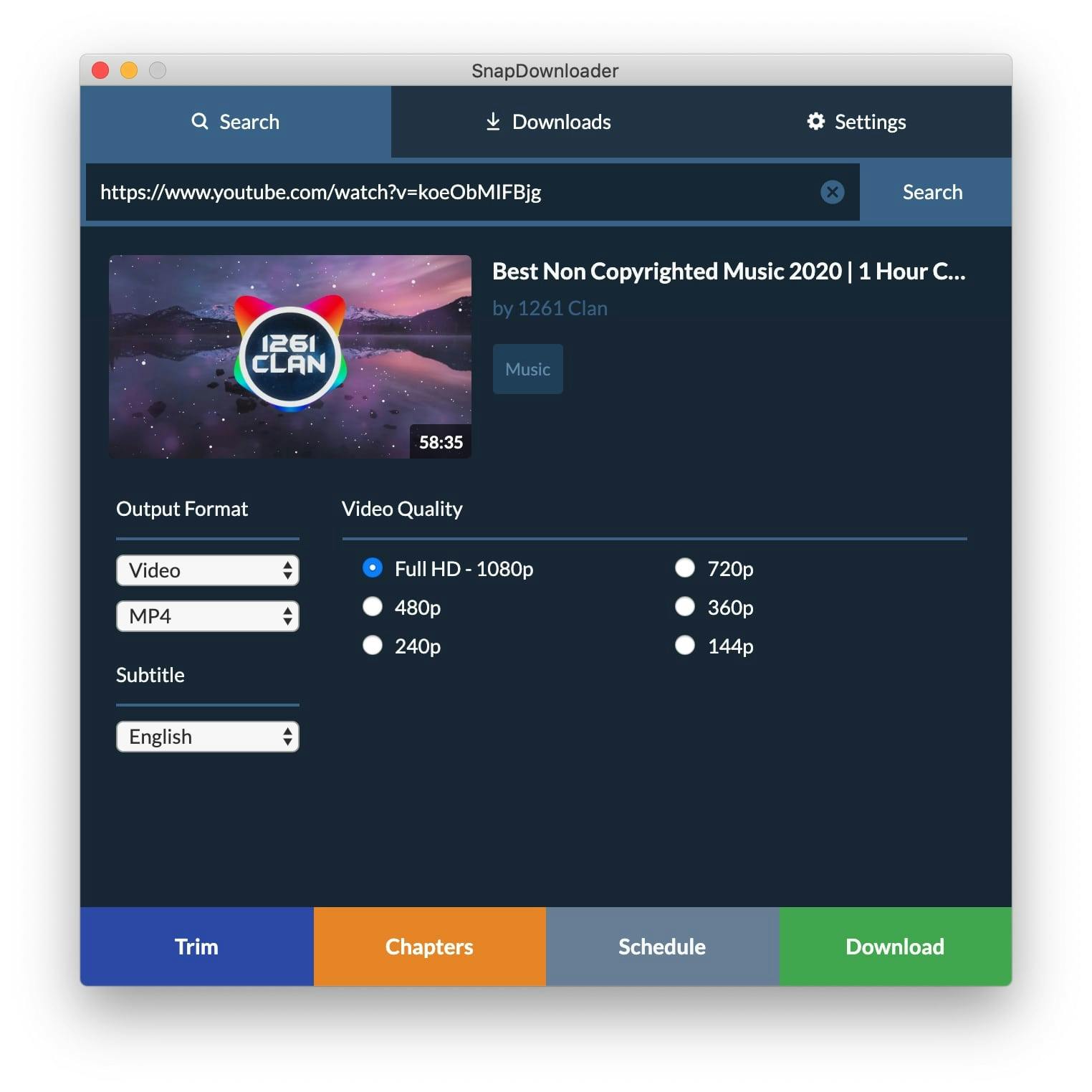 SnapDownloader is a simple, intuitive software that allows you to grab videos from the internet. Use it for bulk downloads or to trim your content. If you don't want to get files right now, you can always grab them later with the scheduled downloads feature. There's also a Browser tab that allows you to find the content without leaving the platform.
Some major websites it supports include YouTube, LinkedIn, Twitch, Facebook, Twitter, Instagram, Rumble, Bilibili, and TikTok. You can view the full list of supported sites here.
Pros
Simple and intuitive
One of the faster options on the market
Allows you to find videos from within the tool
Trimming, scheduling, and bulk download features
The free version allows you to properly test software
SnapDownloader allows you to download YouTube subtitles
Cons
Fewer editing features compared to Allavsoft
You need one of the paid versions to get the most out of it
It only works on Windows and Mac
Pricing
1 Month ($7.99)
3 Months ($16.99)
Annual ($29.99)
Lifetime ($39.99)
Lifetime for three people ($69.99)
Features
Supports numerous qualities and file outputs
Trimming feature
Download scheduling and bulk downloading
Browsing social media from within the tool
Private video downloads
Lots of fantastic features for YouTube videos
One-click mode
Allows bypassing of geo-restrictions
2. Wondershare UniConverter
Wondershare UniConverter is a tool that allows you to download videos in more than 1000 formats. Like most platforms, you can use it to grab content from numerous websites. Its editing features are another major perk, allowing creators to modify videos without ever leaving the dash.
Pros
Lots of conversion options
No drop in quality
Ability to change video's features, including frame rate and size
Well-polished UI
Allows you to trim videos
Cons
Occasional issues with audio files
No drag-and-drop feature makes it feel clunky
No bulk downloads
Wondershare UniConverter isn't the best for a multicore environment
The trimming feature doesn't allow precise cutting
The free version restricts videos length and editing
Pricing
Annual ($39.99)
2 Year ($55.99)
Lifetime ($79.99)
Features
Video recognition feature
Video scheduling
Screen and video recording
Allows file merging
Turns images and videos into GIFs
3. iTubeGo
One of iTube's main advantages is the number of sites it covers. The software allows you to get content from over 10,000 sites, which is a lot, even for advanced downloaders. But we believe that this is overstretched and the figure may be smaller. In addition, you'll probably go with the 3 or 4 most popular platforms.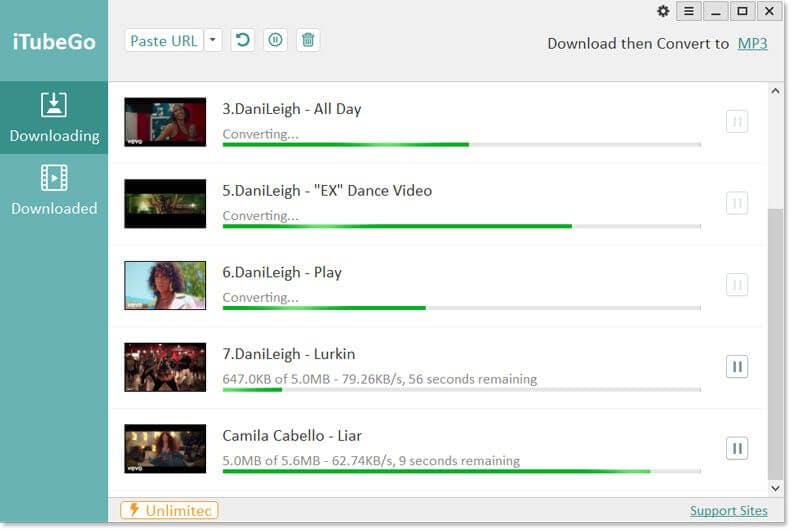 Pros
One of the faster downloaders
Converting files into different formats and for different devices
iTubeGo can download private videos
You can use it on mobile devices
iTubeGo has a private mode
Built-in browser
Cons
UI could be improved
The company falsely advertises that you can download files from certain sites
Reroutes you to the wrong sites when you try to download (for example, it sends you to YouTube when you want to download Spotify content)
No browser extension
The free trial has numerous limitations
Pricing
1 Month ($9.95)
1 Year ($19.95)
Lifetime ($29.95)
Lifetime for five people ($39.95)
Features
Bulk downloads
Subtitle downloading
File transfer
Video recording
Video cutting
Smart notifications
4. ClipGrab
If you're looking for a free and simple tool, you can't go wrong with ClipGrab. You can quickly download it to your device and get video files from the web. Unfortunately, as with any free software, ClipGrab has its fair share of drawbacks. The tool can't compare to top-tier entries on the list.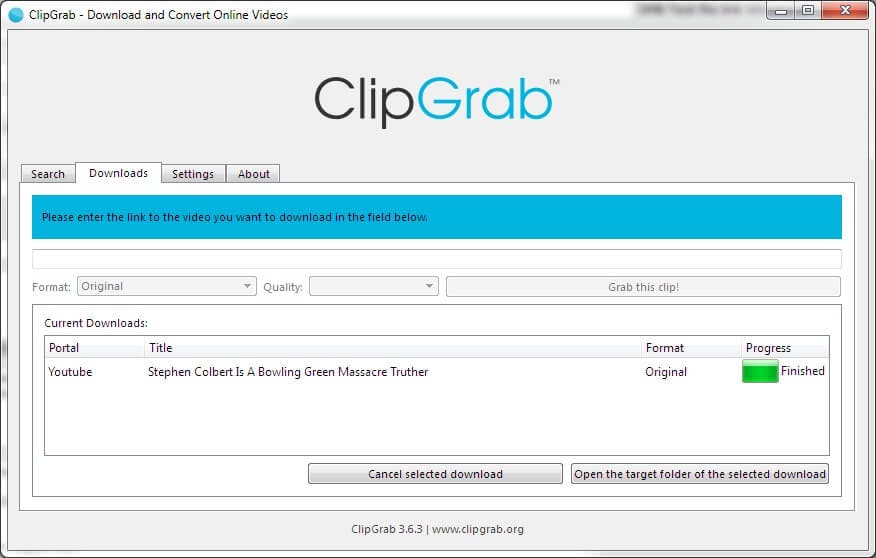 Pros
Built-in browser
A free and straightforward tool
It doesn't have excessive options
Allows file transfer directly to devices
Users can add metadata to audio files
Cons
Slow speed, especially when grabbing larger files
Certain formats are in low-quality
Additional issues depending on connectivity
Tries to download software on your device
Limited built-in searches
Pricing
Features
Searching for videos from within the tool
Multi-file downloads
Good choice for beginners
It can be used on Windows, Linux, and Mac
Clipboard monitoring
5. aTube Catcher
aTube Catcher is a comprehensive tool that we often feature on this site. Like ClipGrab, it's a free solution that allows you basic video downloading functions. Still, we have to give it an advantage over ClipGrab. While the software does an excellent job grabbing online content, it's fairly limited compared to advanced tools such as Snap Downloader.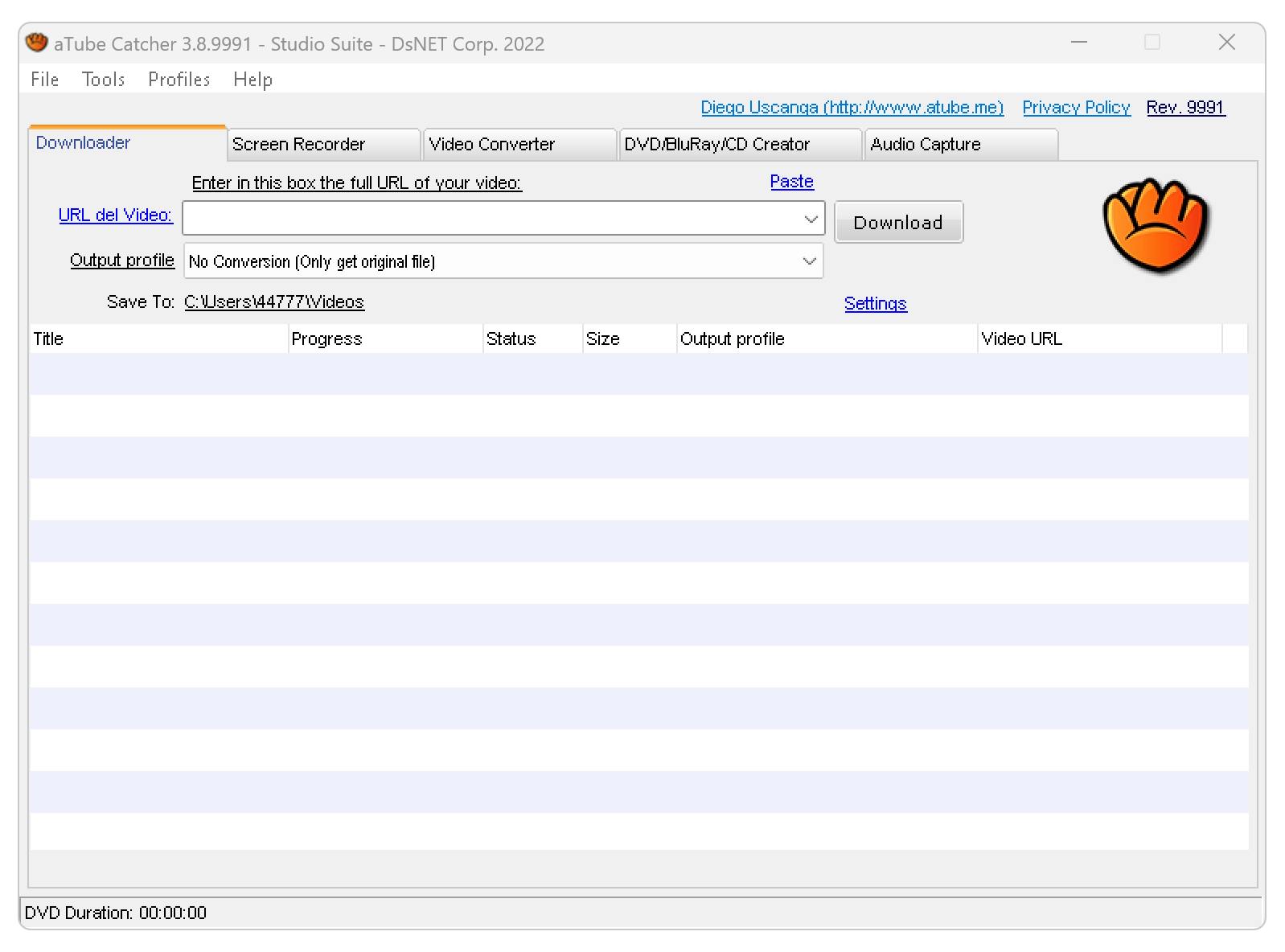 Pros
You can modify output settings
Free tool
aTube Catches supports major sites
The software automatically updates itself
Cons
It doesn't provide much in terms of editing
Too much ad spam
Tries to install other programs
A few hidden and unaccessible features
Not as fast as some other entries on the list
Pricing
Features
Simple video downloading
Support numerous sites
You can change output settings
Bulk and playlist downloads
DVD burner
6. 4K Downloader
This is one of the most popular tools in the industry. You can use 4K Video Downloader on any device, supporting all major sites. However, despite all its upsides, it doesn't perform as well as some other tools. For example, unlike its competitors, this software can't exceed 4K video quality.
Pros
Supports 360-degree videos
Supports 3D videos
Simple and intuitive
Allows fast browsing of favorite platforms
Quickly sets up format and quality
Cons
Goes up to 4K quality
Isn't the best solution for playlist downloads
No editing features
Constant updates are extremely annoying
Supports a small number of sites
Pricing
1 Year (€10)
Lifetime with limited features (€10)
Lifetime with all features (€36)
4K Downloader Suite (€55)
Features
Simple video downloading
Support numerous sites
You can change output settings
Works on Windows, Mac, and Android devices
Allows users to grab private content
Download annotations
Wrapping Up
Even though Allavsoft is such a popular platform, many people prefer its alternatives.
If you're looking for something faster and more intuitive, we suggest you go with SnapDownloader. Although this software doesn't have as many editing features as Allavsoft, it's much better for downloading. The product has a polished UI and is very fast. Most importantly, you don't have to hassle with bugs and interruptions.
Of course, you can always go with some free tools. They are fantastic options for casual users who want to grab a funny video from YouTube. However, if you're a content creator, we suggest you go with something more complex.