Aiseesoft is a company that has given us many incredible programs. They offer tools such as a Blu-ray player, screen recorder, iPhone cleaner, data recovery, and many others. Among others, they also have downloader software that allows you to grab content from the web.
Unfortunately, unlike some tools mentioned above, its video downloader is nothing to write home about. While it looks nice outside, it doesn't support the largest sites and tends to cause other issues. So much so that it's often much better to choose a free online grabber.
This article will discuss the Aiseesoft video downloader, its main features, and some of the best alternatives that can replace Aiseesoft.
What is Aiseesoft?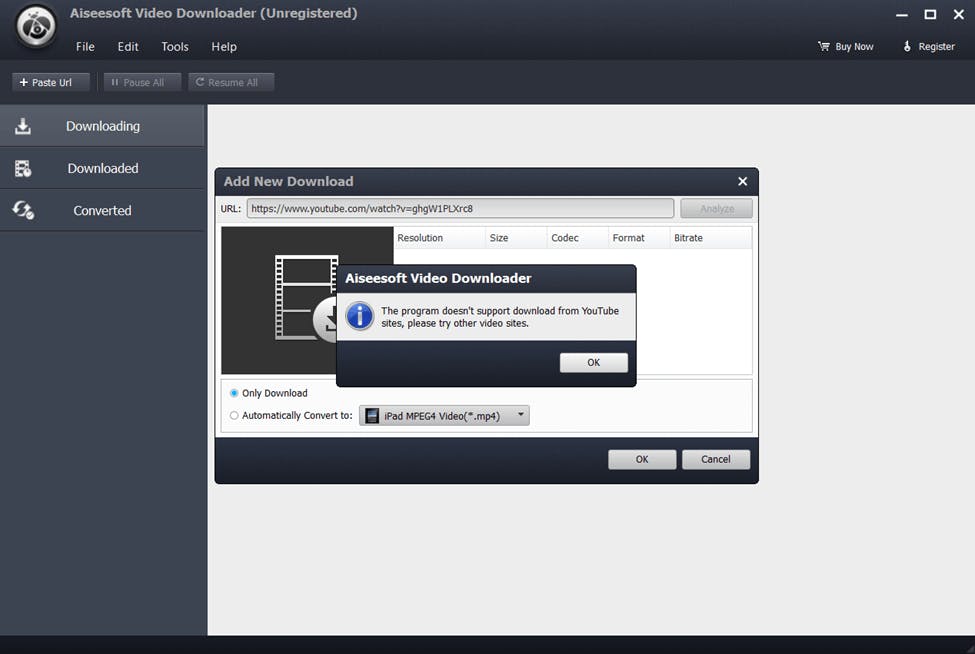 Aiseesoft is a simple video downloader with limited usefulness. It allows you to get online videos on your computer and convert them into various formats.
Unlike most modern players, it doesn't offer many editing features. In fact, it's just a downloader that lets you grab content, and that's about that.
The thing we like about this tool is its slick UI. In an industry where every second tool looks obsolete, Aiseesoft is a breath of fresh air. The platform also allows you to convert files into different outputs and modify them for various devices.
Key Features
As mentioned, Aiseesoft has a basic functionality that resembles free online tools that work from within web browsers. It allows you to copy-paste video addresses into the bar, after which it grabs the related content. You can also use the Aiseesoft video converter to alter files on your PC or mobile device.
Here are its key features:
Video downloading
Video converting
Available in four languages
Main Issues With Aiseesoft
There are so many things wrong with Aiseesoft, so we had a tough time deciding where to start.
Given that it has similar functionality as a free online browser tool, it doesn't make much sense that it is available as a standalone software that doesn't offer any additional features.
For example, it would make sense to download software such as SnapDownloader because it gives you so much functionality compared to an online video downloader. But with Aiseesoft, it's just too many steps to get a dysfunctional tool.
The biggest issue with Aiseesoft is that it's unreliable and has poor functionality. During our tests, some videos couldn't load in the player. It was even worse with YouTube clips, where we struggled the most. On top of all these issues, the downloader doesn't have basic editing functions, otherwise common for modern software.
The Best Aiseesoft Alternative for Windows and macOS
If you're looking for a product that excels at downloading videos, look no further than SnapDownloader. In our opinion, this is currently the best Aiseesoft alternative on the market.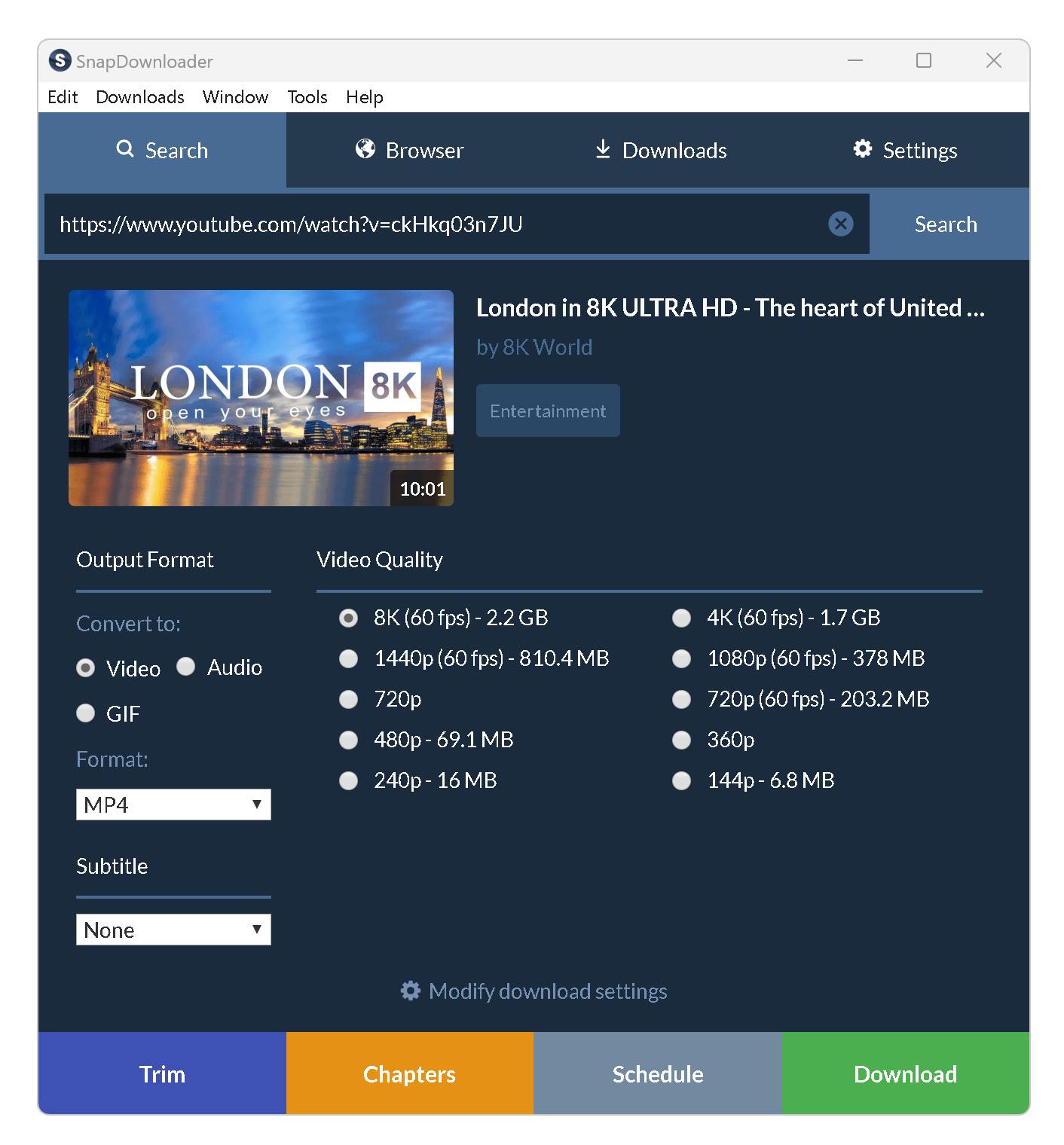 This software has a similar UI to Aiseesoft. It's slick, modern, and easy to use. More importantly, it will help you grab any video or audio file from the biggest social media platforms. It currently supports a large list of 1,100+ websites like YouTube, LinkedIn, BitChute, TikTok, Twitter, Facebook, Reddit, and Instagram.
Downloads are fast, and you can instantly convert the file to a certain output and quality.
SnapDownloader is also fantastic in terms of added features. Unlike Aiseesoft, it has trimming, video scheduling, and bulk downloads. All these functions can come in handy if you're a content creator, journalist, or anyone who deals with downloading videos.
How to download online videos with SnapDownloader
Grabbing videos with SnapDownloader is rather straightforward. Here's how to download online videos with it.
1. Download and install SnapDownloader.
2. Find the video on one of the numerous supported platforms and copy its link.
3. Paste the URL into SnapDownloader's Search tab.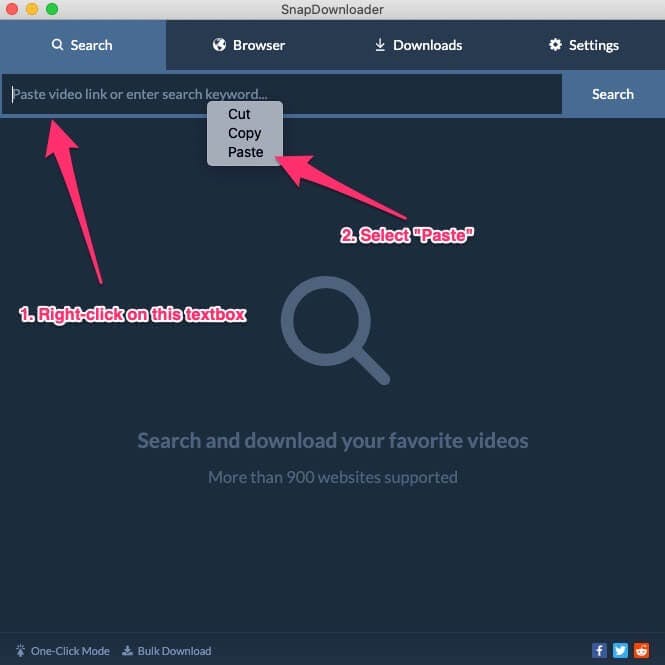 4. Tweak the output setting the way you see fit. You can choose subtitles, trim the video, and adjust the output quality/file type.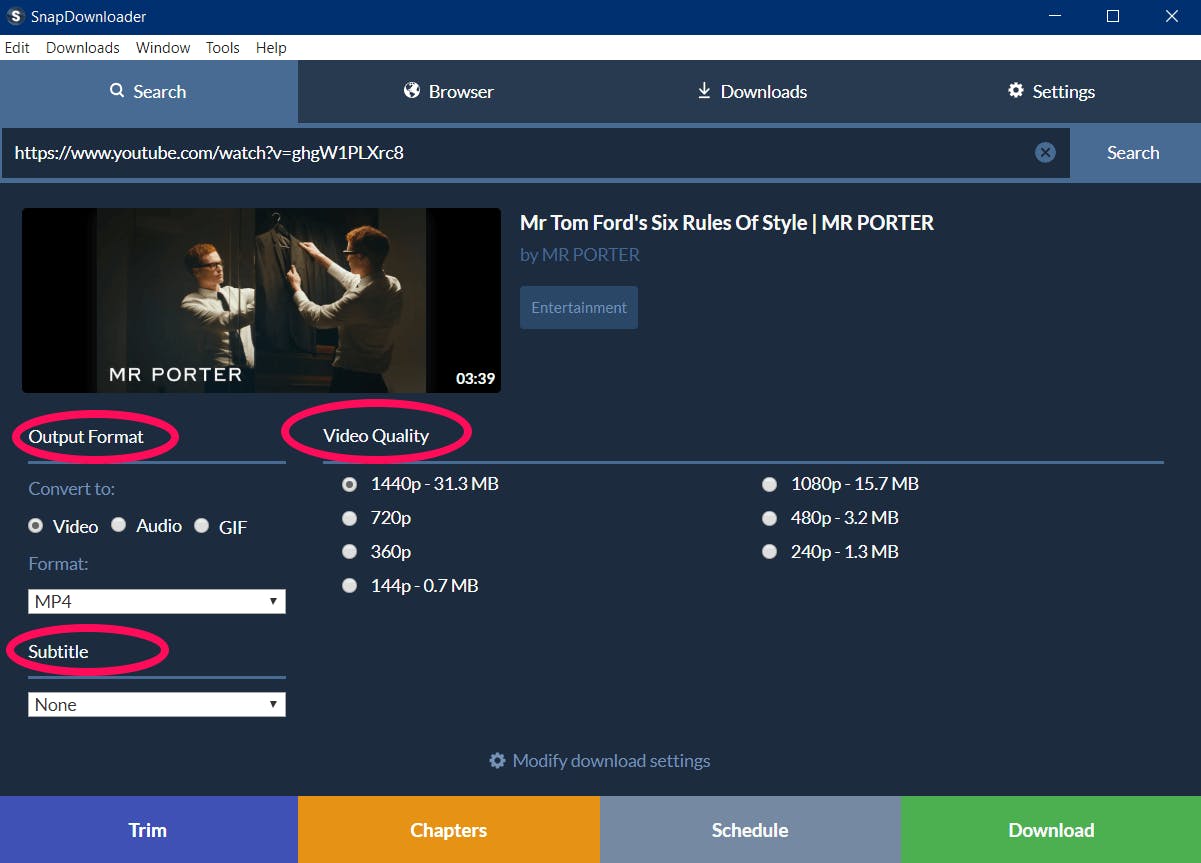 5. Click the Download button. Once your download is finished, you can access the file in the destination folder or play it directly from SnapDownloader by double-clicking the download.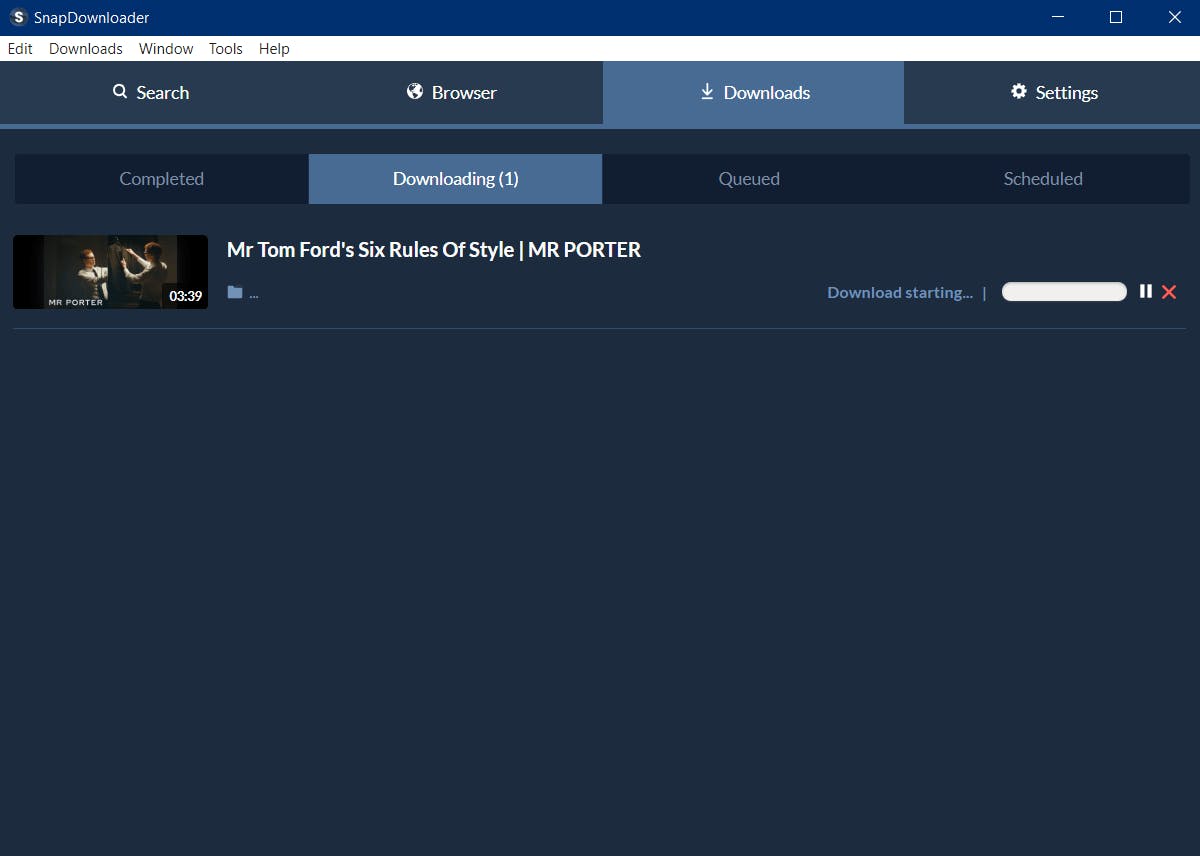 Top 7 Alternatives to Aiseesoft
1. SnapDownloader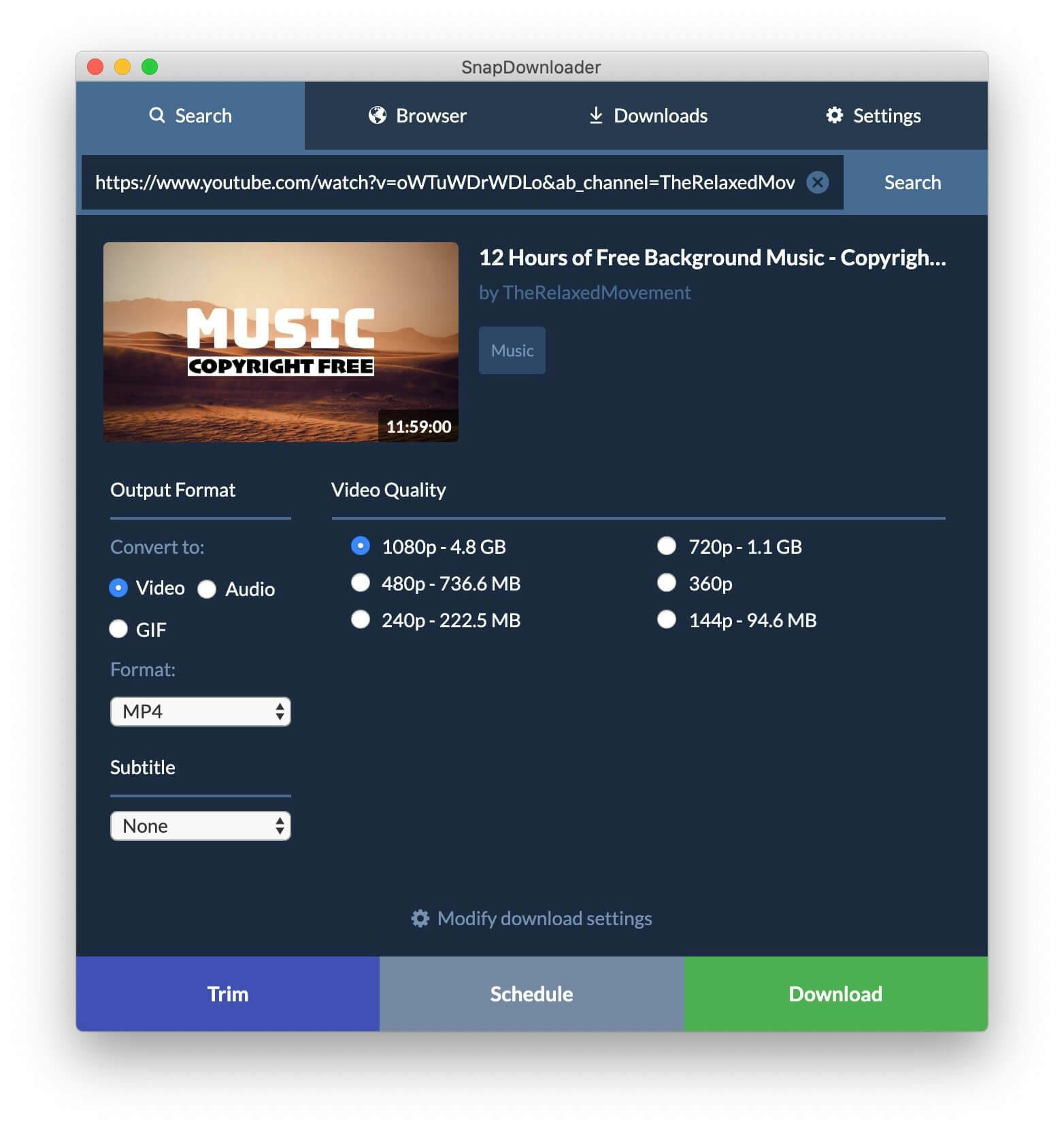 There's a lot to like about SnapDownloader. It's a simple yet powerful tool that has a few nifty features. It's a fantastic choice for content creators and anyone who needs bulk downloads. It's extremely quick and efficient, saving time when processing video and audio files.
Pros
Clean, well-polished UI
Fast download speed
In-tool search tab
Allows private video downloading
Allows you to grab YouTube subtitles
Works with more than 1,000 sites
Cons
It doesn't have many editing tools apart from the basic ones like trimming
Compatible with Windows and macOS only
Pricing
Monthly subscription ($7.99)
3 Months subscription ($16.99)
Annual subscription ($29.99)
Lifetime license ($39.99)
Lifetime license for three users ($69.99)
Features
Video trimming
In-app browser
1,100+ websites supported
Download private videos, playlists, and channels
Schedule downloads for later
10+ output formats
Supports up to 8k videos
Bulk downloads
Download subtitles, chapters, channels, and playlists from YouTube
2. iTubeGo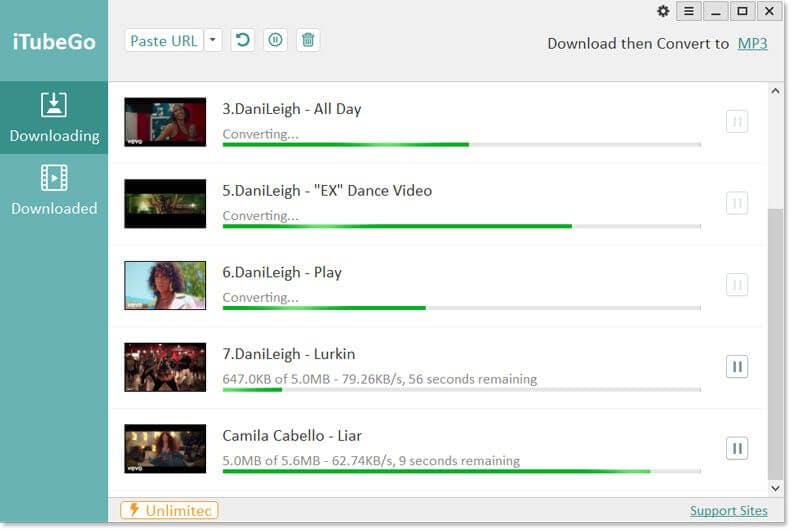 iTubeGo is a solid choice if you're looking for multiple functions on one platform. Aside from downloading, the software allows you to convert and transfer files and record videos. Unfortunately, it doesn't support all sites that it advertises.
Pros
Fast download speed
Lots of nifty features
It works well on mobile
Built-in browser
Private downloader
Cons
It doesn't work on all advertised platforms
Outdated and buggy UI
Limited free trial
No browser extension
Limited output formats
Pricing
Monthly subscription ($9.95)
Annual subscription ($24.95)
Lifetime purchase ($29.95)
Lifetime purchase for five users ($39.95)
Features
Fast video downloads
Video recording
File conversion
Bulk downloads
Notifications when downloading the same file
Private video download
3. Leawo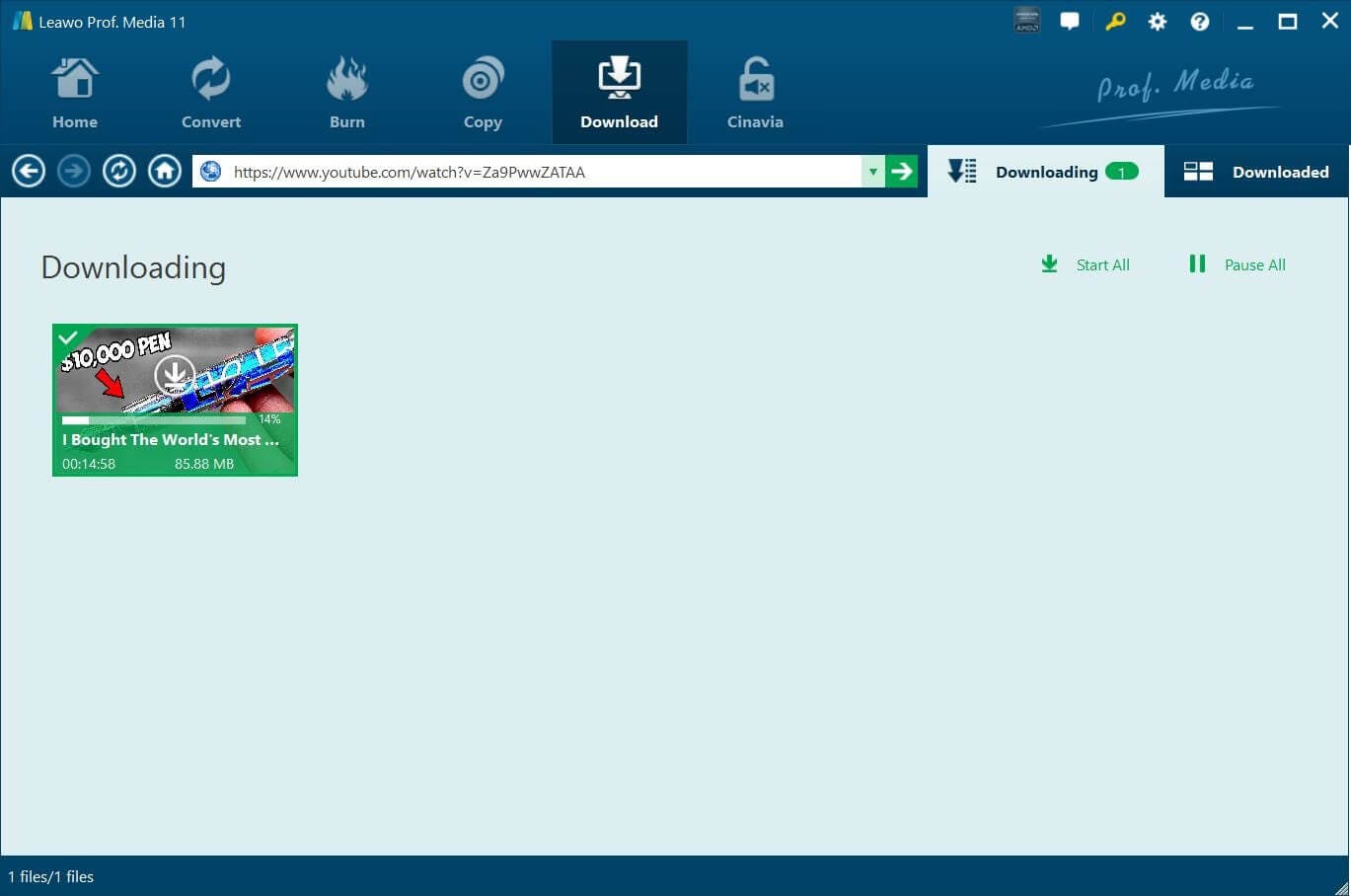 One of the most expensive tools on the list, Leawo offers a lot of different (although sometimes unnecessary) features. Apart from downloading features, it offers tools to copy and rip Blu-rays and DVDs. It also allows you to burn discs and convert files.
The software works in numerous formats and with different qualities.
Pros
More than 180 formats to choose from
Numerous options for DVDs and Blu-rays
Fantastic help for creating slideshows
It comes in 11 languages
Leawo allows subtitle downloads
Cons
You have to pay separately for each feature
Blu-ray feature is too expensive
Dubious refund policies
Occasionally, the downloader doesn't work as intended
The software doesn't work on all devices
Pricing
Annual subscription ($49.95)
Lifetime license ($79.95)
Full suite purchase ($89.91)
Features
Video downloads
Video conversions
DVD/Blu-ray creator
DVD/Blu-ray ripper
Transforms 2D into 3D videos
Video editor with trimming and cropping
4. Any Video Converter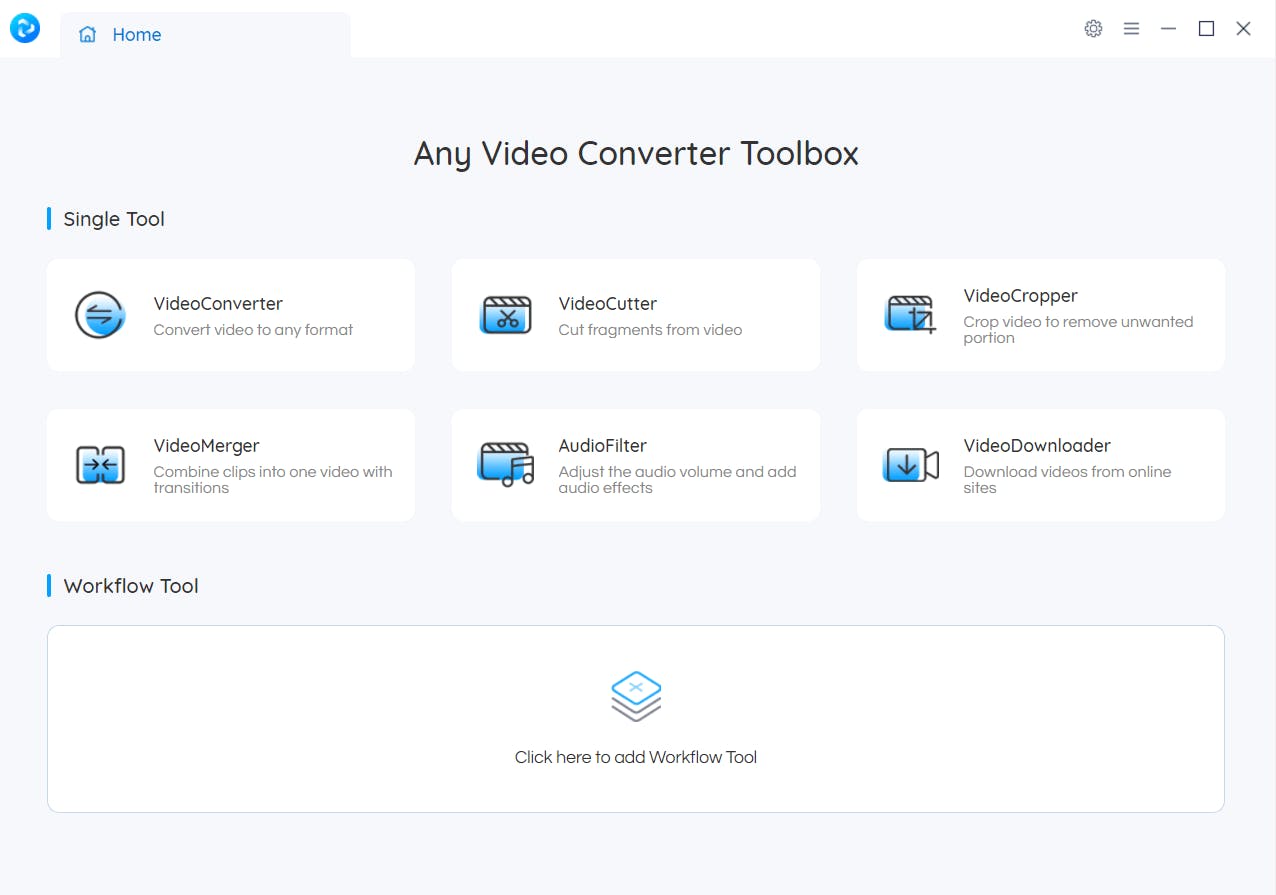 Any Video Converter is a fantastic purchase for content creators. Aside from its video-grabbing feature, it also has numerous options for editing. Merging, cutting, and cropping are just a few things this versatile software can do. Its main issue is that it doesn't work on all major platforms.
Pros
Great editing features
Pretty easy and straightforward to use
Supports various file formats and allows different qualities
Allows bulk downloads
One of the rare tools that allow adjusting of audio within video files
Cons
It doesn't support some major platforms
One of the slower entries on the list
Tries to install other software during setup
The free version constantly spams users into making a purchase
Pricing
Lifetime license ($49.95)
Features
Video converter
Audio modifications
Allows video burning
Video cutter, cropper, and merger
Works on all versions of Windows
Allows DVD conversions
5. ClipGrab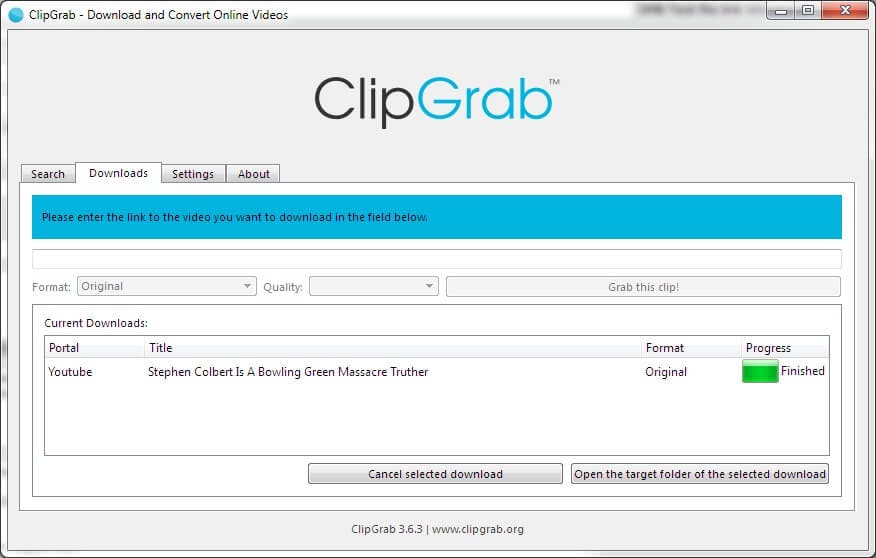 If you wish to save money on a downloader, you should go with something like ClipGrab. This straightforward software allows you to search and download online videos.
It is free software that offers standard features that any video downloader must have. It supports many websites similar to SnapDownloader but lacks many essential features such as bulk downloads, scheduling, and more.
Pros
Free software
Easy to use
Allows video search from within the tool
Users can directly transfer files to other devices
Allows you to add metadata to audio files
Cons
You'll likely need other tools for video editing and conversion
Slower speed compared to most other tools on the market
Limited output quality and format options
Built-in browser has only 12 results
Clipboard monitoring sometimes takes too much time
Sometimes flagged as malicious by antivirus programs
Pricing
Features
Simple but efficient video converter
Built-in search bar
Supports Mac, Windows, and Linux
Streamlines link-pasting with clipboard monitoring
Generally consistent (although slow) download speed
6. Y2Mate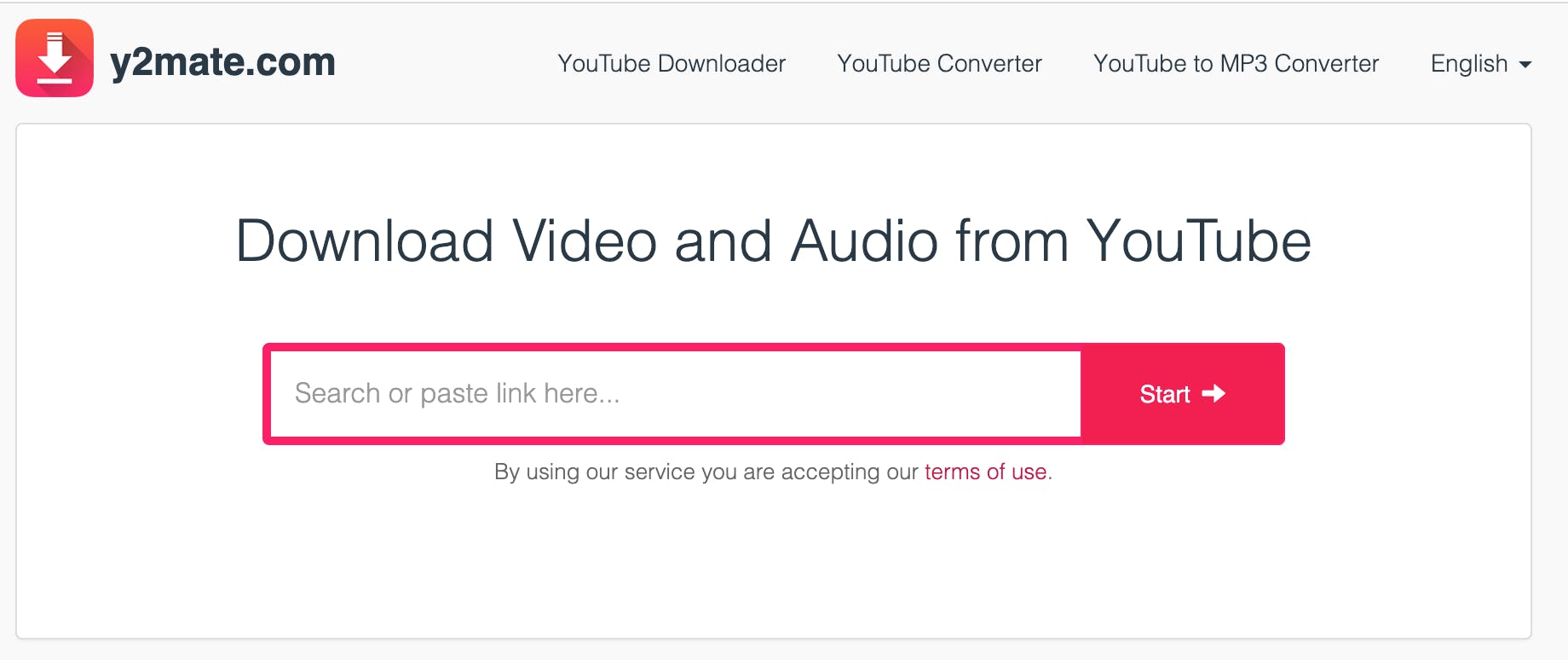 Y2Mate has numerous similarities to ClipGrab, yet, it's somehow easier to use. This is basically a run-of-the-mill online YouTube grabber with limited functionality. Its main advantage is that you can use it at any time to download files from YouTube without having to install any software, apps, or browser extensions.
Pros
Free and no download required
The simplest tool on the list
No limitations as to how much you can use it
No signups or any other processes
Supports MP4 and MP3
Cons
Lots of popup ads, adult notifications, and scammy ads
It only works with YouTube
It doesn't offer any other feature aside from basic video downloading
Potentially dangerous and flagged by malware programs
You can't use it for grabbing HD videos
Pricing
Features
Allows conversion of YouTube videos into MP3 and MP4
Simple to use
A great option for casual users
7. 4K Video Downloader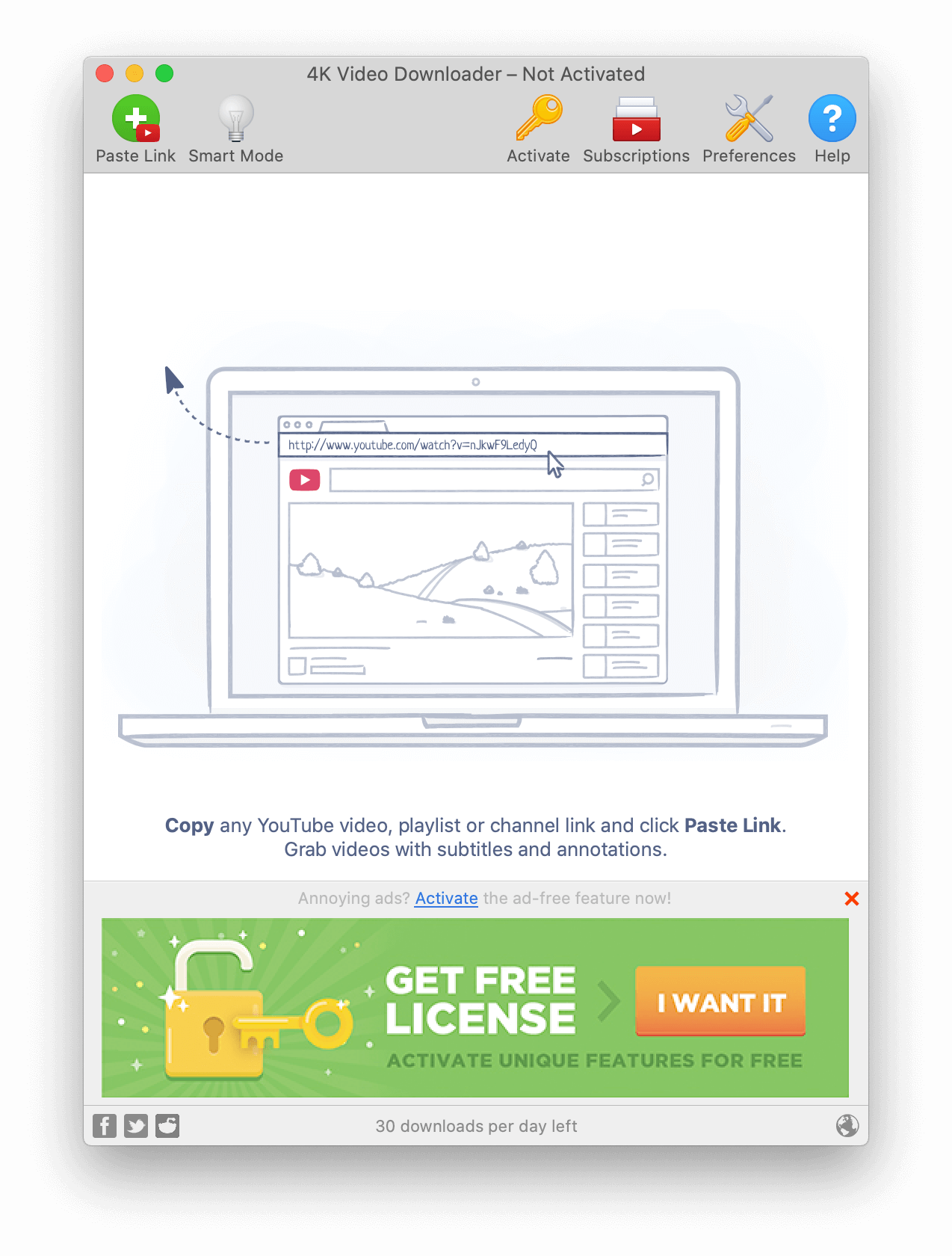 4K Video Downloader is one of the most popular video downloaders in the market. It is a solid, well-polished grabber that allows you to download videos from a few websites and convert to various formats.
The main problem with the 4K Video Downloader software is that it isn't much better than Y2Mate or any other simple tool.
Pros
Nice-looking and simple to use
You can quickly browse your favorite sites
Allows you to set up video quality and format quickly
Works on macOS, Windows, and Android
Supports videos of up to 8K quality
Cons
Too many ads when using the free version
Lacks support for some of the biggest social media platforms
Not as fast as some other options
Occasional issues with downloading videos
Pricing
Annual subscription ($10)
Personal license ($15)
Pro license ($45)
Full suite of apps ($65)
Features
Video downloader for popular sites
Built-in search bar
Playlist downloading
3D and 360 video downloads
Download subtitles
Download age-restricted connect
Private video downloads
Wrapping Up
Aiseesoft video downloader is one of the more overrated grabbers on the market. Not only do you have to waste time downloading this software, but you also have to watch it fail repeatedly. In the end, you can't say many positive things about a downloader that can't grab YouTube videos.
Luckily, many incredible alternatives on the market can easily replace this tool. For one, we would suggest trying SnapDownloader. This premium product has incredible UI and can quickly convert and download videos.
Try it for yourself today and see how it works.