Softorino is an often-mentioned YouTube downloader. This company has made its name by making various small tools that help social media influencers and marketers ideate, create, and modify content.
Softorino YouTube Converter is just one on the long list of programs that the software brand offers. In this article, we'll take a look at the platform's features, pros, and cons, as well as the pricing plans.
What is Softorino YouTube Converter?
Softorino is a company that has made numerous small, nifty tools. Although branded "YouTube Converter," their grabber works for more than 60 major video platforms. Furthermore, you can download this content on your Mac, iPhone, and desktop device.
Softorino has to be downloaded and installed on your device. It's pretty intuitive and straightforward to use, which makes it a perfect choice for just about anyone. Then again, Softorino also has a few technical limitations that might cause issues later on.
Softorino YouTube Converter Features
1. Video, Audio, and Ringtone Downloader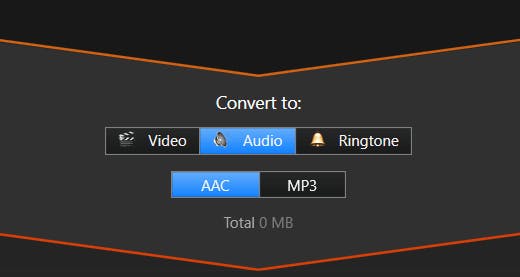 Softorino allows you to quickly grab various web content types, such as videos, audio, and ringtones. The platform works for over 60 websites, including YouTube, Facebook, Vimeo, Instagram, SoundCloud, Discovery Channel, Metacafe, etc.
Unfortunately, the software can't help you grab TikToks, which is a major flaw, given the popularity of this platform. There's also a lot to be desired with its ringtone feature, as you can't cut downloaded files the way you want. As for the performance, Softorino YouTube Converter 2 allows you to grab videos of up to 4K quality.
2. File Transfers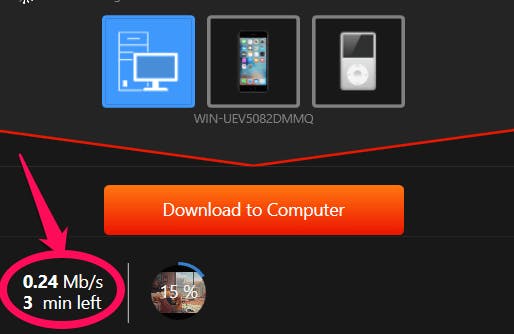 File transfers and conversions are some of the tool's main selling points. The platform allows you to transfer files from iPhones and iPads to computers and vice versa. Even better, the software has an automatic Wi-Fi feature that helps you stay connected in all situations.
3. Built-In Browser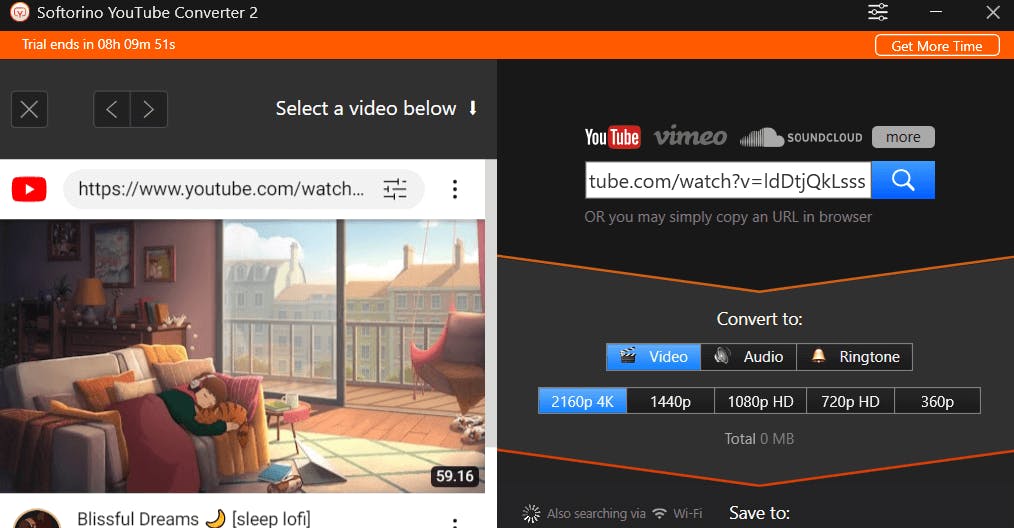 Another amazing feature is the built-in browser. As soon as you open YouTube on your computer and click on a video, it will be automatically loaded into your dashboard. There's no need to copy-paste URLs as you immediately get the option of downloading your favorite content.
Softorino YouTube Converter Pricing
Softorino offers three pricing plans to its potential users:
Monthly plan – $9.95
Annual plan – $2.92 (for each month, billed annually)
Complete suite – $300 (includes 16 tools)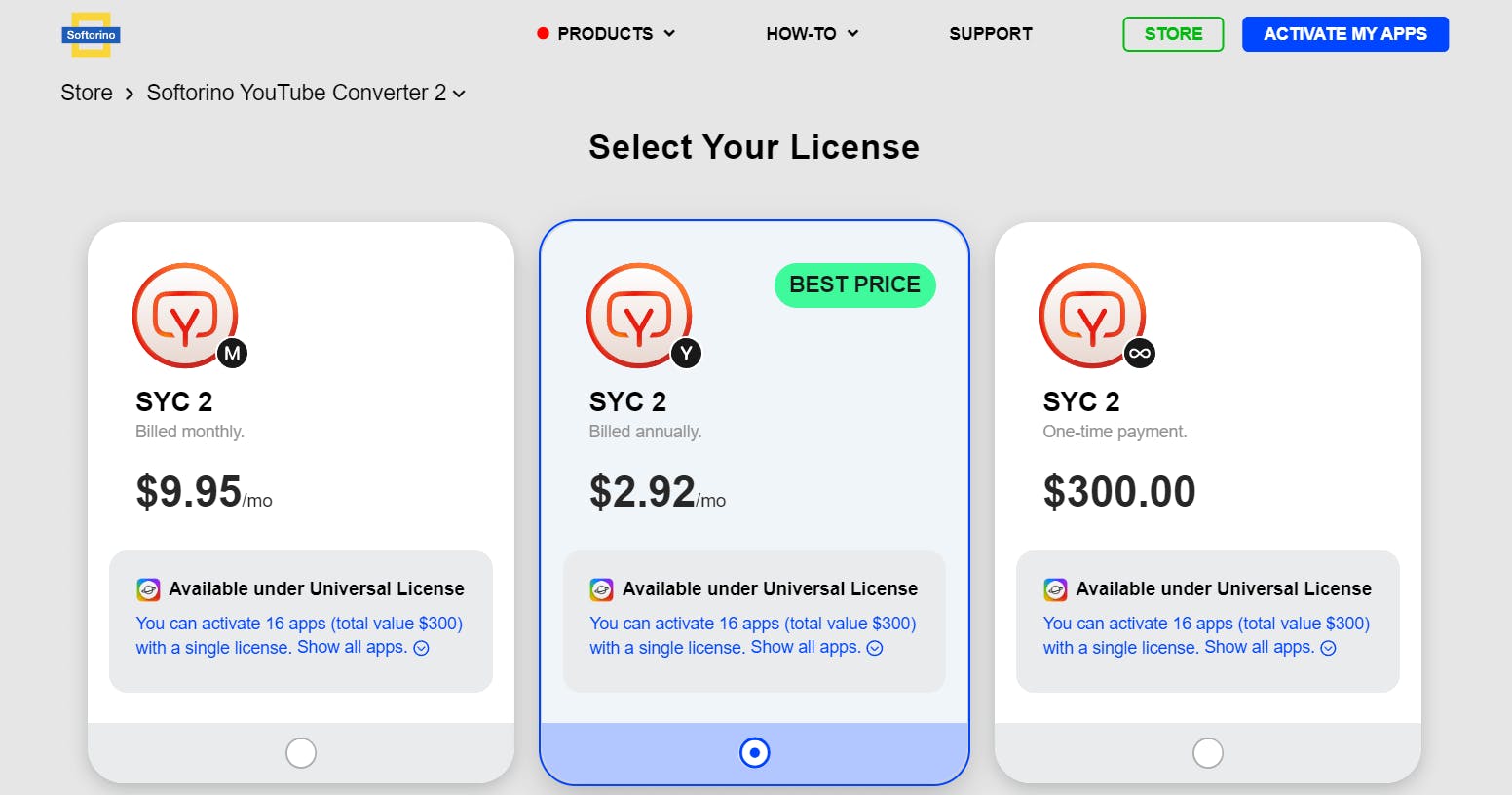 Generally speaking, the annual plan isn't that expensive compared to some of the competitors. One thing that's missing is the lifetime subscription, which you can get with some other YouTube downloaders.
If you need Mac support, you should buy Softorino YouTube Converter Pro, which works exclusively for these devices. This can be a real nuisance if you bought a lifetime subscription for the entire suite (quite pricey) and decided to switch brands along the way.
Softorino YouTube Converter Pros & Cons
Pros
Easy to use
Built-in browser
Automatically loads videos
Supports more than 60 platforms
Wireless transfers
Allows you to add subtitles to videos
Cons
The free plan is fairly useless
Limited editing options
Various metadata, TV app, and artwork limitations
A few noticeable issues with ringtones
Doesn't work for TikTok or Twitch
Is Softorino YouTube Converter Safe?
Based on what we could gather, Softorino is completely safe to use. We weren't flagged by our antivirus suite while using the tool. Furthermore, the company doesn't have to use any pop-ups or intrusive advertising, and this goes both for free and paid versions of the product.
Can I Download Softorino YouTube Converter for Free?
Softorino is a paid tool, and you can use a trial to test it out. Unfortunately, you won't get much from the product's free version.
The company offers one of the worst free trials we had the opportunity to use. The platform downloads videos at approximately 0.3 Mb/s, which makes the process extremely frustrating. Just to get the picture, downloading certain videos (20, 30 minutes) with the free version could take you several hours.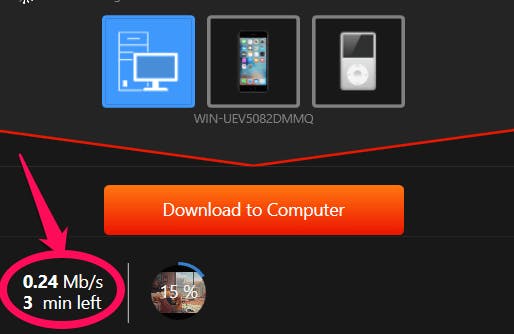 However, we did like its automatic video-loading feature that adds content to the dashboard as you browse YouTube. If anything, this little quality-of-life feature helps improve the impression.
Top Alternative to Softorino YouTube Converter: SnapDownloader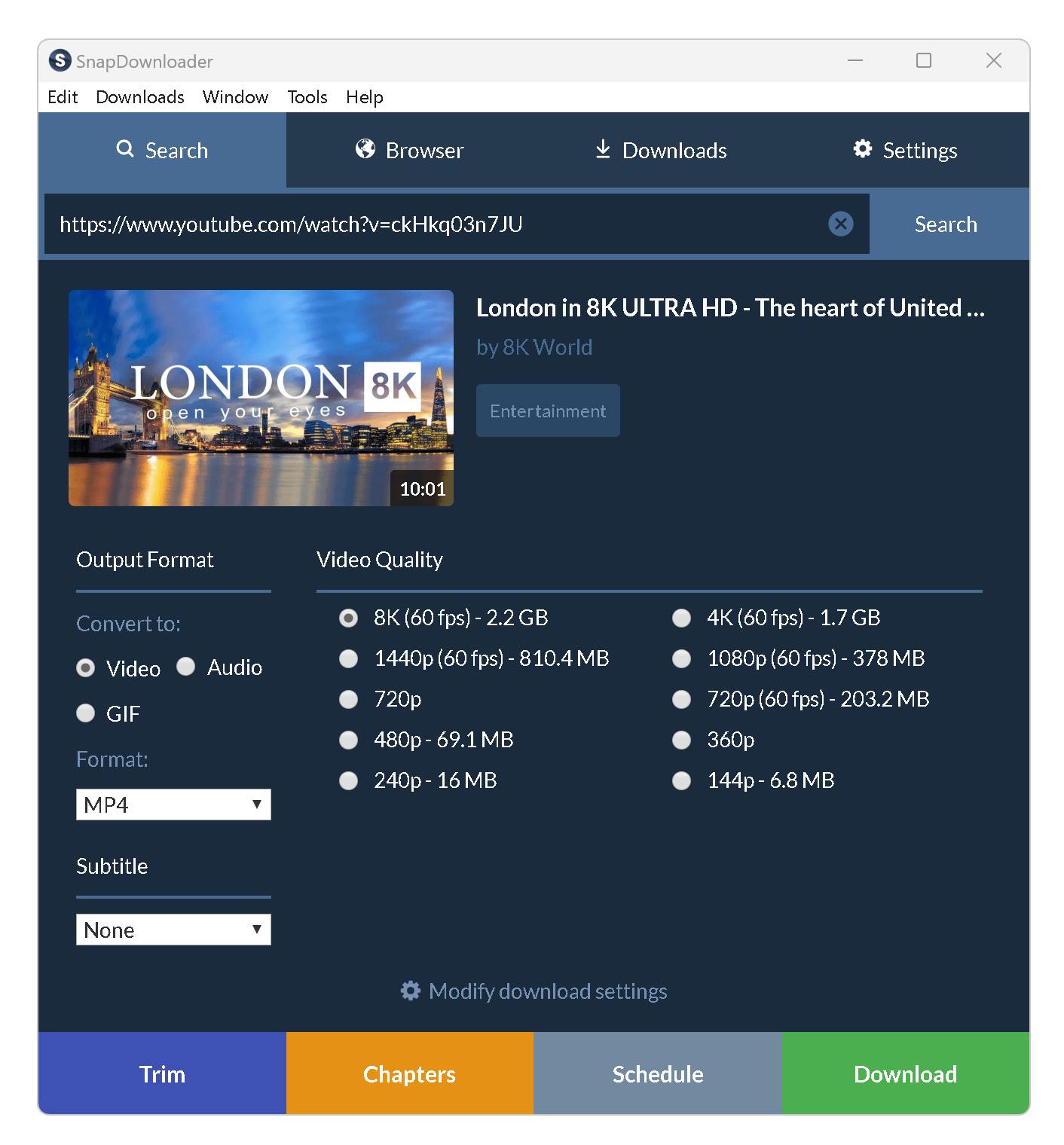 Softorino is solid for basic downloads. The built-in browser helps as well, and you can also save time through automatic video loading. We also have to mention its ability to convert and transfer different types of files on different devices. However, that's about that.
One major thing Softorino fails at is editing features. There's very little you can do to alter files, which can be a real nuisance. For example, when downloading ringtones, you can only download 30 seconds of audio or an entire file. In fact, there's no trimming or download scheduling of any sort.
So, if you're looking for a more comprehensive and reliable tool at the same price, you should definitely consider SnapDownloader. The tool works for over 1,000 platforms, including TikTok, VK, LinkedIn, Instagram, Facebook, YouTube and Twitch, and is much better at manipulating downloaded files.

Try SnapDownloader for Free
Pricing
Unlike Softorino, SnapDownloader offers much more flexibility with pricing plans. The thing that's really awesome about it is that you can go with a lifetime plan while not having to purchase other tools.
Monthly plan - $7.99
Quarterly plan - $16.99
Annual plan - $29.99
Lifetime plan - $39.99
Family plan for 3 users - $69.99
Features
1. Fast Video, Audio, and GIF Downloads

Like many other grabbers, SnapDownloader lets you get video and audio files from various platforms. The thing that separates it from Softorino and other players is its ability to convert files into GIFs. This is an incredible feature geared toward the younger generation and all those who love memes.
SnapDownloader allows you to grab videos of up to 4K quality. The software is incredibly fast, so you won't have to spend hours waiting for the download to be finished. You can also access a few modifications, such as adding subtitles, adding custom metadata, and changing file names and formats.
2. Editing Features
The thing that really makes a difference is the editing features. SnapDownloader has a trimming functionality that allows you to change the length of any video before grabbing it. Cutting files is especially important when you're trying to get a file quickly but don't need the entire video.
It's also worth noting that you can add several trims during the same download, so when you grab the video, it will already be edited. In other words, you won't have to use third-party tools to improve your content. This makes SnapDownloader a perfect option for YouTubers and other social media creators.
3. Built-In Browser
The built-in browser allows you to find videos within the same tool without switching to the web browser. But more importantly, you can use it to download videos that are private.
The feature works for all the biggest video platforms, including Facebook, YouTube, TikTok, Instagram, Ok.ru, and Twitch. For an even better experience, you can activate One-Click Mode, which allows automatic grabbing with a single click of a mouse.

Try SnapDownloader for Free
Pros
Fast and reliable video, audio, and GIF downloads
Allows up to 15 parallel downloads
Has a built-in browser that supports 10 major video platforms
Bulk downloads
Video trimming and scheduling
Allows downloading of private videos
Cons
You have to buy the paid version for the full experience
It doesn't have advanced editing features
Softorino is better for transferring files on different devices
How to Download Online Videos With Snapdownloader?
Downloading videos with this software is pretty straightforward. All you have to do is copy-paste the URL into the platform's search bar, and the program will automatically load it into the dashboard. After setting up basic options, including trimming and scheduling, just press the Download button to grab content.
Softorino YouTube Converter vs. SnapDownloader
| | | |
| --- | --- | --- |
| | Softorino YouTube Converter | SnapDownloader |
| Video Downloads | ✅ | ✅ |
| Audio Downloads | ✅ | ✅ |
| Ringtone Downloads | ✅ | ✅ |
| Download Subtitles | ✅ | ✅ |
| Versatile File Conversion | ✅ | ✅ |
| Wi-Fi Transfers to Other Devices | ✅ | ❌ |
| In-App Browser | ✅ | ✅ |
| Trimming | ❌ | ✅ |
| Scheduling | ❌ | ✅ |
| Bulk Downloads | ✅ | ✅ |
| Formats | 7+ | 10+ |
| Resolutions | 360p to 4K | 144p to 8K |
5 Softorino YouTube Converter Alternatives
Although a somewhat known name on the market, Softorino fails in many categories. The platform simply doesn't match up with some other modern tools that offer much more functionality. So, before you get Softorino, it wouldn't be bad to consider one of these awesome alternatives:
1. SnapDownloader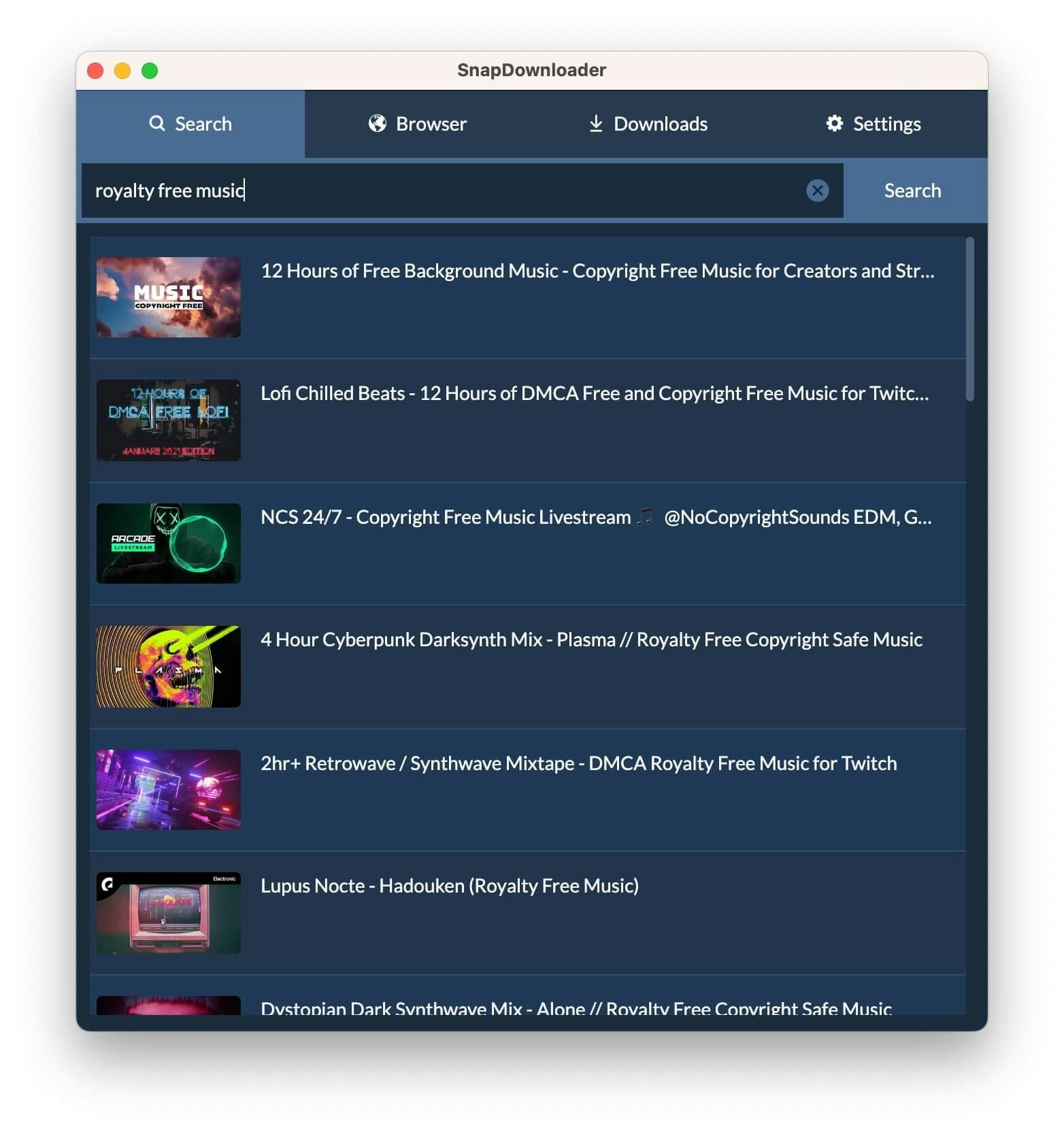 As mentioned, SnapDownloader is a legitimate alternative not only to Softorino but numerous other video grabbers and converters. The platform has a slick design and intuitive features, and you won't take too much time to get ahold of things.
Among others, it provides basic editing functions making it the optimal choice for content creators. You can also schedule downloads and grab up to 15 files simultaneously. As if that wasn't enough, you have a built-in browser, which makes your life that much easier when accessing SnapDownloader from a mobile device.
2. HitPaw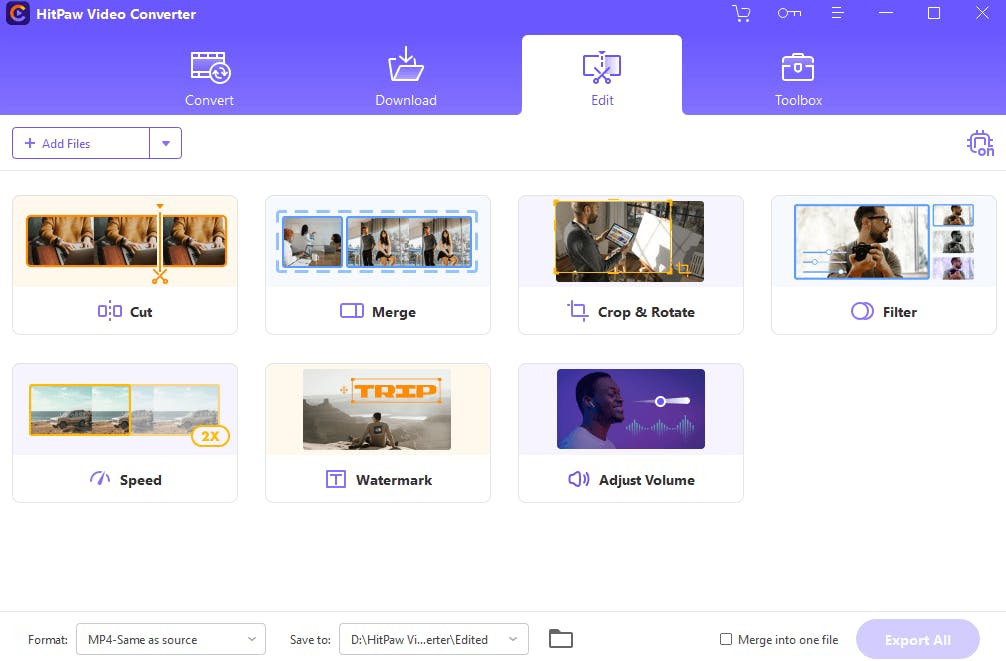 HitPaw is another heavy hitter on the downloader market. The platform has one of the most beautiful and intuitive UI of all grabbers, making the process that much more enjoyable. You can use it for just about any major website, regardless of the device you're using.
The thing that separates HitPaw from Softorino is the enormous number of editing features. You can use the software to cut, merge, filter, crop, and rotate your content. Users can also speed the videos up and adjust the volume. Although a bit more expensive than an average converter, the tool makes it up with all its functions.
3. iTubeGo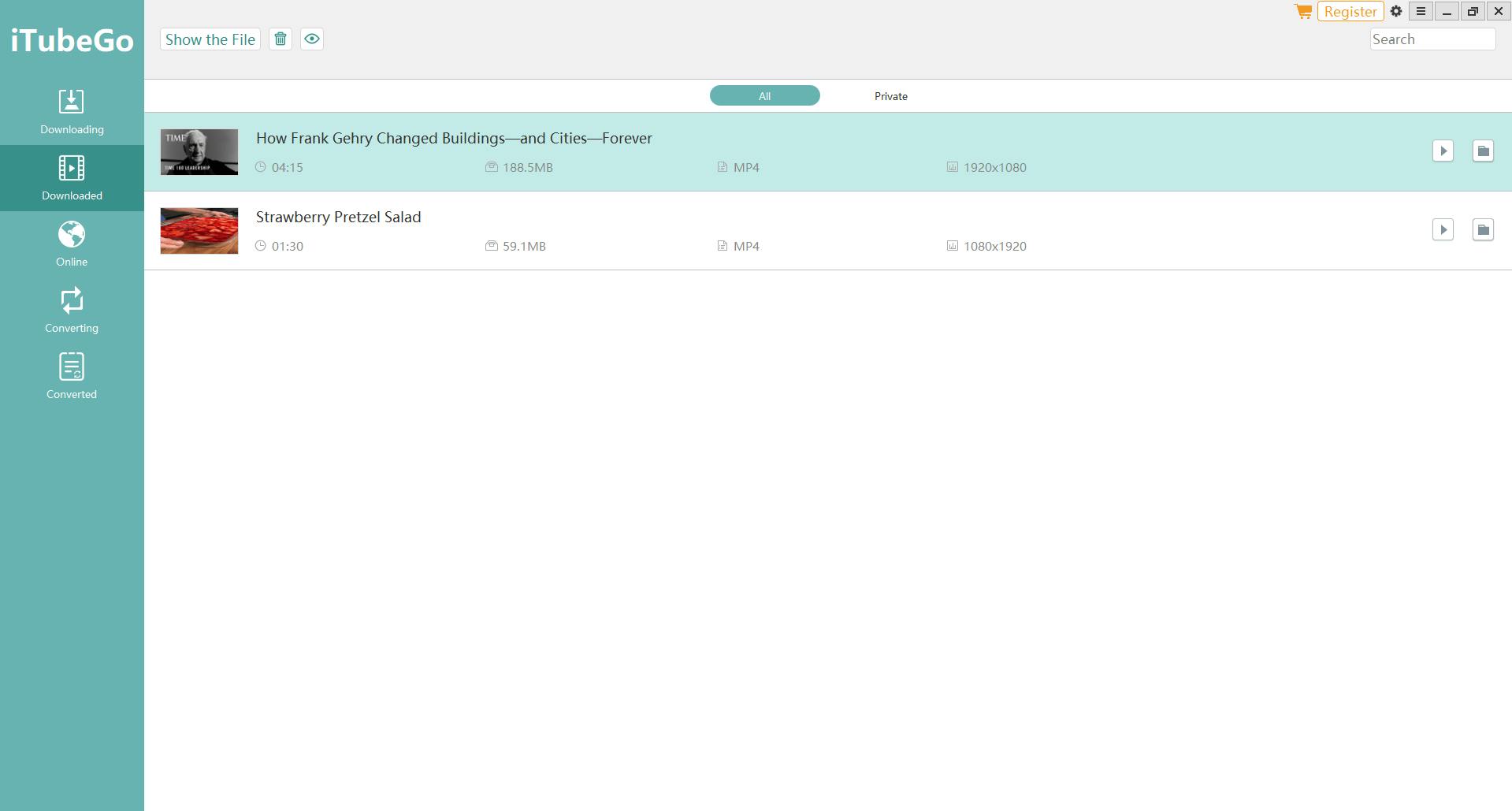 According to its developers, iTubeGo is among the most versatile grabbers on the market. Its main selling point is that it supports more than 10,000 websites allowing you to grab content from just about anywhere. And while you might not use most of these platforms, this is still a nice perk.
Aside from its flexibility, iTubeGo is famous for its high download speeds. This makes it an ideal option for influencers who work with large files on a daily basis. The tool also has a built-in browser, similar to that of SnapDownloader and Softorino.
If we were to complain about something, that would be minor errors we encountered during downloading. Some people also don't like all the limitations during free trials.
4. Wondershare UniConverter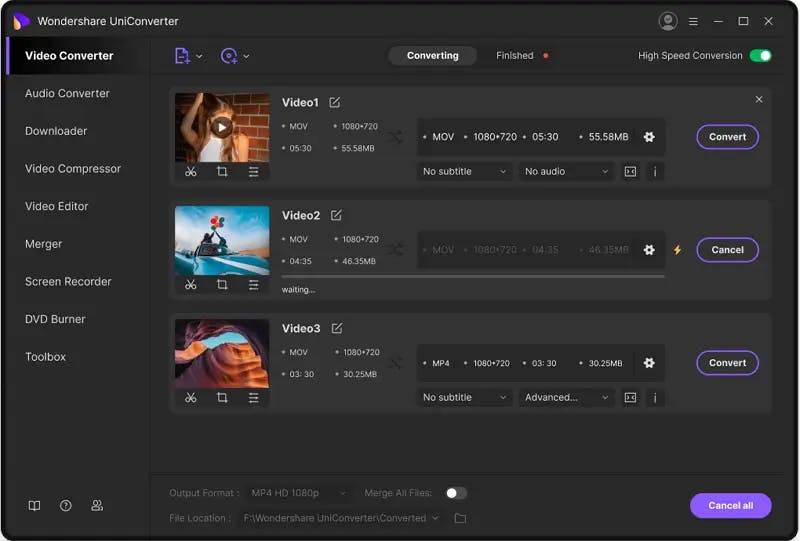 As you can guess based on its name, Wondershare UniConverter excels at converting. The software allows you to change your videos into more than 1,000 formats, including audio files and formats for mobile devices.
When you subscribe to this awesome tool, you also gain access to its editing suite. You can tinker with trimming and changing sizes and frames, all of which allow you to avoid editing platforms. On top of that, the tool also has a nice UI. Still, the software has its fair share of issues, including audio file errors and a lack of a drag-and-drop function.
5. VideoDownloader.so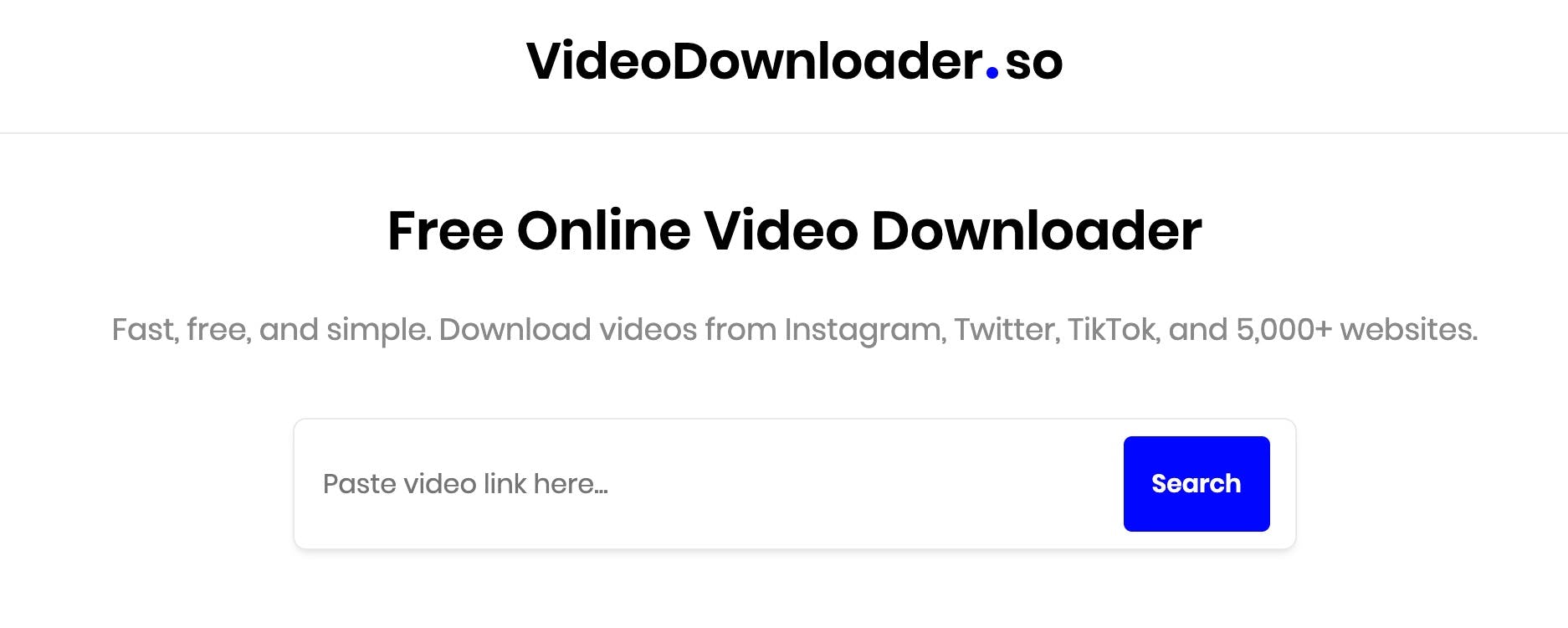 Of course, not everyone needs a paid tool with numerous features. Many people will simply go with free online grabbers to download files from major platforms. One such grabber is VideoDownloader.so.
The website's best feature is that it allows you to download videos from more than 5,000 sites. It's pretty simple software, and just about anyone can use it without prior experience. All you have to do is copy-paste the desired URL and click on the Download button.
Conclusion
Given that it's a free tool, Softorino doesn't offer much to its users. In fact, besides its ability to transfer files across several devices, it doesn't have anything that would separate it from the competition. The lack of editing features, which are nowadays commonplace, is especially glaring.
Then again, the tool is quite intuitive and automatically loads videos when you open them on YouTube. Whatever the case might be, we still suggest that you try out this platform and see if it fits your needs.