Download videos from Reddit
Want a handy Reddit video downloader with sound online and on desktop? Found video content on there that you want to save for later?
Maybe you want to show your friends who aren't on the site or you want to enjoy content where signal is nowhere to be seen. Or maybe you're a content creator who wants to analyze what's makes a video viral on subreddits you want to engage in.
With SnapDownloader, you can do all these things in just a few easy steps. Our desktop video downloader lets you download videos from Reddit in MP4 format at the best quality or convert it to MP3 so you can listen to the audio.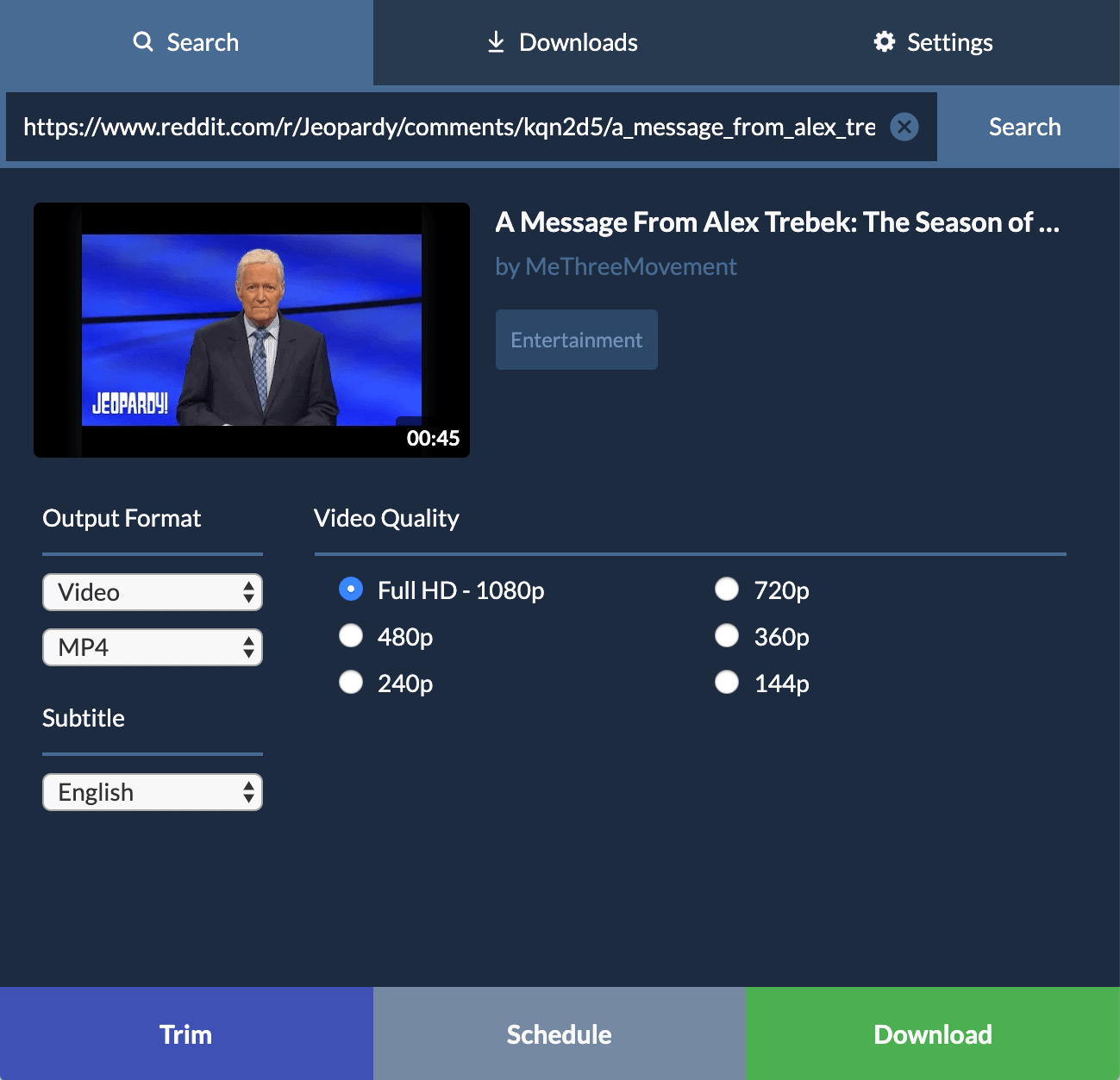 Features
900+ Websites Supported
It's not just Reddit videos you can download either! Download videos from a large range of websites including popular platforms like Reddit, YouTube, Facebook, Twitter, Vimeo, and Instagram. Our software works with more than 900 websites and new platforms are added regularly.
Cross-Platform Support
Making sure our tool is available to as many people as possible has always been of paramount importance to us. With this in mind, SnapDownloader has been built to work with both Windows and macOS platform with support for Ubuntu coming soon. You can install it on Windows 11/10/8/7 and macOS 10.10 and higher.
Convert to MP4
Now, anyone can convert Reddit videos to MP4 with no time-consuming hassle. The issue lots of people come across when trying to use a Reddit downloader is making sure the download is of the best quality. There's no point saving your favorite content to watch later if everyone is all blurry and you're struggling to see what's going on.
Download Videos up to 8K Quality
You can easily download videos in the highest quality available with SnapDownloader. The software can download videos in 8K, 4K, 2K, 1080p Full HD, 720p, and other video resolutions. Thanks to SnapDownloader, you can convert Reddit videos to MP4 without losing any of that all-important quality.
Use Different Audio Formats
In fact, SnapDownloader supports converting and downloading in 7 different output formats including MP3, MP4, AAC, WAC, etc – there's almost too much choice! Downloading just the audio on content files can save the storage space of your device as well so there's no end to the benefits of using SnapDownloader as your Reddit downloader.
Convert Videos to Audio
If you wish to save Reddit videos or any other video in audio format, then SnapDownloader can do it for you. In just a few steps, you can convert Reddit videos to MP3 format.
Bulk Downloads
You no longer have to waste your time downloading each video one by one. SnapDownloader lets you download videos and audio from multiple websites at once. This will not only save you time but makes it so much easier to find all the content you're looking for when you revisit the content you've downloaded.
Schedule Downloads
Are you on a limited bandwidth connection? Maybe you've got to pop out quickly but want to make sure your content downloads while you're away from your device. SnapDownloader lets you schedule downloads for a date or time that works best for you.
How to Download Reddit Videos?
Download Reddit videos in 3 simple steps. Here's how:
1. Copy and paste link
Copy the link of a Reddit post containing the video that you want to download, then open SnapDownloader and paste the link into the search bar.
2. Select output format and quality
Select the output format (MP4, MP3, etc.) as well as the output quality that you want such as 8K, 4K, 1080p, or best audio quality.
3. Download
Click the download button to begin downloading the Reddit video on your computer and automatically convert it to your desired output format.
Now all that's left to do is to wait for the download to finish before you can enjoy watching it on your phone, Mac or any other device. The time it takes to download will depend on the size of the file you're trying to download as well as your internet speed.
Why use our Reddit Downloader software?
Download Reddit videos with audio
Reddit doesn't allow users to download videos on its platform. You can use SnapDownloader's Reddit video downloader to save that video in any format or resolution.
No malware
Many free video downloaders install malicious malware that can damage your computer. Our reddit video downloader has more than 300 reviews that show how much value we've provided to our clients.
Have the video file in different formats
Want to convert your Reddit video to MP4? No problem! SnapDownloader allows you to download Reddit videos in many different formats, including MP3, MP4, AAC, WAC, and so on.
Choose your resolution
You can download the Reddit video in any resolution that you want, from 8K to 360p.
Watch the video using another player
We know how buggy Reddit's video player can be. You can download the Reddit video using SnapDownloader and watch it using another player, where you can actually watch the video without it buffering every 5 seconds!
Easy to use
Using our video downwloader software, you can quickly and easily download videos from Reddit and other websites in just a few simple steps.
Reliable
Our team works hard to fix issues and any problems reported by users as soon as possible so you can rely on us to solve your problems.
Lots of features
SnapDownloaders is packed with a lot of amazing features that lets you do more than just downloading Reddit videos.
24/7 Customer Support
We've got a dedicated Customer Support team that's available 24/7 to help you at any time.
Frequently Asked Questions
Which operating systems are supported by SnapDownloader?
SnapDownloader works with Windows 7/8/10 and Mac OS X 10.10 and higher.
Can I convert Reddit videos to MP3 audio?
Yes, you have to select MP3 as the output format when downloading a Reddit video in order to convert it to audio file. Additionally, you can download them in MP4 format at the best quality.
Which websites can I download videos and audio from?
You can download videos from a lot of popular websites. SnapDownloader supports more than 900 websites, including the following
YouTube
Facebook
Instagram
Twitter
Vimeo
Reddit
Coub
How can I install SnapDownloader?
Downloading SnapDownloader couldn't be simpler! You even use it for free for the first 48 hours to see if it's for you or not.
Then, once you're ready to make the purchase, please visit the Downloads page to download SnapDownloader for your operating system. Once downloaded, launch the installer file to begin installing SnapDownloader on your computer. Simply follow the instructions during installation to complete the process and start using SnapDownloader.
What makes SnapDownloader the best video downloader for Reddit?
SnapDownloader allows you to easily download videos from Reddit and over 900 websites in any resolution and format. You can also convert the video into other formats and even trim it to your liking.
What can I use Reddit videos for?
Whether you're a casual watcher or someone who wants to build a reputation across different subreddits, downloading Reddit videos allow you to watch them using other video players, without internet access.
For marketers and content creators, you can study what makes a video viral on Reddit, including its length, content, hooks and CTA. If you're just a casual viewer or Redditor, you can watch the video without it having to buffer every two seconds.
Any downloading tips?
Of course, we recommend downloading the Reddit videos when you have a stable internet access and downloading them all at once. You can just enter the URLs of the different Reddit videos, and schedule them for download once you have a stable connection.
Which formats can I download the Reddit video?
You can download the Reddit video to MP4, MP3, AVI, WMA, AAC, and many other output formats. If you just want to listen to the audio, you can download the MP3 audio and listen to the file from any device.
Can I convert my Reddit video to MP4?
Yes! You can download the Reddit video in any video file format. This also means that you can easily switch the format to MP4!
Other than downloading the Reddit video, what else can I do?
You can convert the file to different formats, only download the audio version of the file, and trim the video!
If you have any other questions or queries for us, please check our FAQ page for more answers or contact us. We'll be more than happy to assist you with anything you need – even if it's just to let us know how much you love using SnapDownloader!