The rise of the "influencer" and influencer marketing has driven Instagram's growth dramatically. From 1.21 Billion users in 2021, user numbers are forecast to reach 1.44 Billion active users by 2025.
A significant percentage of people desire the ability to download content from Instagram, and SmiHub is often the tool of choice. But for various reasons (which we'll explore in this article) many people are now looking for an alternative tool to download their Instagram content.
What is SmiHub?

SmiHub is an Instagram viewing and downloading tool that allows people to access a range of Instagram content anonymously, including Instagram stories, profiles, videos, images, and reels.
Unlike other tools, SmiHub users can view all of Instagram's content, including private profiles, rather than just those that are publicly available.
Why Are Video Downloading Tools Popular?
Video downloading tools are popular and increasing in popularity for numerous reasons.
The ability to access time-restricted content
Some online content is only available for a limited amount of time. This is particularly relevant to Instagram Stories that are only available for 24 hours after the creator uploads their stories to their channel (unless they add it as a highlight).
A video downloading tool allows viewers to capture and store their favorite Instagram Stories and refer back to them as often and for as long as they like.
You can watch your favorite videos without lags
Although internet speeds have increased massively on average recently, buffering or lagging is still an issue, particularly when viewing video content on a phone or other device on a mobile network.
Downloading removes the pain of having your preferred video content come to a standstill when you least want it to.
You can access videos whenever and wherever you want
Accessing video content anytime without an internet connection can be a real plus point.
With video downloaders, you can do just that. Once you've downloaded a video, you can view it at your leisure later without connecting to the internet.
Criteria to Consider When Choosing A Video Downloading Tool
Download Quality
Some video downloading tools only allow you to download low-quality videos, while others will enable you to download videos in high definition or even 4K. If you'd like higher-quality downloads, you'll need to look at tools that offer that functionality.
Security
Security should always remain at your mind when using video downloading sites and tools.
Some viewing and downloading tools are rife with adverts that could potentially pose a malware threat that could harm your device.
In terms of downloading Instagram content - many standard tools are beset with ads that not only harm the user experience but provide no means of recourse should any of them cause you problems. This leads us to…
Quality Customer Support
In a perfect world, everything works as and when it should. But that's not the world we live in.
When things go wrong, you want to make sure that you have the right support to remedy the issue quickly and.
Make sure you pick a tool that provides comprehensive customer support so that, should the worst occur, you can remain confident that any issues will be addressed quickly and properly.
Best SmiHub Alternatives
1. SnapDownloader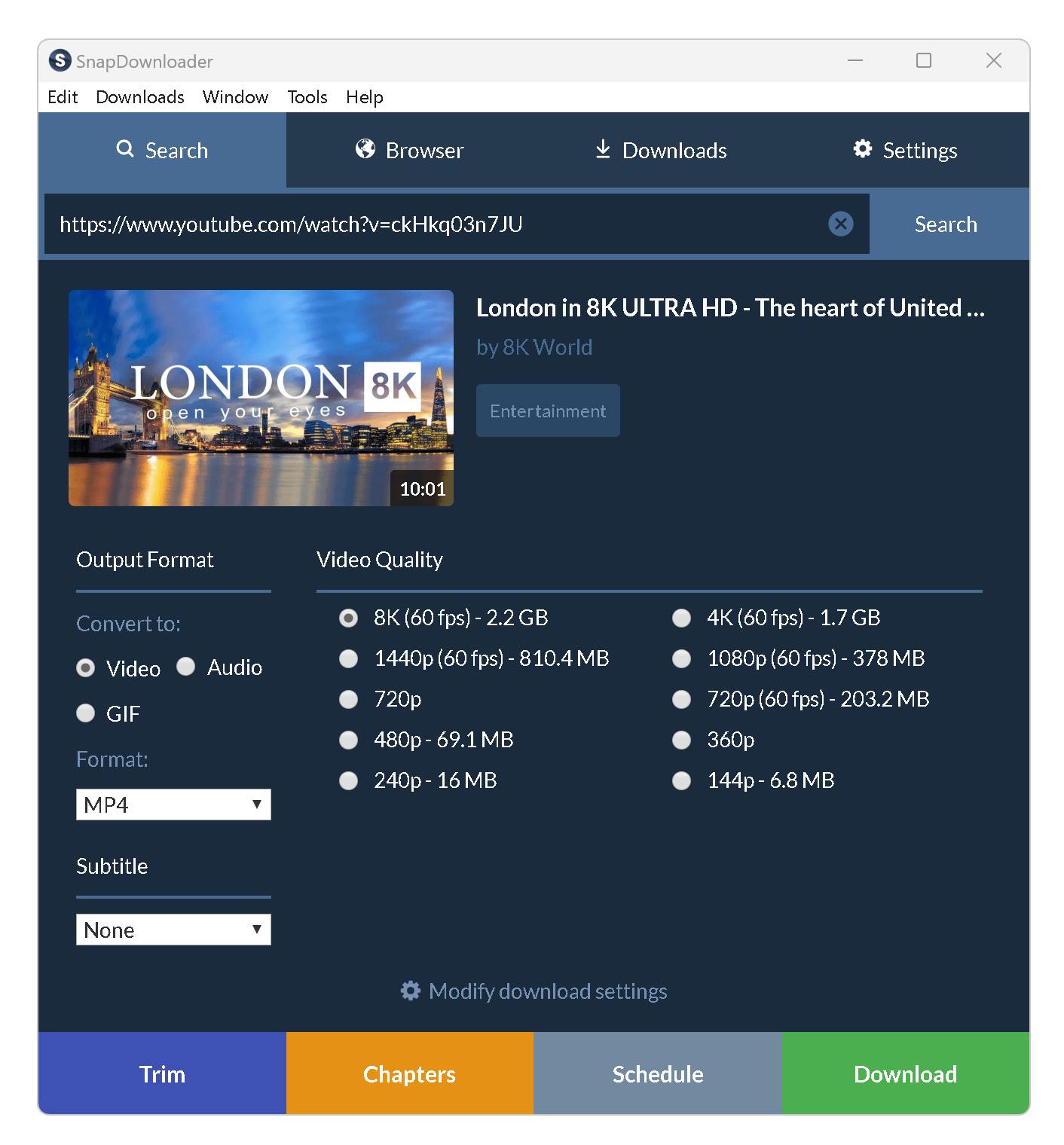 SnapDownloader is a comprehensive video and content downloading and conversion tool that allows you to grab videos and other content from Instagram, YouTube, TokTok, Facebook, and over 900 other sites.
It supports video from 720p all the way up to 8K, and you can convert your video downloads to MP4, MP3, AVI, WMA, AAC, and many other output formats.

Try SnapDownloader for Free
Key Features
In-Built Video Editor - Trim any online video or download only the part of the video or audio that you are interested in in the first place.
Scheduled and Batch Downloads - Use the in-built scheduler to download videos at a later time and download up to 100 videos simultaneously.
Download Private Videos and Playlists - Use the internal browser to view videos and playlists from private channels on Instagram or YouTube that would normally require the user to be signed into their account.
2. iTubeGo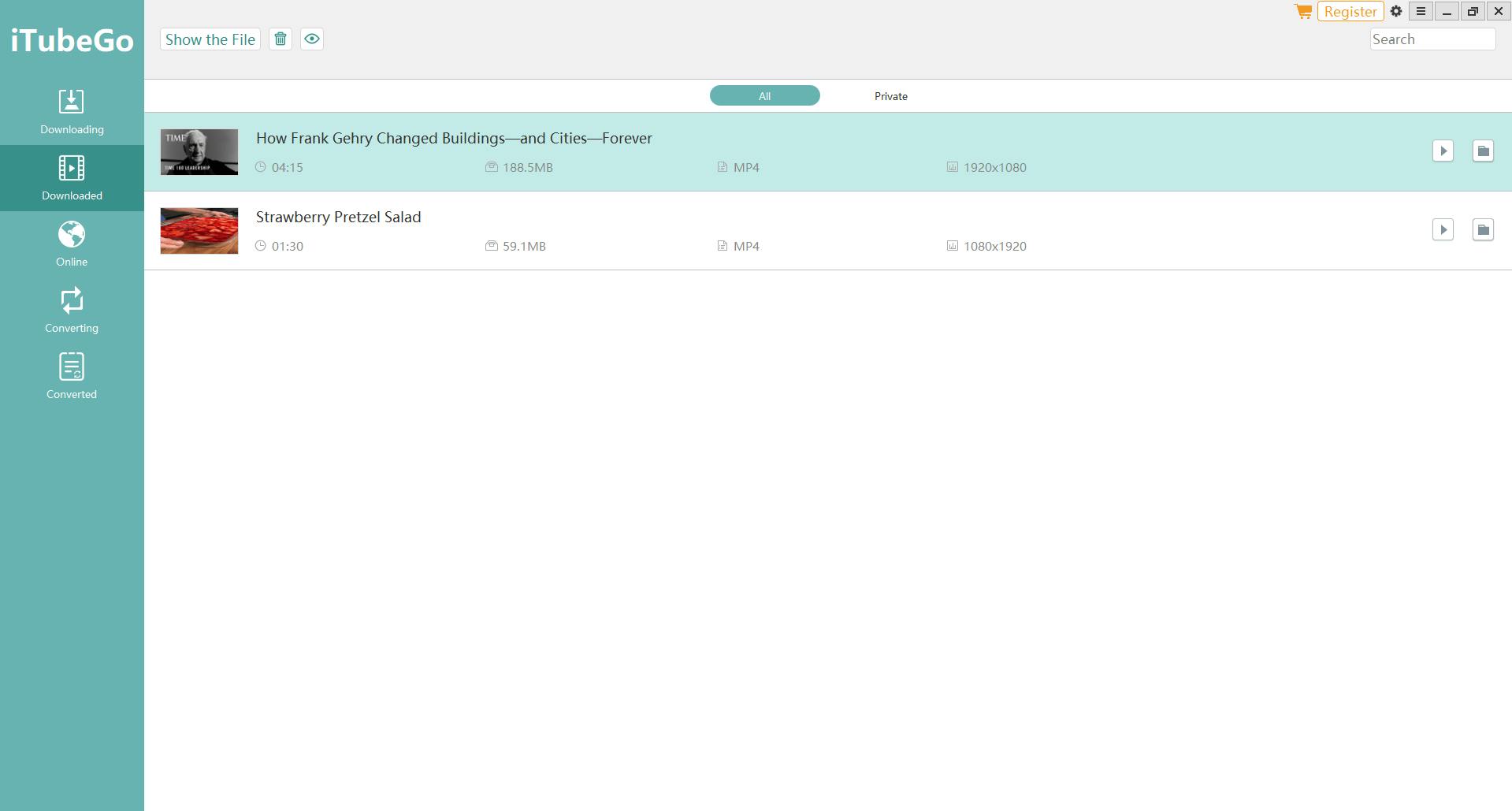 iTubeGo is a YouTube video and Musify music downloader that allows users to download content from over 10,000 websites including major platforms like Instagram, Dailymotion, and many more.
It lets you download all kinds of content, including videos up to 8K, high-bitrate MP3 audio, channels, playlists, podcasts, and subtitles.
Key Features
Bulk Downloads - Download an unlimited number of videos at a time - just paste in the URLs and hit the download button.
Convert Video and Audio - convert video and audio without any loss of quality to 20+ audio, video, and mobile device formats.
Privacy Protection - Use the private video mode to protect your videos and keep them away from prying eyes.
Pros and Cons
Pros:
Fast Downloading
Can download from private Instagram channels
Works on mobile devices
Built-in web browser for easier searching
Cons:
Free version is highly restricted (three videos before the premium subscription is required, only MP3 & M4A for music conversion)
Doesn't work on certain sites as advertised
iOS apps require a tethered connection
Uses a lot of CPU to operate
3. Auslogics Video Grabber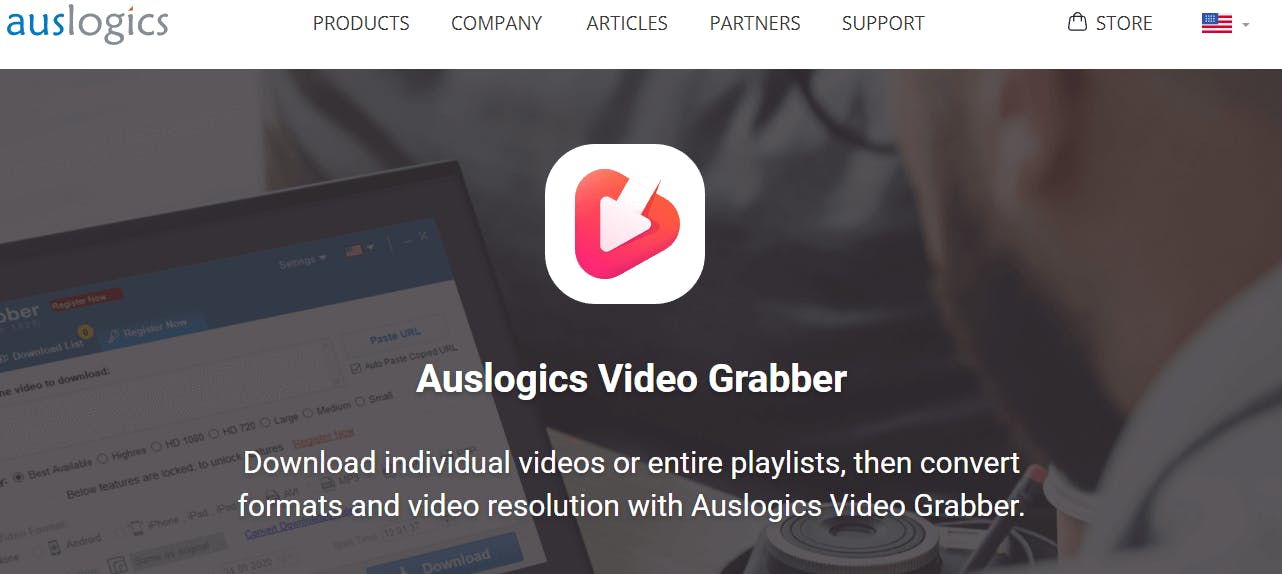 Next, we say G'day to the Auslogic Video Grabber.
It's an easy-to-use downloading and video converting tool that lets you grab content from all the major video platforms, including YouTube, Dailymotion, Vimeo, Metacafe, Facebook, IMDb, and a good deal more (1000+).
It allows you to convert your videos to numerous formats compatible with iPhone, iPad, iPod, Android, or PSP devices.
Key Features
Convert Video Resolution - Change the downloaded video resolution without changing the format to fit the screen perfectly every time.
Auto-paste video links - Auslogics video grabber is a smart tool that automatically pastes copied URLs to save bags of time.
Use a Proxy - If you use a proxy server to connect to the internet, you can specify that in the Auslogic Video Grabber and still use the proxy to download your videos.
Pros and Cons
Pros:
It's a fast, reliable tool from a trustworthy company
Works on a large number of sites
Supports 15 different languages
Cons:
Heavy restrictions on the free version in terms of limited downloads and features
Only offers an annual premium license (no monthly option) so you're forced to pay for a whole year if you like it or not
Only support video up to 1080p (no 4K or 8K)
4. Inflact
Inflact is a tool to download content from Instagram, Facebook, TikTok, and Twitter.
Inflact's primary target consumers are businesses, influencers, and digital marketing professionals seeking to optimize their social-media marketing activities on these major platforms.
Key Features
Bulk Downloads - Download multiple videos at once to save time.
Download Complete Profiles - Inflict lets you download complete profiles, videos, images, IGTV, Stories, and Reels.
Free to Use - You can use Inflact free to download and use Instagram content without commitment.
Pros and Cons
Pros:
It's secure and anonymous
Has no watermark or subscription that could lead to issues with downloading
Works on all major video platforms and social sites
Fantastic features for digital marketing
Cons
Limited features on the downloader
Conclusion
Whilst SmiHub is a sound tool, other free Instagram downloaders are available that do the job better. Though you should bear in mind that all of the free versions of these alternatives are severely restricted, and if you want to get the most out of them, you will have to pay up for the premium versions.
Each of the premium versions of the tools we've looked at has its own benefits, but none of them offer what you get with SnapDownloader in terms of features for the price you pay.
Download SnapDownloader and you'll never need another content grabber for Instagram or any other site. We allow users to download from over 900 platforms and the ability to download in any format they'd like. You can download our platform or check out our prices to find a deal that works for you today!

Try SnapDownloader for Free