As of 2019, Youtube had over 31 million channels with millions of content creators uploading videos about virtually everything. With this overwhelming amount of content, YouTube has something for everyone, and it isn't difficult to find content and channels you like. And in this article, we will show you how to download videos from a YouTube channel of your choice.
At some point, you may have come across a channel you liked so much that you needed to download all its content. If it seems like a strenuous and time-consuming task to download a Youtube channel one video after another, you're absolutely right. But there is a better way, and that involves using a video downloader software that does the job for you, more specifically SnapDownloader.
SnapDownloader is a powerful app that offers the fastest and most convenient way to download YouTube channels. It can also download all the videos in a YouTube playlist in no time. The app is available for Windows and macOS with a load of features.
SnapDownloader Features
Download Any Video from 900 websites
SnapDownloader will download all the videos on the YouTube channel regardless of the format. It can save 360° VR videos from YouTube, and it is compatible with over 900 websites.
Extract audio from videos
This feature comes in handy if your favorite channel delivers audio content on YouTube. If you want to download YouTube channels that have audiobooks, podcasts, music, or ASMR, then SnapDownloader is a perfect choice. Bid goodbye to the days of downloading the videos first, then extracting the audio later. SnapDownloader can download your Youtube channel and extract high-quality audio from each video simultaneously.
Download YouTube Videos Up to 8K Resolution
Select your preferred video resolution for each video in the channel when you queue them up in SnapDownoader. You can download some videos in 8K resolution and others in HD. Feel free to add some audio in the mix as well if you want.
Proxy Setup
Are some videos on the channel blocked in your country? SnapDownloader allows you to set up a proxy to bypass geo-restrictions and download videos that are blocked in your region. This way, you can be sure that you'll get every video.
Fast Downloads
Download YouTube channels in record time with unmatched download speeds and no limitations.
No Ads
Annoying ads is one of the most common complaints with online video downloaders. Snapdownloader streamlines your experience and doesn't distract you with annoying ads when downloading single videos or entire channels.
Easy To Use
Despite combining many features to give you a complete solution, SnapDownloader is easy to use, and all its features are easy to navigate.
How to Download Youtube Channel Videos
You can download your favorite YouTube channel in a few clicks by following these simple steps:
Step 1. Download and Install SnapDownloader.
SnapDownloader works on Windows and macOS. After downloading it, install the app and launch it.
Step 2. Grab the YouTube Channel's link
Open YouTube and navigate to the channel you that want to download. Next, copy the URL of the channel in your browser's address bar.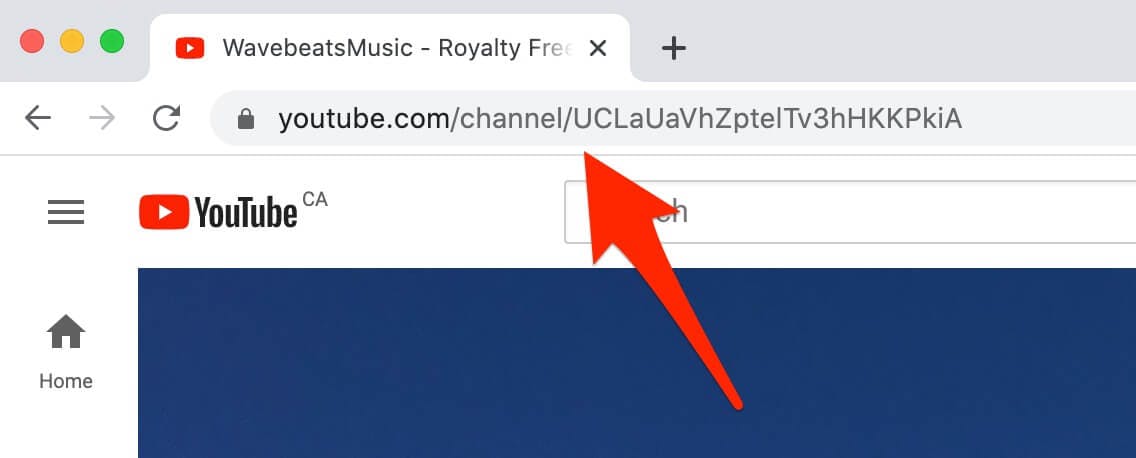 Step 3: Paste Link in SnapDownloader
Paste the channel's link into the Search bar in SnapDownloader and then click the Search button.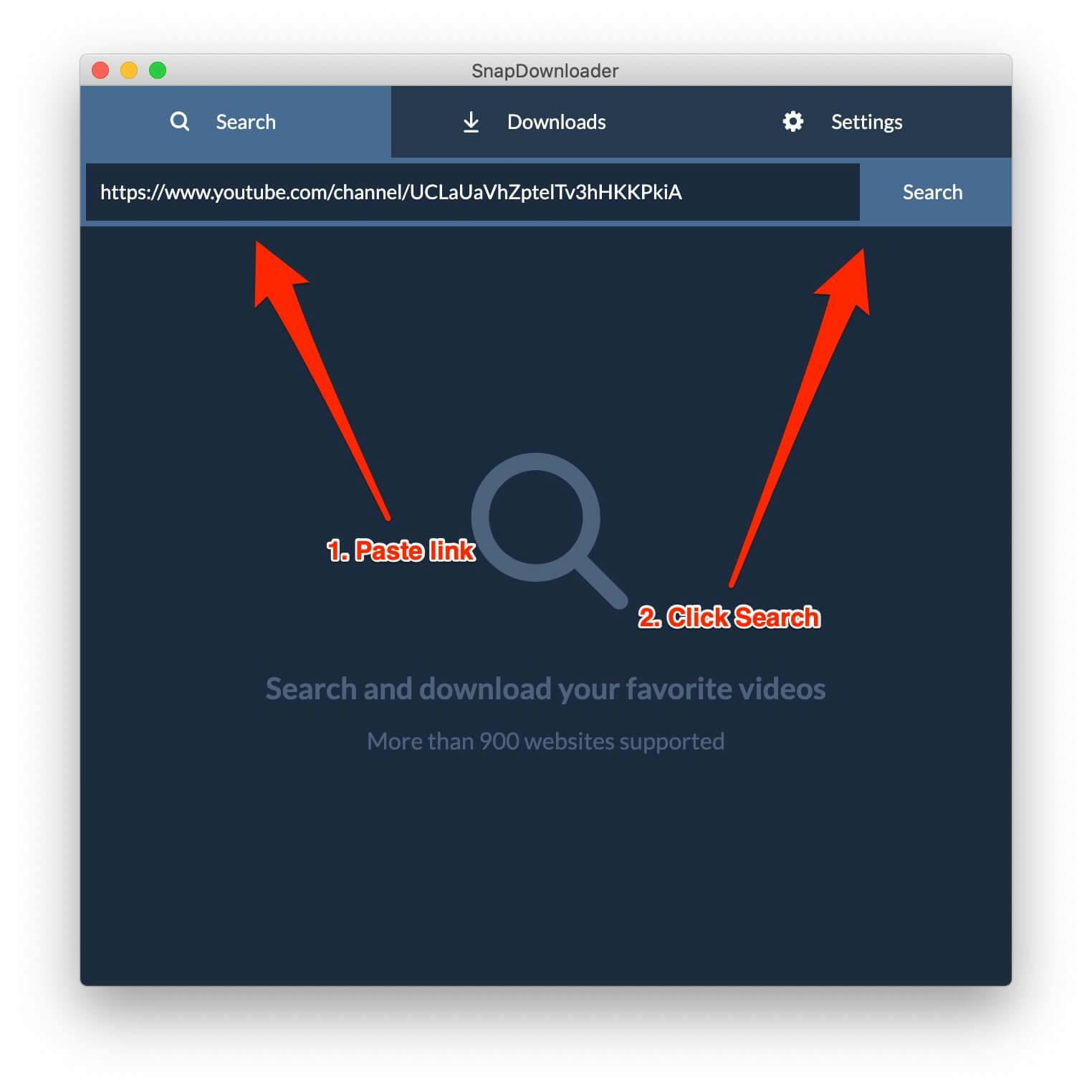 You'll get a list of all the channel videos with options to select all or select specific videos. When you select a video, use the dropdown menu to choose your output quality and output format. If you want audio files, simply change the output format from MP4 to MP3.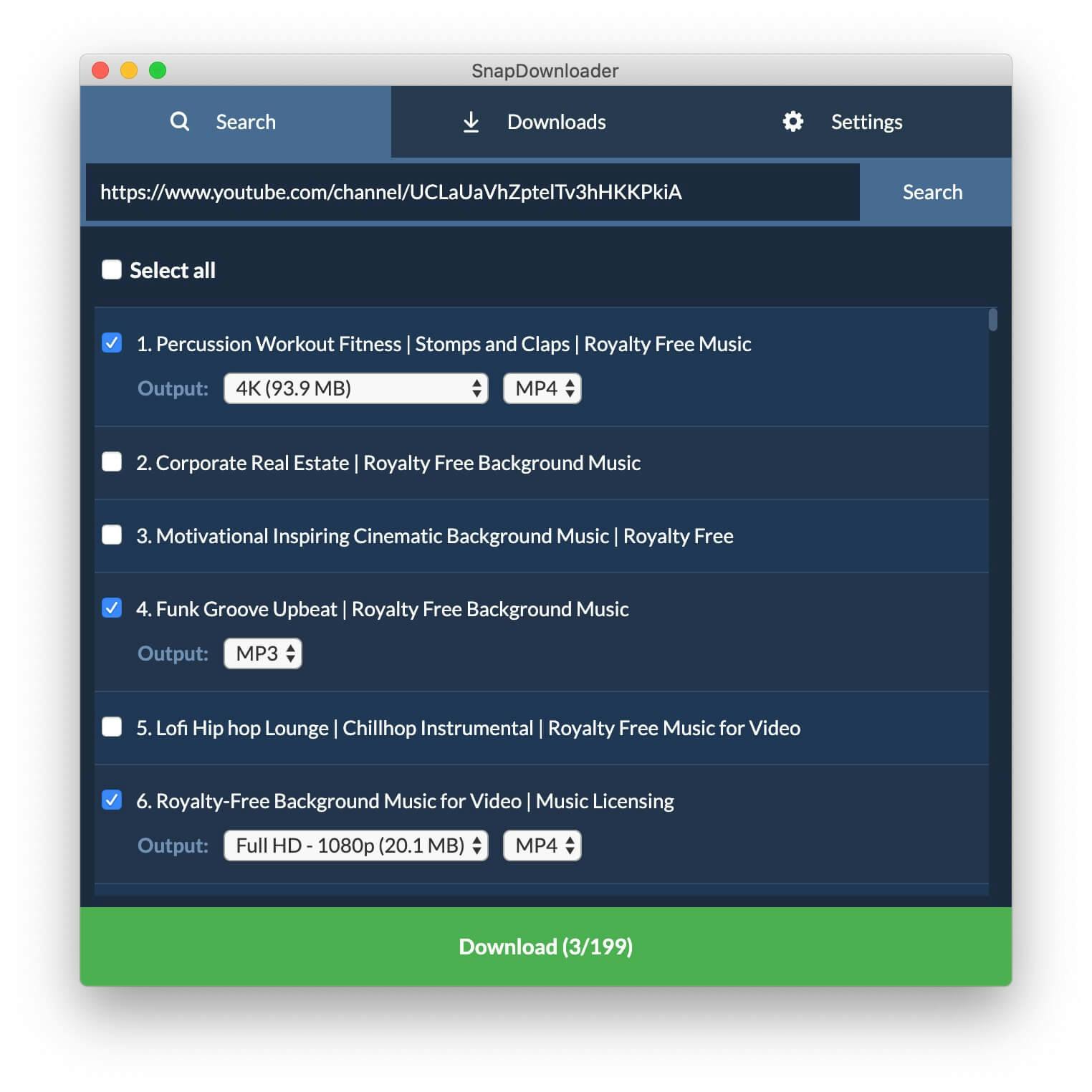 Step 4. Download
Once you've selected the videos that you wish to download from the channel, click the Download button and SnapDownloader will begin downloading all the selected videos to your computer. Its high download speeds will get you your videos in no time, but it all depends on your network stability and internet speed.
Wrapping Up
Snapdownloader empowers you to do more in half the time. No video is out of reach, and no channel is too large to download. However, SnapDownloader is much more than a YouTube video downloader. You can also use it to download videos from other sites and save them in your preferred format and resolution with no limitations.