For years, ClipConverter.cc has been a user's go-to option when downloading media for offline playback. Its accessibility and simple interface make it an easy option for anyone trying to download a YouTube video before a long flight or wanting to save their favorite album directly onto their device.
Unfortunately, ClipConverter doesn't come without its issues - its download times tend to be slow, it doesn't work for videos with music anymore, it can randomly crash and, worst of all, it's plagued with malware, pop-up scam ads, and notifications.
For those reasons and more (which we'll discuss below), users search for ClipConverter alternatives that are fast, easy to use, and safe, such as our choice: SnapDownloader.
In this review, we'll go over the main features of both options, their differences, similarities, and pros, and cons to help you choose the best URL converter for your needs.
ClipConverter vs. SnapDownloader
ClipConverter is a website conversion service, whereas SnapDownloader comes in the form of an app for your Windows computer or Mac that can download videos from 1,000+ websites, including private videos and includes many more features.
Ease of use: Both apps are intuitive and easy to use.
Feature-set: ClipConverter is frills-free. As soon as you visit the page you're presented with the option to enter a URL. That said, there isn't much more to the website. SnapDownloader provides many other options for saving files, such as bulk downloads, a way to save video subtitles, and a video-to-GIF converter.
Pricing: ClipConverter is a free-of-charge service, that uses advertisements to generate profit. But it's been known to attempt to inject adware into your computer. SnapDownloader comes with a 48-hour free trial after which you can continue to use the service with a subscription or a Lifetime License - ad-free and virus-free.
Video downloading: Both services use mainly URL links to convert and save the audio or video but have their own additional features. ClipConverter has a browser add-on that you can use to quickly save a video on supported websites. SnapDownloader has a built-in browser through which you can access any page to download content, including private videos on platforms like Instagram.
Issues: ClipConverter has had a dubious history with malware. SnapDownloader isn't free.

Try SnapDownloader for Free
What is ClipConverter?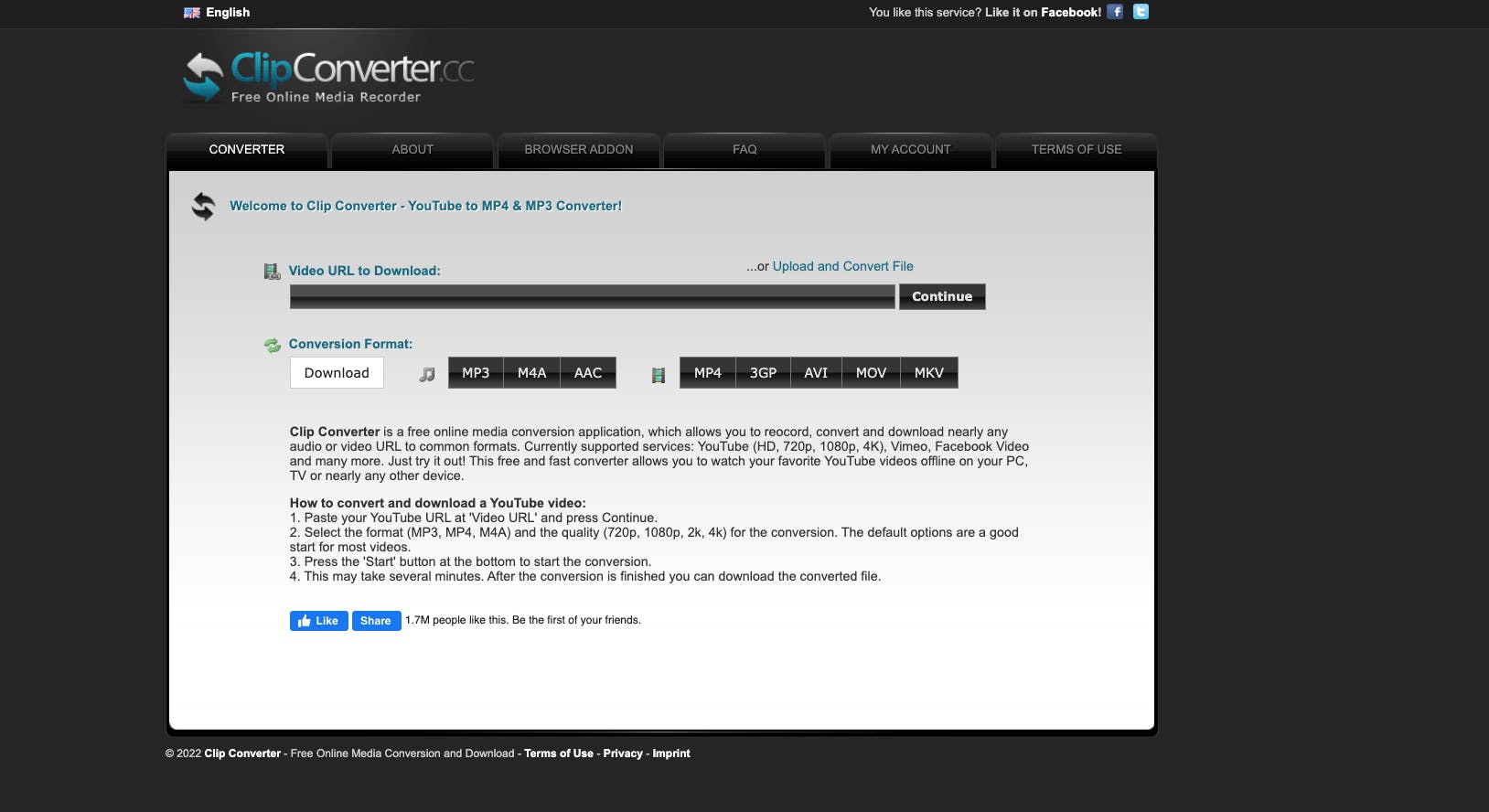 ClipConverter.cc is a well-known website that lets you download videos and audio from sites and platforms that don't allow saving their content directly to your device (think YouTube, Facebook, TikTok, etc).
Its services are free and all you have to do is paste the link of the website containing the file you'd like to save, and choose your desired format. Once it begins the conversion, press the "download" button - and you're done.
While in theory, this might look like a decent solution for anyone looking to download videos one at a time, ClipConverter has some serious issues you need to be aware of.
In recent years, ClipConverter.cc reviews plummeted, as the website became ridden with pop-up ads, notifications, and redirection links. As if that wasn't concerning enough, their "download accelerator" has been proven to be a Trojan.
ClipConverter's Key Features
Ease of use - the interface is simple and the conversion takes only about two steps to initiate.
Browser add-on - a convenient feature that helps you save videos from a website you're currently visiting, as long as it's supported, like YouTube.
Formatting and quality - ClipConverter supports 8 of the most common video and audio formats and can go up to 4k quality.
Accessibility - the website is available to view in 20 languages besides English, such as German, French, and Spanish.
Adware - since it's powered by ads, ClipConverter will try to show you notifications and often causes redirects to "dubious, often deceptive websites" and can cause automatic installation of adware and PUAs.
ClipConverter Pricing
The ClipConverter's website is free to use, but the site makes money by displaying potentially harmful ads, some of which try to install adware apps onto your device.
ClipConverter: Pros & Cons
Pros:
Easy-to-use interface
Free to use
Available in 21 languages
Cons:
Scam advertisements
Risk of installing adware and malware
Unable to convert videos with music
No customer support
No clear indication of which websites it supports
No batch downloads
No way to download private videos
Low speed
ClipConverter's Alternative: SnapDownloader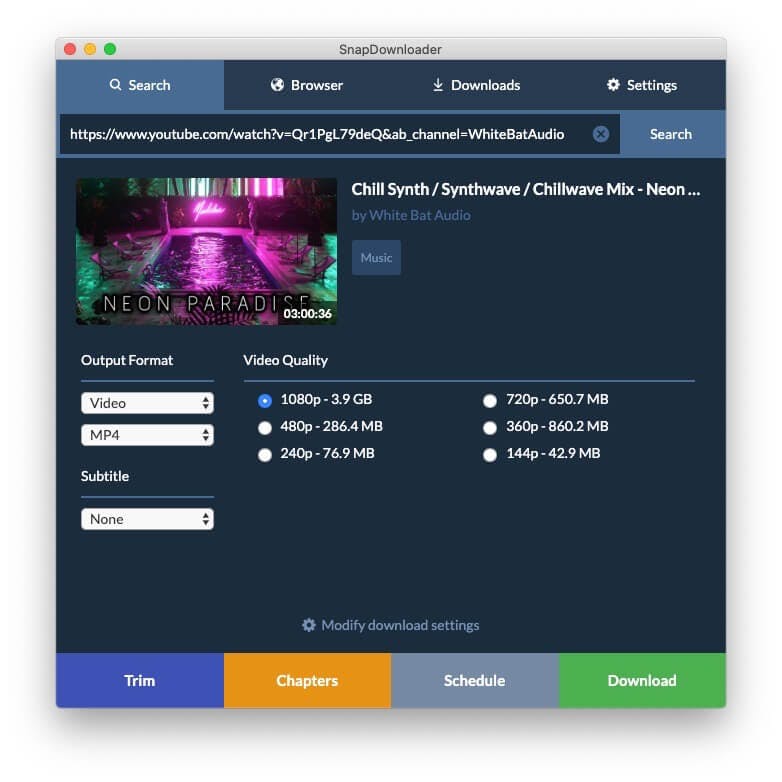 SnapDownloader is an app with the same function as ClipConverter: downloading media from different online platforms to your device.
SnapDownloader is a feature-packed application you can use to make converting and saving files more effective. It boasts high speeds on downloads and allows you to convert videos in bulk or even schedule them for any time that's convenient for you.

Try SnapDownloader for Free
The simplest way to use it is to copy and paste a video URL into the app and select your desired format and quality. You can also use Snapdownloader's browser to access any website, including ones requiring a sign-in to access the media and download the file that way.
It also offers a range of extra features which make it a great ClipConverter alternative, such as a built-in video trimmer or an option to download whole playlists from YouTube.
It is an excellent option if you value quality and is described as "the best tool for quickly, safely and conveniently downloading YouTube videos of any file size" by reviewing sites such as reviewsed.com.