YouTube gaming is a section on Youtube that features live streams dedicated to games and past recordings of those streams, as well as videos related to different game genres. It is very similar to Twitch which is a popular platform for gamers to showcase their gameplays.
Most often you might come across videos from your favorite YouTuber streamers and want to save those videos to your device, but the issue is that platform does not let you download youtube streams to watch them offline. Well, don't worry because we have just the perfect solution for you! You can use SnapDownloader to download YouTube videos from the platform in a few minutes.
So, here is a guide on how to download youtube streams using the SnapDownloader app.
How to Download Youtube Streaming Videos via SnapDownloader
Step 1: The first and foremost thing you need to do is to download the SnapDownloader software on your computer. Once downloaded, double-click the installer to begin installing the software on your PC. The app supports both Windows and macOS computers.

Try SnapDownloader for Free
Step 2: Open YouTube and visit the Gaming section to find the video that you want to download. Then copy its link from your browser's address bar as shown below. Please note that you can download streams that have already ended and not live streams.
Step 3: After you are done copying the link, open the SnapDownloader app and paste the link on the search bar. Once you have pasted the link, the search will begin, and in a few seconds, your desired video or stream will appear on the app along with video qualities and output format.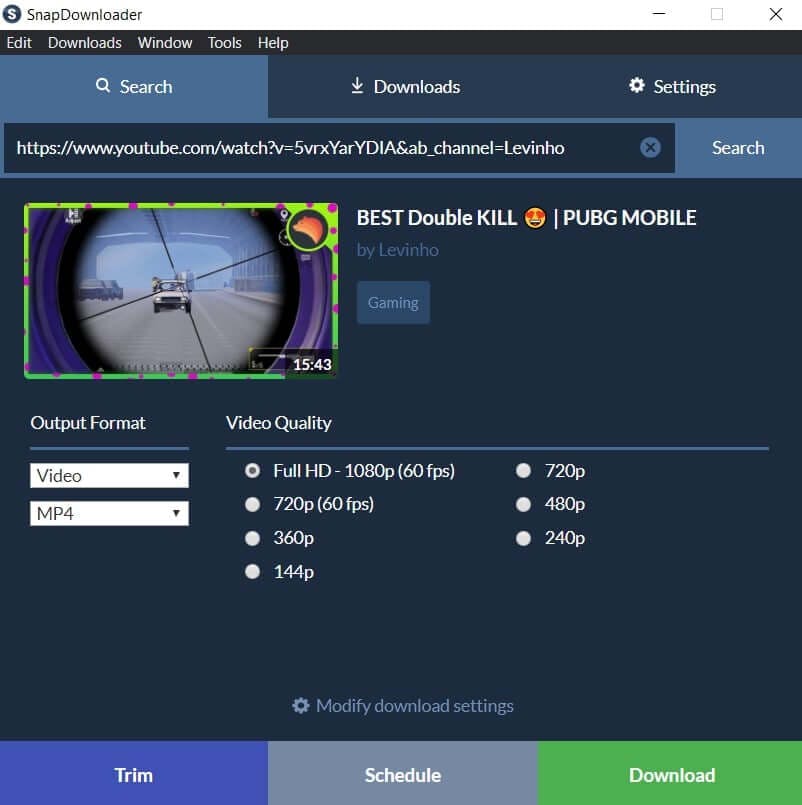 Step 4: Select the output format and quality that you want, then press the Download button to begin downloading the video to your PC. If you want to check how much time it will take to download your desired youtube stream, check the Downloads Tab.
That is how easy it is to download youtube streams from the best YouTube video downloader, SnapDownloader.
Features of SnapDownloader YouTube Downloader
SnapDownloader is not just a Youtube video downloader, but it also offers many other exciting features that its competitors do not. So, here are a few of the features that you should know.
Supports hundreds of sites As we said before, it's not just a YouTube downloader, but it also supports more than nine hundred sites to download videos. To name a few websites, they include Facebook, Vimeo, Twitter, Reddit, Twitch, TikTok, etc and you can use the software to download videos from various sites easily.
Supports up to 8k resolution: SnapDownloader allows its users to download videos in 8k, 4k, UltraHD, 1080p, 720, and many other qualities. But to download videos of high-resolution, your video must be uploaded in high quality because the app only shows the quality options in which it was uploaded.
In-built video/audio trimmer: This might be the most unique and best feature of the SnapDownloader app that it provides to its users. It allows you to trim any online video and download only a particular part of the video.
For instance, your favorite YouTuber uploaded a stream on the platform, and you like a specific part of the stream and want to save it on your device, SnapDownloader can help you download that part through the In-built trimmer feature.
Can help you convert videos to audio format: SnapDownloader can help you convert any video to audio format with ease. The process to convert video to audio is easy; you just have to change the video's output format before downloading the file. For example, if the output format is MP4, you can change it to MP3.
Furthermore, the app supports more than seven output formats such as MP3, MP4, M4A, AAC, AVI, AIFF, and WAV.
No ads: Ads popping up on the screen is perhaps the most annoying thing ever. Fortunately, with the SnapDownloader premium subscription, you do not have to worry about any Ads meaning you can easily download the videos without any interruptions.
User-friendly and 24/7 customer support: The SnapDownloader interface is User-friendly as it allows its users to download different videos with a few simple steps. Still, in case people have a problem regarding the app, there is a customer care team available 24/7 to answer the queries of users.
Wrapping Up
There are a lot of apps that can help you download youtube streams from youtube, but they all come with some kind of complication. Fortunately, SnapDownloader can help you download youtube videos or videos from 900+ sites easily in a few seconds.
I hope this guide has helped you download your desired youtube stream from the Youtube gaming section. But, if you are still not sure about the method, then download the SnapDownloader app by yourself and enjoy a 24-hour trial with all of its features.