If you're looking into how to download long YouTube videos for a road trip or to fetch an audiobook to listen to during your ride to work, you've come to the right place. Here's a guide on how SnapDownloader empowers you to convert long YouTube video to MP3 and download them right away.
Apart from being home to endless hours of adorable cat videos and bloopers that will tickle your funny bone, YouTube has a lot to offer. The largest video sharing platform in the world is home to a wide range of entertaining and educational content, allowing you to discover and learn about the global community as we know it. Hosting millions of videos online, you will always need an active internet connection to watch videos, unless you have a handy YouTube video downloader such as SnapDownloader to back you up. Nothing short of an interactive media library, YouTube is not limited by the video content size, like several other platforms.
While the shortest YouTube video claims to be a fraction of a second long, there is video content on YouTube that goes on for hours at a stretch. For instance, an entire audiobook can go for anywhere between a couple of hours to more than 10 hours, so how do you manage to keep a YouTube video playing for so long with the screen turned on? The simple answer is, you are going to need a solution to download long videos from YouTube in MP4 format with software such as SnapDownloader or convert long YouTube videos to MP3 for listening.
Can I Download a long video from YouTube?
The way Google manages to keep up with the server costs of hosting billions of videos on YouTube is through advertisements. To ensure that the maximum number of users engage with these ads, YouTube does not allow users to download the videos from its platform. After popular demand, the company did introduce a feature to save videos to view offline on Android and iOS devices. Still, the feature does not extend to Windows or macOS users. That's where a bunch of YouTube video downloader services sprung into action, offering users a way to save long YouTube videos.
Understanding how to download an hour-long video from YouTube is no different than fetching a clip that is only a few seconds long, as long as you're using the right tool. For instance, most web-based services don't allow you to download long YouTube videos, with a cap on how long a video can be downloaded. Moreover, there isn't always an option to download long videos from YouTube in MP3 format, which is essential if you're planning to get an audiobook that can be enjoyed passively.
Simply put. Yes, you can save long YouTube videos, but you will need the right companion tool such as SnapDownloader to be able to do it.
How to Download Long YouTube Videos in MP4?
When it comes to downloading any form of a video from YouTube, the tool works universally. Apart from allowing you to download even the longest of videos from the platform, you can also fetch region-locked videos and use them uncompromisingly with SnapDownloader.
Step 1: Download and install SnapDownloader. The app works on both Windows and macOS platforms.
Step 2: Go to YouTube and find a long video that you wish to download, then copy its link from your browser.

Step 3: Open the SnapDownloader app and paste the video's link to begin searching for it.
Step 4: Once the video has been searched, select the output format of the video as MP4 and set the video quality based on your preference. Remember, the longer the video is, the larger the download file will be, so choose a manageable video quality resolution.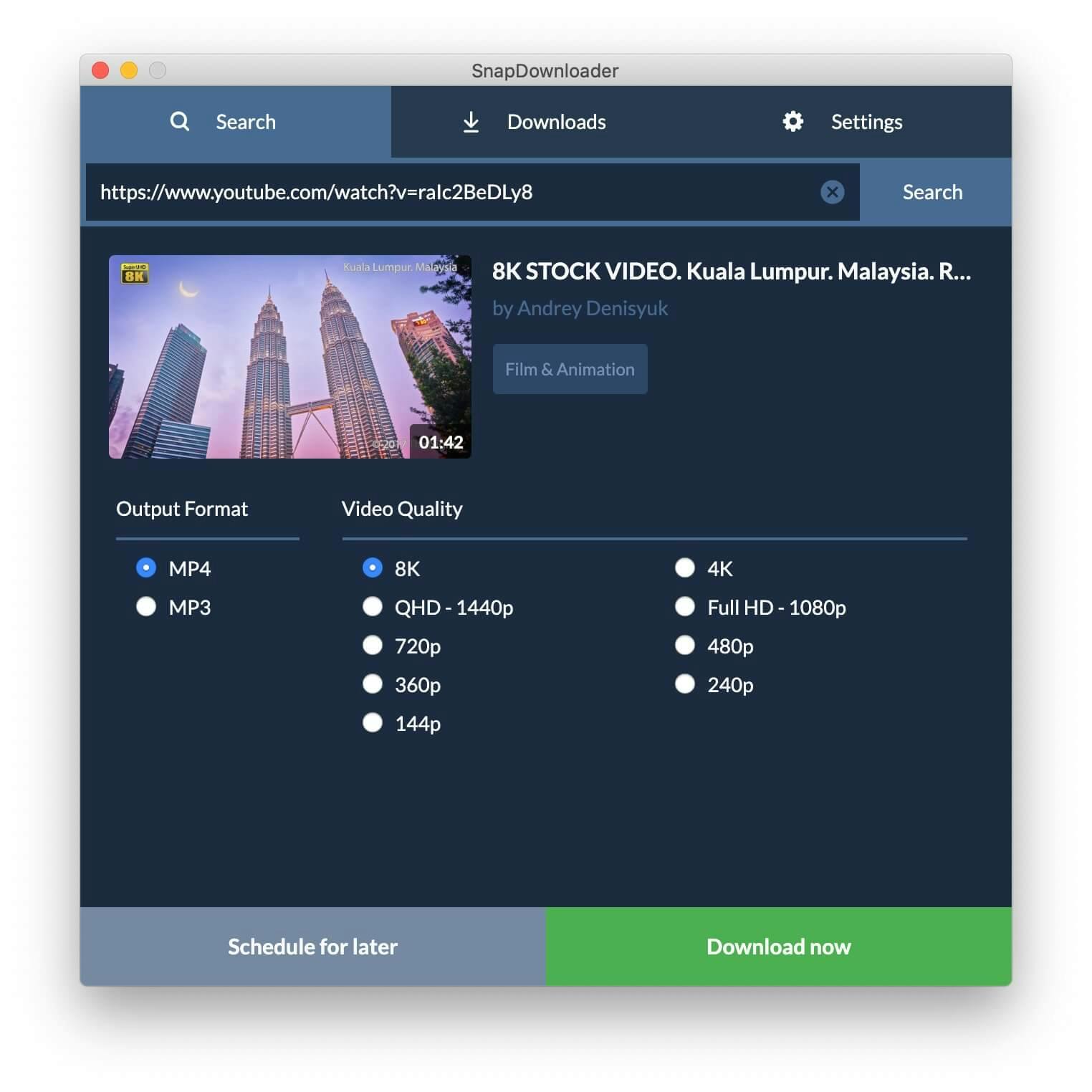 Step 5: Press the Download now button to begin downloading the YouTube video to your computer in MP4 format.
You will be able to track the download progress right on the screen, and the downloaded video will then be available for playback in the downloads folder after completion.
As you can see, the process is very straightforward and simple, and downloading long YouTube videos is very easy with SnapDownloader. Now let's take a look at how to convert long YouTube videos to MP3.
How to Convert Long YouTube Videos to MP3?
If it is an audiobook on YouTube that you're after or some long video that you wish to save in audio format, the only way to be able to listen to it after downloading, with the screen turned off, is if you convert long YouTube videos to MP3 format. Fortunately, this feature is baked right into SnapDownloader, and here's how it works:
Step 1: Download and install SnapDownloader.
Step 2: Open YouTube in a browser and go to the video that you want to download. Copy its link from the browser's URL bar.

Step 3: Open SnapDownloader and paste the link into the search box to begin searching for the video.
Step 4: Once the video has been searched and its information is displayed, select MP3 as the output format so that the video will be converted to audio format. Now press the Download now button.
Now sit back and relax as SnapDownloader downloads and automatically converts the YouTube video to MP3. Once the process is complete, you can double-click on the download to listen to it or you can find the file in your selected download folder. From there, you can share the file with any other device.
Features of SnapDownloader's YouTube Downloader
Bringing the freedom to enjoy multimedia content offline is the very reason SnapDownloader was created. After sieving through tons of YouTube downloader services out there, this particular tool was designed to keep advertisements and subpar quality content at bay. Apart from being a dependable video downloader tool approved by thousands of users, SnapDownloader offers these key features:
Download multiple videos from the internet at once, with the bulk download option.
Download videos in 8K quality, UHD 4K resolution, Full-HD 1080p, and even smaller formats.
Save long YouTube videos in MP3 audio format with the built-in conversion tool
Download YouTube videos with subtitles
A high-speed solution to download long videos from YouTube in MP4 format, along with 900+ other video sharing platforms
A neat and clean user interface that is easy to get used to, with no intrusive advertisements anywhere to be found.
Wrapping Up
The ability to download long YouTube videos is no longer a dream, as long as you've got a reliable tool like SnapDownloader to take care of it. No matter how long the documentary maybe, or you want to download and convert an audiobook into MP3 that can be enjoyed on the road, SnapDownloader is all you need.
If you're a content creator on YouTube, make sure to check out our top YouTube SEO strategies for 2021.