If you love music, there's a good chance you've at least tried SoundCloud. The company was founded in Sweden in 2007 and is now considered one of the best audio streaming platforms in the world, featuring all major genres. For the most part, it's similar to YouTube and other sites, allowing you to follow artists and listen to their newest songs.
The great thing is that you can download music from SoundCloud for free and listen to it on your desktop and mobile devices. However, to do so, you'll need a reliable grabber that supports the platform. In this article, we'll talk about a few of the best SoundCloud downloaders that can help you with this task!
View table of contents [+]
What Is the Best Way to Download Music From SoundCloud?
There are lots of tools that can help you download songs from SoundCloud. In a plethora of options, SnapDownloader stands out as one of the most reliable, most reputable solutions. The software has been around for a while and provides advanced features that all music lovers can appreciate.
Key Features
High-quality SoundCloud converter with support for over 1,100 other websites
Supports 10+ audio and video formats
Downloads whole playlists and channels
In-built browser
Several editing and conversion features
Downloads private audio files
How to Download From SoundCloud to PC
1. Download and install the latest version of SnapDownloader on your computer.

Try SnapDownloader for Free
2. Open a music on SoundCloud and click the Copy Link button. Alternatively, you can copy the URL from the browser address bar.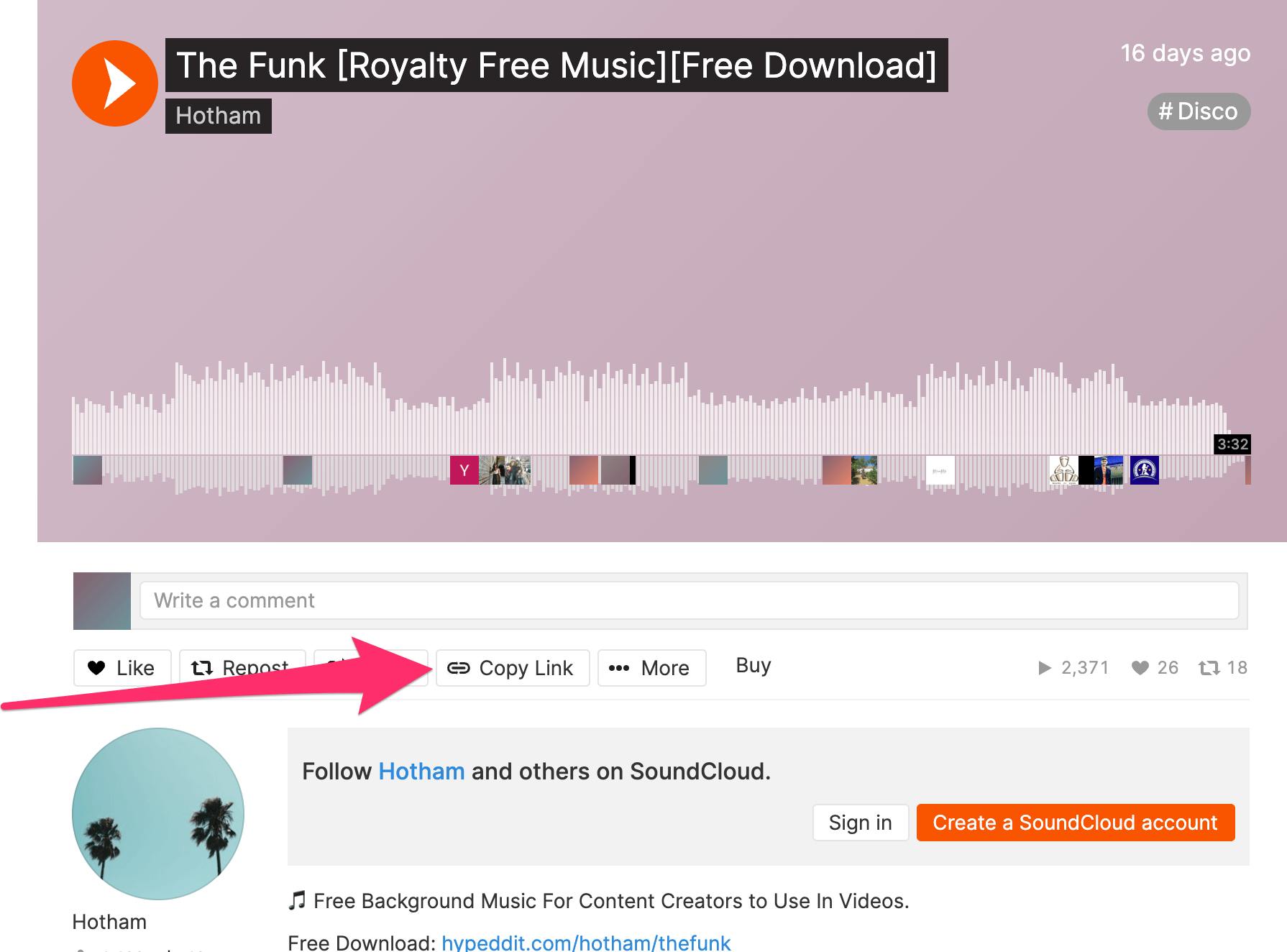 3. Open SnapDownloader and paste the link into the search textbox.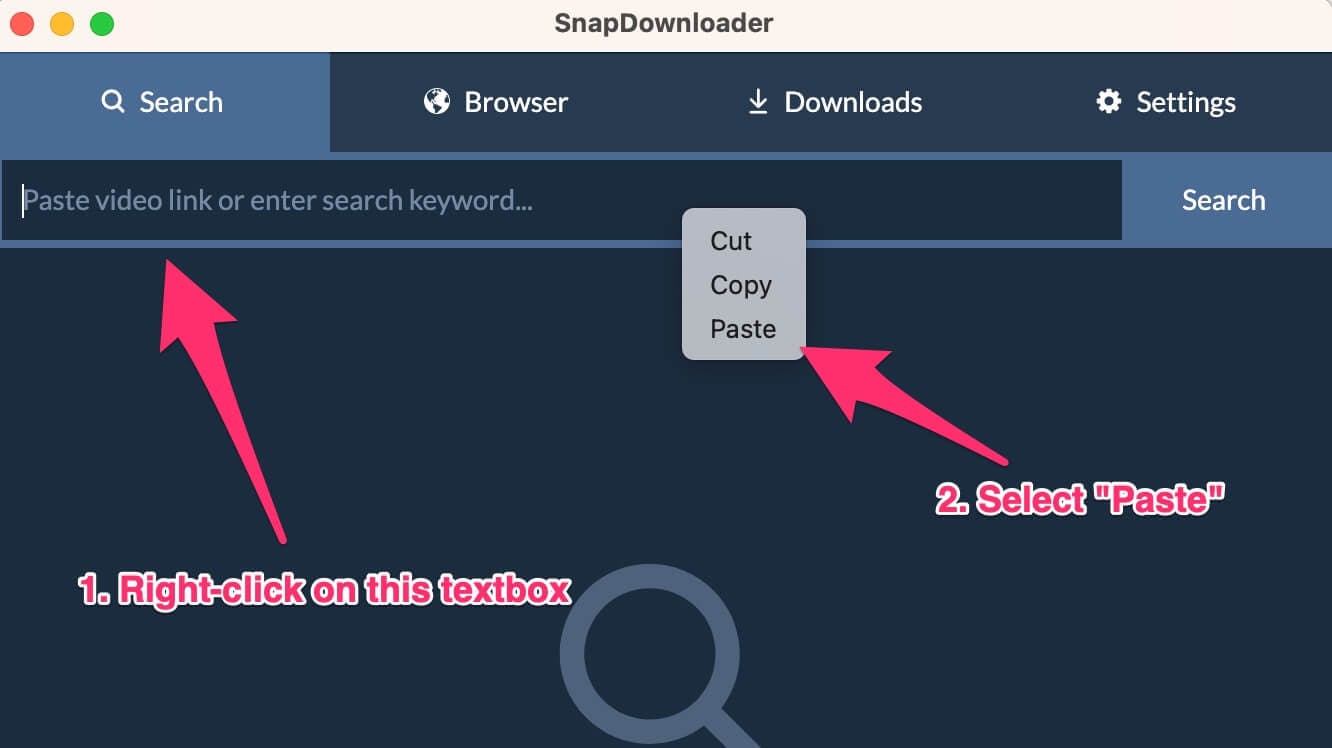 4. Select the output format and quality, then click Download.
You can also cut the audio to download only select portions by clicking the "Trim" button in the bottom left.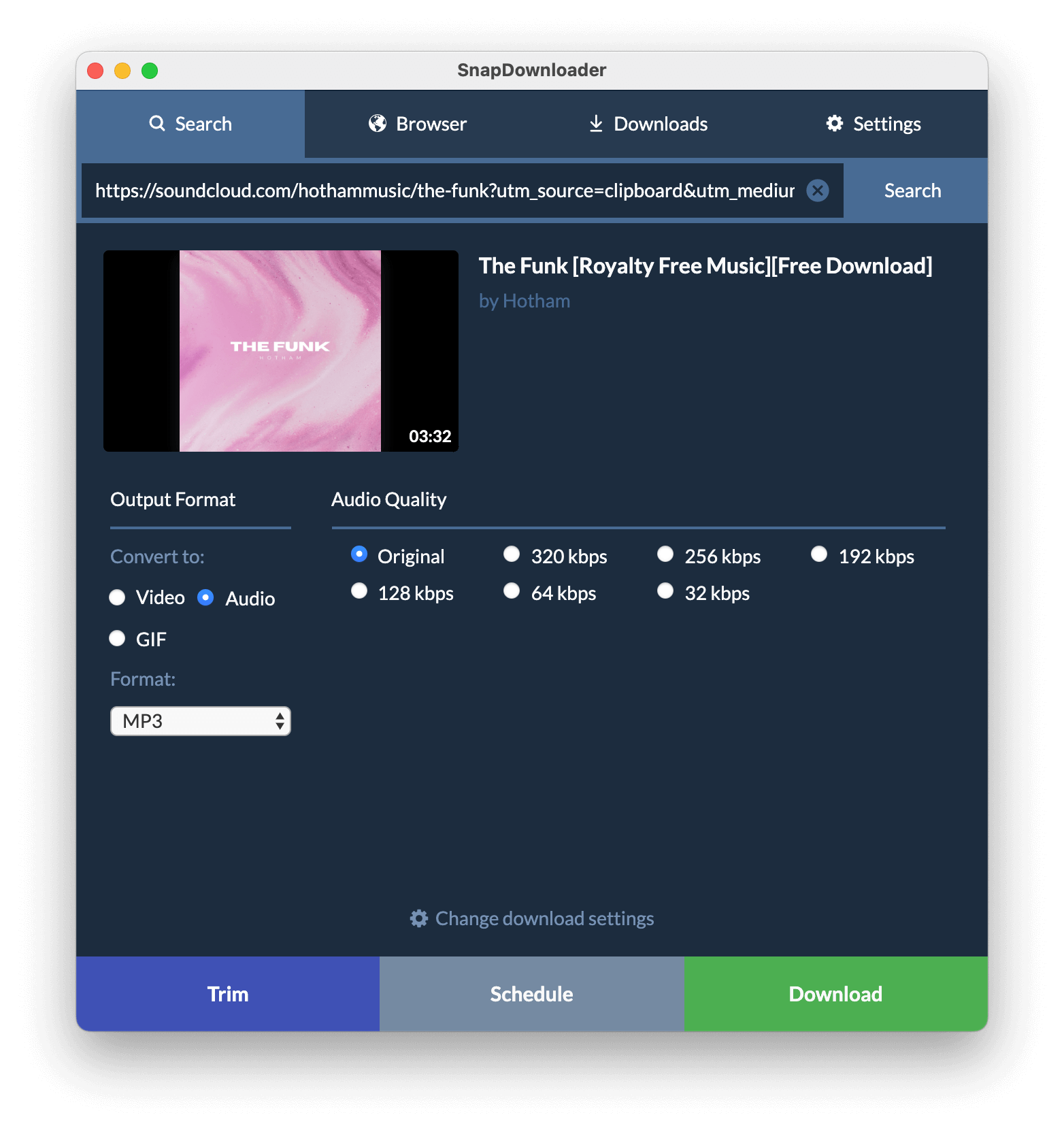 5. SnapDownloader will download and save the music file to your computer. You can track the progress of the download from the Downloads tab.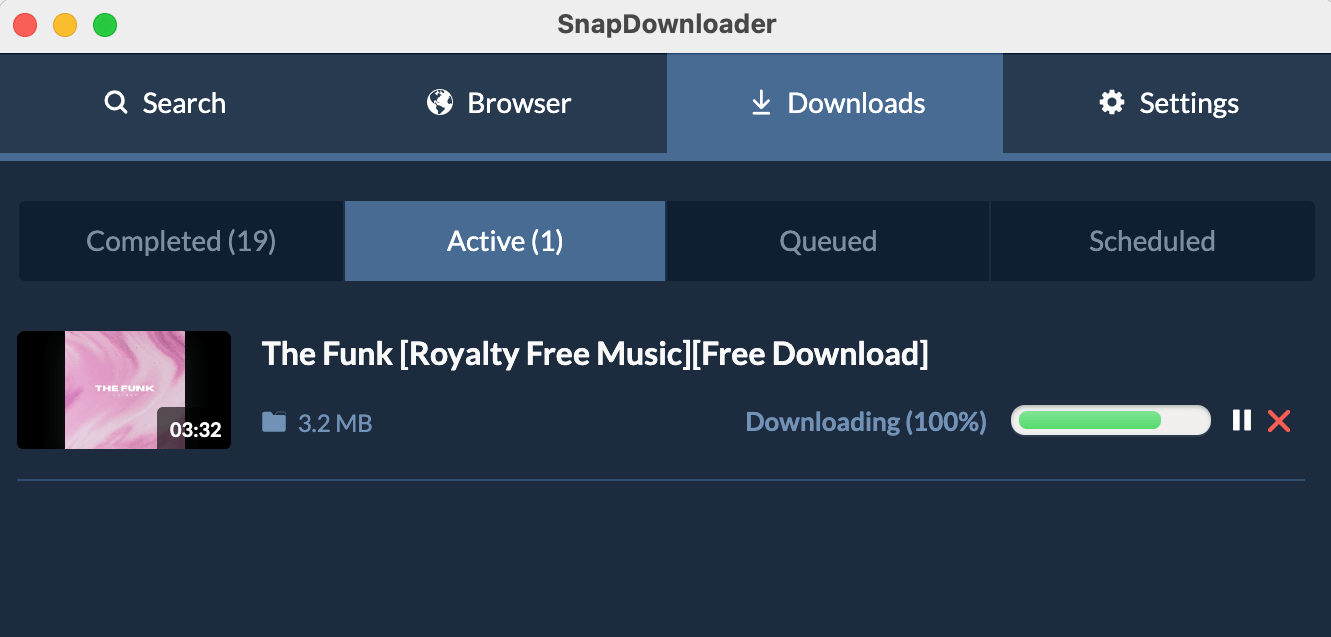 How to Download Songs From SoundCloud to Mobile Device
Aside from tools like SnapDownloader, many other tools would allow you to download from SoundCloud to mobile devices. One of the best online platforms for this particular task is aptly named Scloud Downloader.
Although it doesn't offer the same flexibility and range of output formats as SnapDownloader, it is still a great tool for those who are seeking free options.
Here's how you can download SoundCloud songs to a mobile device:
Go to SoundCloud website and find a song you'd like to download.
Below the track, there's a button called "Copy Link". Click it to copy the song's URL.
Go to Scloud Downloader and paste the URL in the search field.
Click on "Download Track" to download the MP3 to your device.
This tool is simple and works like a charm on mobile devices. Even better, it's a free tool without any pop-ups or intrusive ads.
3 Best SoundCloud MP3 Downloaders
Here's a list of the best software that would allow you to download from SoundCloud to your PC. We've made a list of paid and free tools so you can choose the platform according to your needs. Keep in mind that we could've added many more platforms to the list, but we wanted to focus on the ones that are most popular within the community:
1. SnapDownloader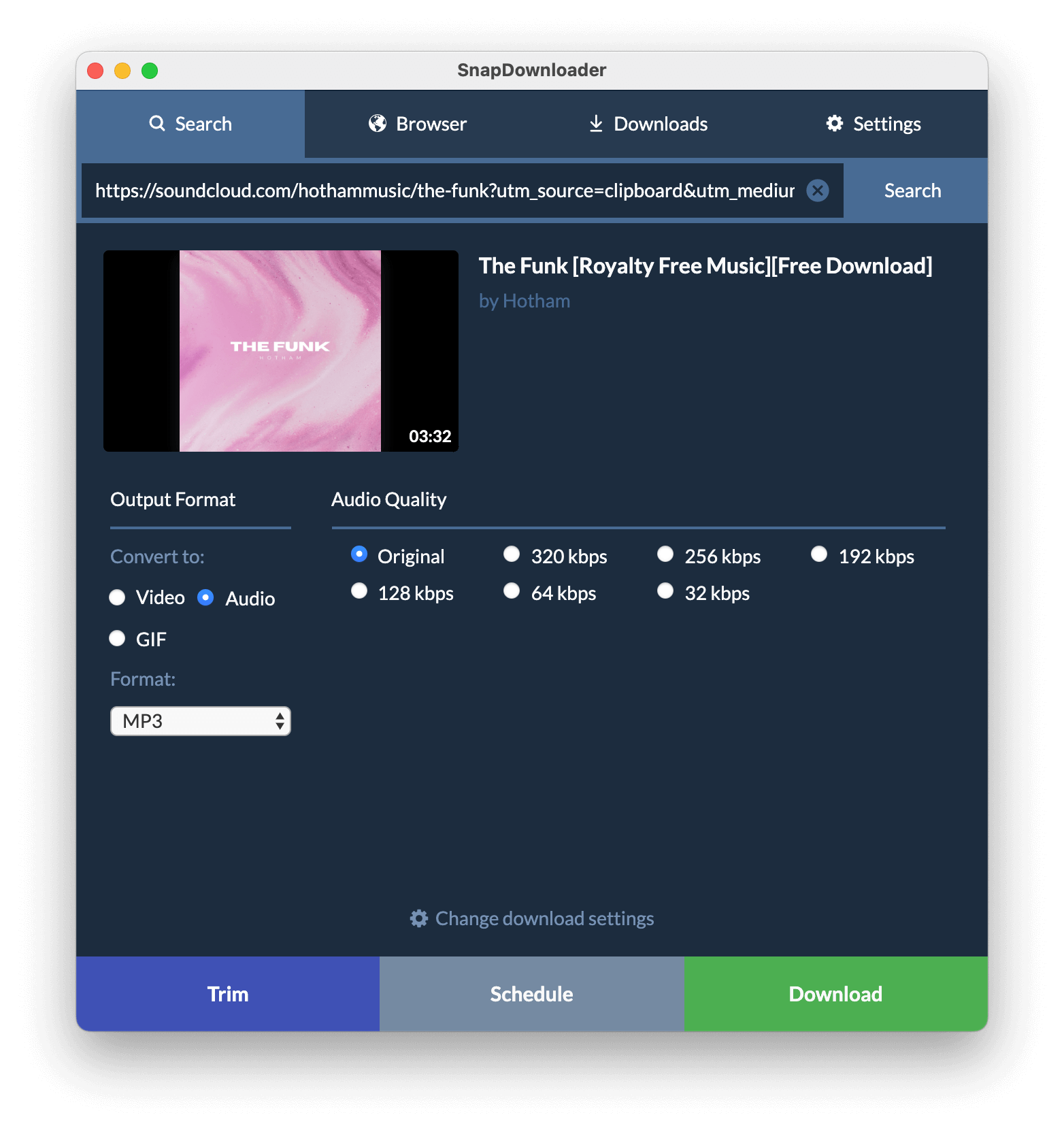 The heavy hitter within this category, SnapDownloader, fulfills all your basic needs and much more. This comprehensive tool can be used to download video and audio from over 1,100 websites, including SoundCloud.
More importantly, unlike other entries, it allows you to grab entire playlists, albums, and channels from SoundCloud, making it ideal if you're looking to grab your favorite artist's entire discography. There are also nifty geo features that circumvent restrictions related to your location.
Features
Download from 1,100 websites such as YouTube, SoundCloud, Instagram, TikTok
Convert video or audio to 10+ output formats such as MP4, MP3, WMA, M4A, etc.
Download private videos and audio using the in-built web browser
Bulk download playlists and channels
Pros
One-Click mode allows you to instantly download songs from SoundCloud by simply pasting its URL
Offers trimming feature to save only the portion of the music you want
Schedule downloads for later
Download hundreds of songs at once
Great tool for professional content creators
Allows you to change audio bitrates to 320kbps, 192kbps, 128kbps, and so on
Cons
2. SCDownloader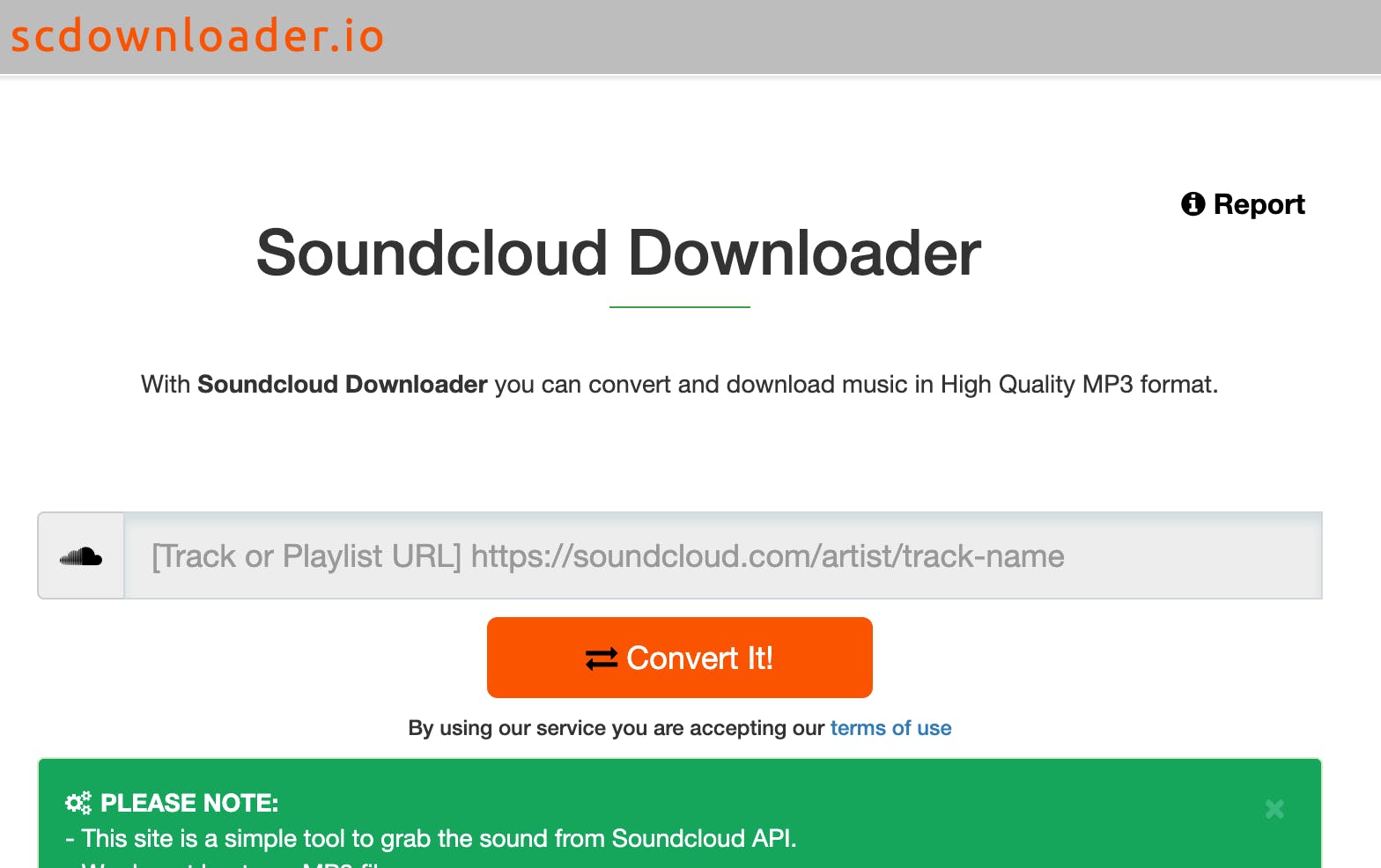 If you're looking for a small, nifty SoundCloud to MP3 app, you can't go wrong with SCDownloader.
This software can only grab content from the SoundCloud platform as a specialized tool. It directly extracts content in 128k quality and MP3 format. While this might seem restrictive, you can always convert the song with other tools.
The best thing about this tool is that it's completely free and allows unlimited SoundCloud to MP3 grabbing. As long as you have an internet connection and access to a browser, you can get your favorite music. Another thing we liked is that there aren't any ads on the site, which is a rarity for such tools.
Features
Downloads any SoundCloud music in MP3 output format
The platform is accessible from desktops, mobile phones, and tablets
Works for both iOS and Android devices
Pros
Unlike most free online content grabbers, SCDownloader has minimal ads
The tools don't require logging in or similar complex procedures
Generally fast
Flexible access
Has an advanced version that would allow you to grab content in 320kbps quality
Cons
Only works for SoundCloud
Barely any added features
Sometimes plays the song instead of downloading it
Despite having little ads, it still has ads
3. KlickAud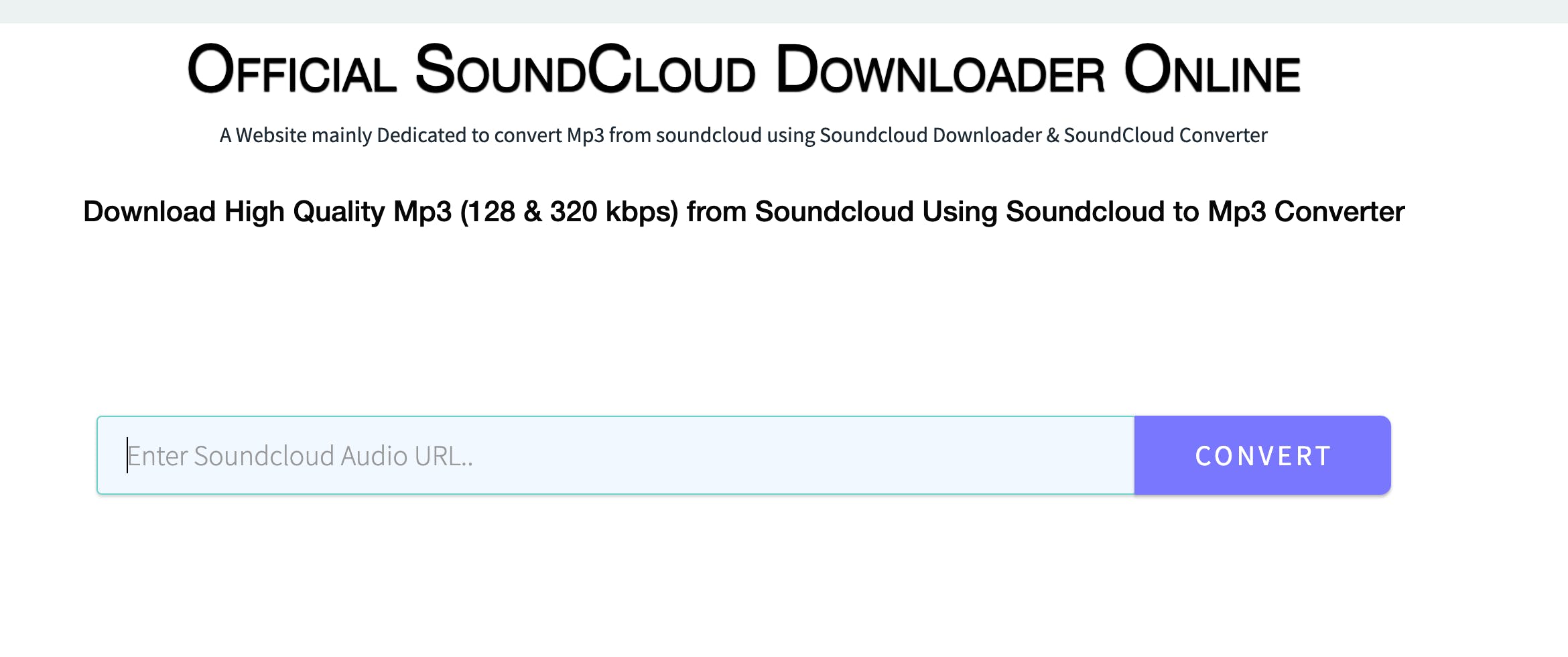 For the most part, KlickAud works like many other free online grabbers.
Copy-paste the desired content into a blank tab and click the download button. This makes it perfect for users who don't want to spend money on complex tools, but, at the same time, it might be a bit underwhelming for professional content creators.
Nevertheless, KlickAud made a few alterations that made it stand out from the crowd. When you copy the link into the bar and press the download button, the software will take you to the next page. Here, you can check how many people previously grabbed the song and what score they gave it.
While this doesn't necessarily increase the platform's functionality, it's still a small perk that can help you determine if the song is worth the download. The company recently introduced other grabbers for Facebook, Vimeo, and Instagram, although they're located on separate domains.
Features
Free tool for grabbing SoundCloud songs
Allows music downloads in 128 and 320kbps qualities
The company also provides converters for other popular platforms
Pros
Free and unlimited downloads
You can see the scores for each song
You can see the number of previous downloads
There's a SoundCloud Pro App that works for phones
Regularly updated
Cons
The phone app is a paid tool
While there aren't any pop-ups, there's too much data on the screen that might interfere with your experience
You can't change formats and quality
Only works for SoundCloud
Wrapping Up
There's a good reason why SoundCloud is among the most popular platforms in the world. All the biggest artists share their music via this platform, and you can use it for free, at any time, and from any device. Nevertheless, despite its great accessibility, there are cases where you'd prefer to have your favorite songs on a phone or desktop.
If that's your case, you should definitely consider one of the programs mentioned in the list. SnapDownloader is the best option and has numerous added features that you'll love. On the other hand, SCDownloader and KlickAud are simpler and faster to use.